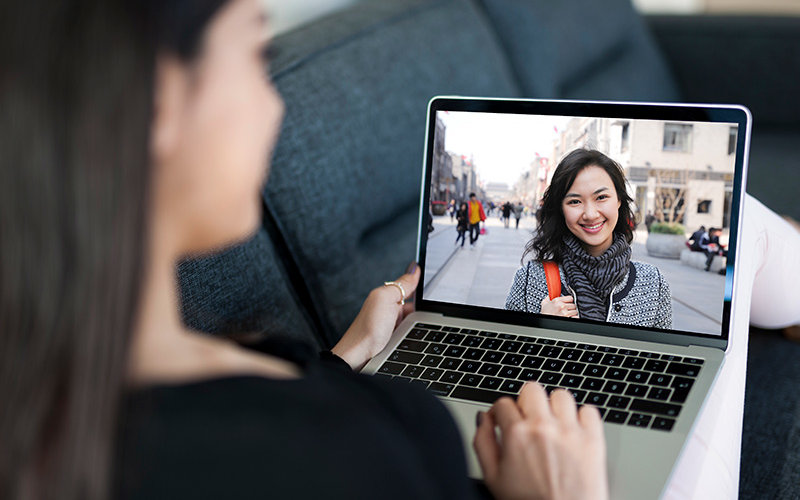 Make a difference volunteering for a nonprofit in Barcelona. Gain work experience interning for a global company in Sydney. Explore Korean culture and language studying at a university in Seoul.
Despite international travel bans due to the COVID-19 health crisis, these global experiences remain available for Cal State Fullerton students — albeit virtually — thanks to innovations by the Global Titans Center team in Extension and International Programs.
"While we mourn the continued deferral of our traditional study abroad options during this pandemic, EIP has created virtual options to enable students to pursue international experiences," said Jack Hobson, senior director of the Global Titans Center, the campus' study abroad office.
Many universities are waiting until they receive the go-ahead to continue traditional study abroad, but EIP saw the travel ban as an opportunity to create something different. In collaboration with partner institutions, it redesigned its menu of offerings to provide students with new ways to experience the world through Zoom or Canvas.
These virtual programs are not simply a stop gap until travel resumes but rather a fresh approach to global exploration. "Even when we get to travel again, we'll augment study abroad opportunities with virtual global engagement experiences, and students can do one or the other or both," explained Hobson.
"I also see these experiences lending themselves to the physical classroom when we go back to campus," he continued. "We can incorporate people from all over the world into the classroom once a week on Canvas." 
He believes virtual programs can be a stepping stone for students with trepidation about study abroad, giving them a taste of international experiences and whetting their appetite for full study abroad. "Exposing students to these types of experiences creates the notion of possibility," he noted.
They also offer an option for those who can't afford the time or cost of an overseas experience.
"These global engagement experiences also are a way of addressing the perennial challenges associated with access. Fusing global learning into a classroom with 100-200 students, whether it's virtual or physical on campus, is a lot easier and has a much broader umbrella than getting 25 students on a plane to go to a country," Hobson added.
Virtual programs now available to students include international internships and faculty-led programming, with more options to come.
"This is all exciting and new," summarized Hobson. "It dimensionalizes international education in a way that doesn't take away from the traditional but gives it further depth and access." 
Learn more about the new virtual international opportunities on the Global Titans website. Donate to support study abroad programs on the "It Takes a Titan" campaign giving page.

Contact: Karen Lindell, klindell@fullerton.edu