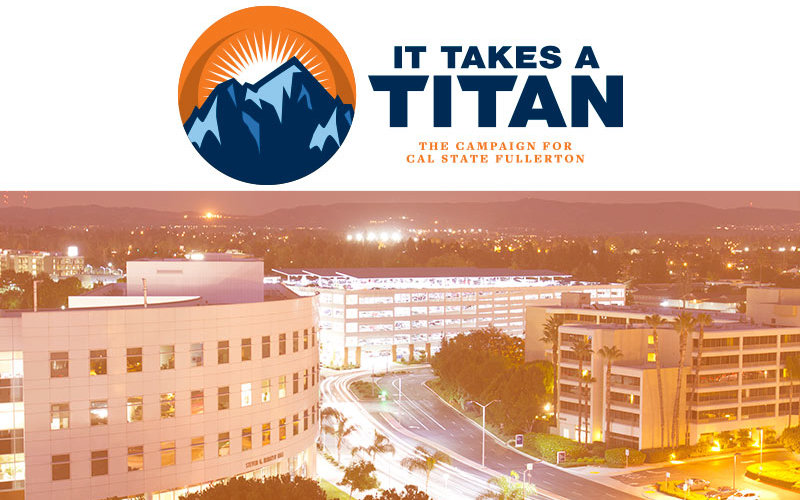 #TitansGive, Cal State Fullerton's annual day of giving, is an opportunity for the entire Titan family to come together (virtually) to support student success. The March 9 event is a 24-hour online donation marathon filled with fun giving challenges, contests and sponsored matches, and all gifts go toward the university's "It Takes a Titan" campaign.
On last year's inaugural day of giving, Titans rallied to raise more than $230,000 in one day.
A year later, the need remains great, and has only been exacerbated by the pandemic. The university faces a growing student population; an increase in students struggling with unemployment, food insecurity and even homelessness; aging campus infrastructure; and a decline in state funding. While it is expected that the California State University system will have its previous budget cut reinstated in the new fiscal year state budget, CSUF remains underfunded.
Through the "It Takes a Titan" campaign, however, the Titan community has stepped up to help with students' basic needs, contributing $415,000 to the Titan Emergency and Basic Needs Network since March 2020.
At the same time, donors continued to focus on post-pandemic student success. One year after the public launch of the campaign, more than $166 million (83% of the $200 million goal) has been raised.
"Collectively we have been able to make a tremendous impact on our students, our campus and the surrounding community," said Greg Saks, vice president of university advancement. "However, we are far from done! And it is going to take not just 'a' Titan but the entire Titan family. The need is greater than ever while our students and others manage the impacts of the pandemic."
#TitansGive is an opportunity for every Titan to be the difference in the life of a student. To learn more and see the giving opportunities, visit titansgive.fullerton.edu.