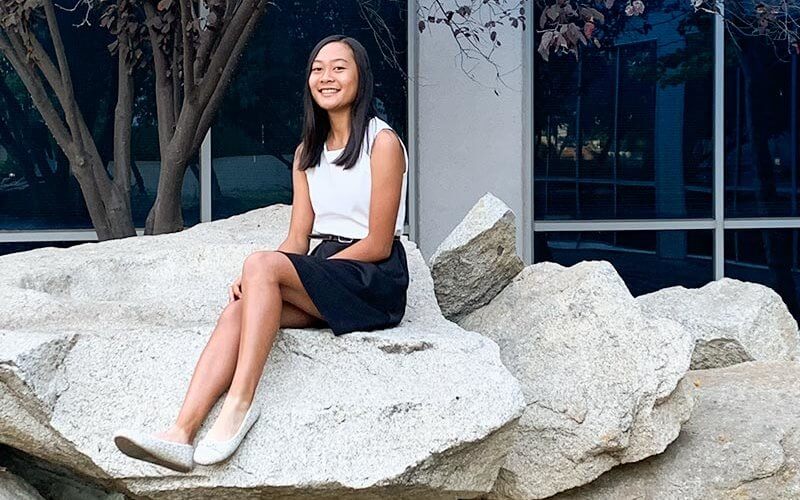 In her junior year of high school, Krisha Marie Uy found out her mother had terminal breast cancer. Uy, a National Honors Society student, who graduated with a 4.55 GPA and ranked No. 7 out of her senior class, was devastated.
"I witnessed the passing of my mom, which caused me to look at life from a whole new perspective," she said.
The loss of her mother, a laboratory medical technician, gave her the strength to strive harder to achieve the high academic goals she set for herself and redefined her ambition to follow in her mother's footsteps in a medical career.
"I decided to continue to study hard in order to fulfill her dream of seeing me graduate and becoming a pediatrician or pediatric surgeon one day," said Uy, a biological science major. "My mom taught me the significance of life and what it means to be resilient. More importantly, her passing not only impacted my course in life, but also gave me the opportunity to honor her."
Uy, who started at Cal State Fullerton in fall 2020 as an incoming freshman, found her place at college as part of the Titan family — and as a student in this academic year's class of President's Scholars. The merit-based program for high-achieving students is housed in the university's Center for Scholars.
In the fall semester, 10 students, including Uy, joined the program, which offers experiences and opportunities in academics, leadership, service and mentorship. (See related story). The undergraduates receive a four-year scholarship and other financial assistance to help them earn their college degree.
Why did you want to become a President's Scholar?
I wanted to become a President's Scholar because it wasn't just any scholarship — it was more than that. The program enables students to further their education, and to also value the idea of a community and the importance of service. We are composed of students of diverse backgrounds, which allows us to build connections and learn from one another. I wanted to be a part of this program because it would give me the opportunity to pursue my passion for science, meet new people and give back to society. I am proud to call my fellow scholars my second family.
How is being a President's Scholar empowering you in your college journey?
As an incoming freshman, I was anxious about attending college. The Center for Scholars staff members were welcoming and supportive, ultimately enabling me to smoothly transition from high school to the college lifestyle. I've had the opportunity to not only further my education, but I've also met some of the most amazing people in life, including President (Fram) Virjee and Mrs. (Julie) Virjee, the program's donors, advisers, professors, mentors and peers. Being a President's Scholar has positively influenced my studies and has helped me to build strong connections to get one step closer toward my goal of earning a bachelor's degree, and then, attending medical school.
What are some highlights of college so far?
I've made many new friends and countless memories. One of the highlights includes taking a weeklong course with fellow peers from other Center for Scholars programs. The virtual course last summer (2020) taught us skills to help us become successful in college and introduced us to the various resources and opportunities available on campus. Growing up in a Catholic household, religion has always played a major role in my life. I've joined the Titan Catholic student organization, which has reinforced the importance of practicing my faith.
What are you looking forward to most in your studies and future career?
I'm leaning toward a concentration in molecular biology and biotechnology, and if time permits, I also want to attain a minor in either chemistry or mathematics. Fascinated with how my mom's service helped others and witnessing what it would be like to be a part of the medical profession, I've always envisioned myself in her shoes. CSUF and the President's Scholars program is helping me to fulfill these goals — and to become the daughter that my mom would be proud of.