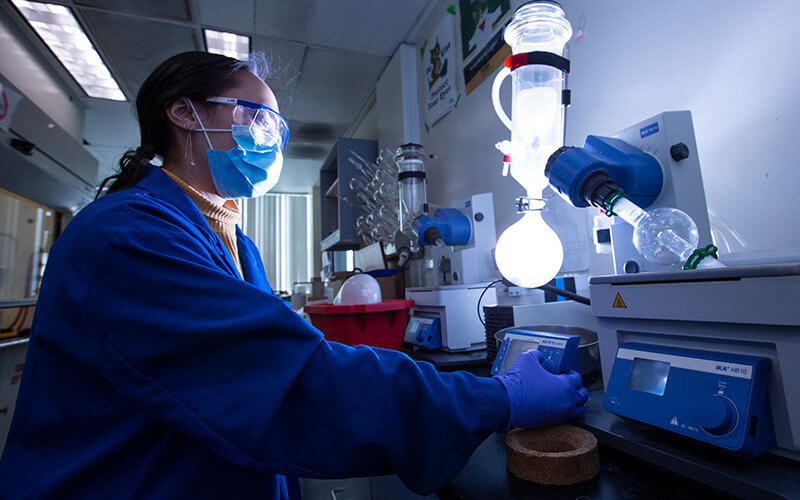 With no treatment or cure for West Nile virus — spread through the bite of an infected mosquito — Cal State Fullerton undergraduate researcher Shaina Nguyen is working on creating new therapeutics to treat people infected with the disease.
"Hopefully, our research could provide possible drug therapeutics to stop West Nile virus," Nguyen said.
Since her freshman year, Nguyen, a biochemistry major who is graduating in May, has worked in the lab of Nicholas T. Salzameda, associate professor of chemistry and biochemistry. The researchers are seeking treatments since there is no vaccine or medications available for the mosquito-borne disease.
In the ongoing study, the faculty-student research team is studying a viral protein for the West Nile virus, known as the NS2B-NS3 protease, which is responsible for producing viral particles for replication and is a promising therapeutic target in stopping infection, Nguyen said.
The lab also is experimenting with Zafirlukast, a currently available anti-asthmatic drug.
"Given the structure of Zafirlukast, we want to make modifications to this drug to see if it could further improve the inhibition against the West Nile virus NS2B-NS3 protease," she said.
According to the Centers for Disease Control and Prevention, during mosquito season, which starts in the summer and continues through fall, about 1 in 5 people who are infected with West Nile virus develop a fever and other symptoms. About 1 out of 150 infected people get a severe condition, including neurological symptoms, such as meningitis and encephalitis, or sometimes, fatal illnesses.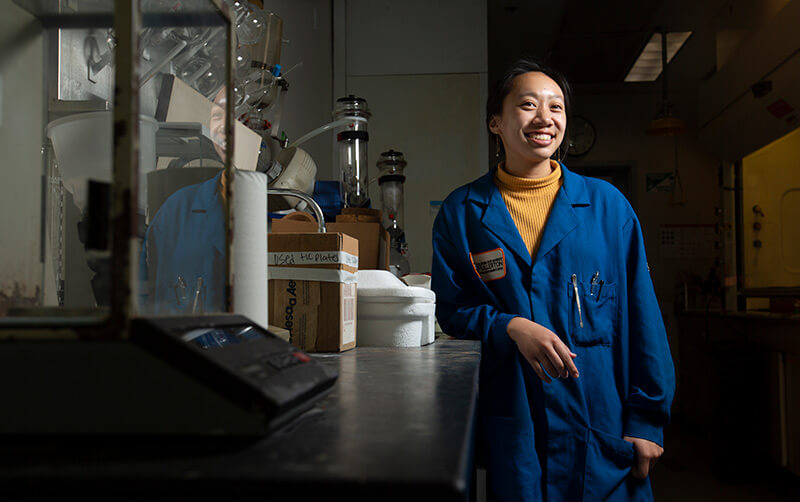 Glenn Nagel Undergraduate Student Research Award
For her outstanding research and presentation, Nguyen received the Glenn Nagel Undergraduate Student Research Award at the recent 33rd annual California State University Biotechnology Symposium. The award is named in honor of Nagel, a former biochemistry professor at Cal State Fullerton who became a dean at Cal State Long Beach. The Nagel Award fosters excellence in undergraduate student research.
The virtual symposium, presented by the California State University Program for Education and Research in Biotechnology, featured 36 student nominees and finalists from 13 campuses who competed for systemwide undergraduate and graduate research awards.
"It's humbling to receive this award. Dr. Salzameda has pushed me and guided me to realize my dreams for graduate school," said Nguyen, an award-winning scholar who has presented her research at regional and national conferences.
Nguyen is a scholar in the university's Maximizing Access to Research Careers (MARC) program, which prepares students for graduate school and careers in biomedical research, a President's Scholar and University Honors Program student.
Her research adviser relayed that Nguyen, who plans to pursue an M.D.-Ph.D. program to become a physician-scientist in a clinical setting, is a top student scholar.
"Shaina has always found ways to amaze me, whether earning A's in all her courses or making a new molecule that others could not make," Salzameda said. "The M.D.-Ph.D. programs are reserved for the very best students. Shaina will succeed and put her talents to improving the health care of people through biomedical research."
Nguyen's parents, who were teenagers, and grandparents fled Vietnam in the late 1970s. Her close family ties reinforce the importance of holding on to her Vietnamese culture — and her academic pursuits and career goals.
She has maintained a 4.0 GPA, despite the personal loss of both her grandmothers while in college. Nguyen pressed on by spending long hours in the lab several days a week to work on her research project, earning good grades and staying on track to graduate in four years.
"My grandmothers wouldn't have wanted me to stop," Nguyen said. "This research project has required a lot of hard work, with bumps along the way, but it has paid off."