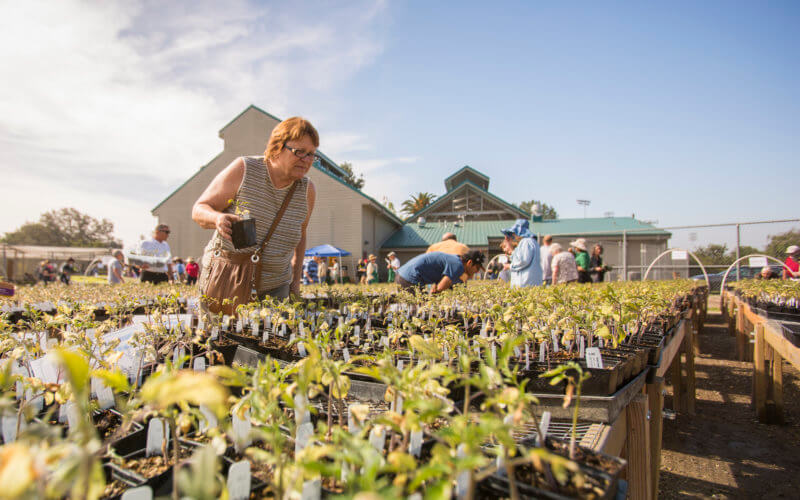 One year after the COVID-19 pandemic forced the Fullerton Arboretum to close to the public and halt its largest annual sale of homegrown vegetable plants, Veggiepalooza returns this spring offering more than 200 plant varieties in support of its educational programs.
The sale runs March 20 to April 2, with members granted early access and a discount on March 19 for the best selection. Curbside delivery is set for April 12-18. This year, ordering will take place online and will include more than 200 varieties of heirloom tomatoes, sweet, mild and hot peppers and varietal veggies. A wide selection of ornamental plants including California natives will also be available.
Debbie Vengco, associate director of marketing and communications for Extension and International Programs at Cal State Fullerton, said Veggiepalooza is the arboretum's only source of revenue at this time, other than membership and donations, while it is closed to the public. Proceeds from the event support plant conservation, educational programs and maintenance of the arboretum's 26 acres.
Vengco said this year's proceeds in particular will make it possible for the arboretum to keep its horticulture staff in the garden full time, care for its plants, continue its conservation efforts and sustain research projects such as maintaining one of two trial sites in California for the American Rose Trials for Sustainability.
Growing thousands of plants comes with many challenges and requires a lot of planning, said Harriet Bouldin, development, membership and volunteer manager for the Fullerton Arboretum. One of the arboretum's latest challenges was organizing volunteers to help with growing the plants and ensuring it was done in a safe, socially distant manner.
"This year, the sale is being done with 100% volunteer support which enables our horticulture team of four to remain in the garden full time, doing work that is so important throughout the 26-acre arboretum," Bouldin said. "We have 16 volunteers supporting the event this year. We have structured the opportunities through a new volunteer portal so volunteers are able to select opportunities that meet their availability and the COVID-19 restrictions still in place."
Bouldin also highlighted positive results from 2020's Veggiepalooza preparations. Last spring, the arboretum donated its remaining plants to Seeds of Hope, an initiative of the Episcopal Diocese of Los Angeles working to ensure equal, affordable access to healthy, nutritious food to low-income communities in Los Angeles County.
Their donation inspired the Mysun Charitable Foundation to fund its efforts to grow 6,500 edible plants this year specifically for food security programs in Los Angeles and Orange Counties, including the Orange County Great Park Farm + Food Lab in Irvine.
"It is especially important during the pandemic because so many people are experiencing food shortages and insecurity," Vengco said. "It was an important undertaking for the arboretum staff. They are excited to continue contributing to food security programs throughout the greater Los Angeles and Orange Counties."