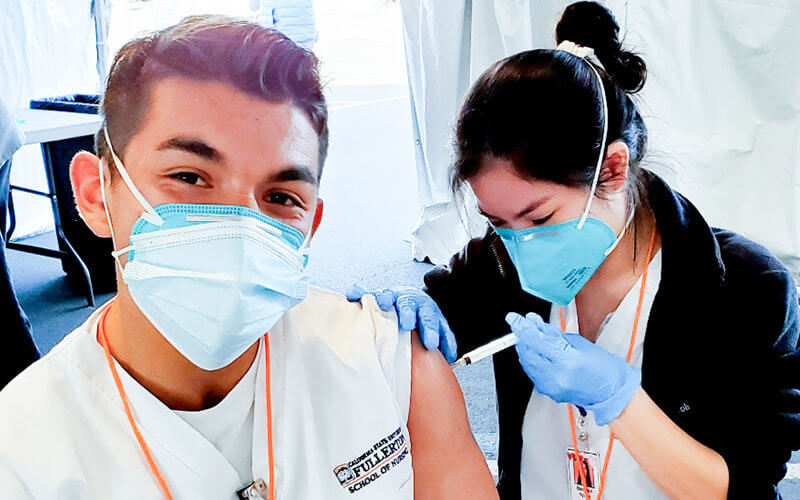 Elation and gratitude.
This is what 90 Cal State Fullerton nursing students witnessed as they helped to administer COVID-19 vaccines at the Disneyland and Soka University points of dispensing (PODs) in February.
Working with the Orange County Health Care Agency, the students spent seven days administering 2,700 shots per day — totaling approximately 19,000 vaccinations to Tier 1A community members (at-risk individuals, health care workers, people age 65 and older).
An additional 35 students also assisted with vaccinations at other health care clinics and will continue to do so in the coming weeks.
William Nubla, a senior in the accelerated Bachelor of Science in Nursing program, said he was humbled to provide vaccinations to the community.
"You are reminded how much COVID-19 has taken away from people this past year and how much this vaccine means to them," shared Nubla. "It was an honor to be a part of this experience."
A typical day for nursing students working at the PODs would begin with a morning huddle, where they would receive updates and goals for the day as well as their rotating assignments.
"Around 8 a.m., a line of people would start forming in front of us," described BaoHan Nguyen, a senior in the traditional BSN program. "Once someone came to our station, one student would check them in and provide patient education. Afterward, another student would administer the vaccination. Other student roles included drawing the vaccination up into a syringe and observing the patients for adverse reactions."
Nguyen, who originally wanted to study nursing because of her interests in anatomy and physiology, has since learned "there is so much more" to nursing.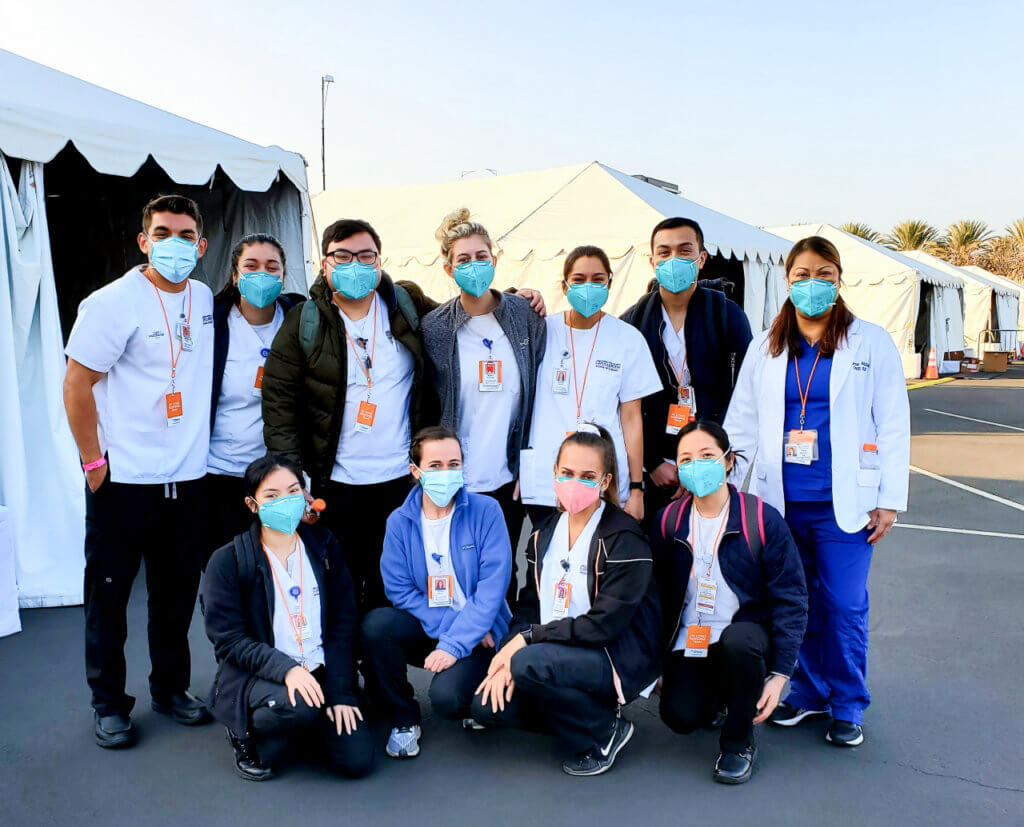 "As a nurse, you are given the opportunity to help your patients heal not only physically, but mentally. It is a big responsibility that I am excited to take on once I graduate," said Nguyen, whose goal is to work in pediatrics or telemetry and eventually become a clinical instructor.
Both Nguyen and Nubla credit CSUF's School of Nursing with helping them continue their educational goals amid the pandemic, including securing hard-to-find clinical placements.
"COVID-19 has changed many aspects of our program, and some hospitals are still prohibiting students from entering their facilities or certain units," said Nubla. "Still, there are numerous individuals from CSUF's nursing program working to make sure we are able to successfully graduate and meet requirements set forth by the Board of Registered Nursing.
"Instructors are also adjusting their teaching styles," he added, "and working to give students safe and fulfilling nursing experiences."
Influenced by the empathy and capability of the nurses he's worked with during his academic journey, Nubla expressed: "These are qualities I want to emulate and share with others."
Like many students, Nubla has been personally affected by the pandemic, losing an uncle-like figure to the disease. "He was a great husband and father. He treated me as if I were one of his own — he even called me 'mijo.' I will never forget his kindness, humor and warmth."
CSUF nursing students who assisted at the PODs, including Nubla and Nguyen, were able to receive the vaccinations themselves — many administered by their own classmates.
"There are so many individuals to thank for making these vaccination sites run smoothly and effectively," said Nguyen. "It was exciting to be involved with something so important."