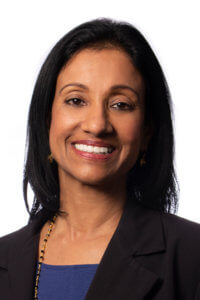 College of Engineering and Computer Science
Dean Susamma (Susan) Barua
When Susamma (Susan) Barua joined Cal State Fullerton 33 years ago to teach computer science, she was one of few women in the college. During her academic career, she has been actively involved in mentoring female and underrepresented students in engineering and computing.
Barua, professor of computer science and computer engineering, became dean in 2018 and is the first female to serve in the leadership position. She has guided the development and implementation of proactive strategies aimed at increasing the diversity and inclusiveness of engineering and computer science students.
She also has led initiatives to improve the academic preparation of first-time freshmen, increase student retention and graduation rates, and reduce the time it takes to earn a degree. Barua holds a doctorate in computer engineering from the University of Cincinnati.
What is your college doing to advance women to become leaders in the fields of engineering and computer science?
There is a significant gender gap that exists in the fields of engineering and computing and the college is committed to removing barriers to success for women students. The college has launched several initiatives and supports activities to empower our female students to develop the skills to become leaders in the engineering and computer science professions.
Examples include the Women in Computer Science and Engineering program, which focuses on engaging and retaining women during their first and second years in the college. The annual ECS Diversity and Leadership Summit provides female students with the opportunities and resources to network with industry professionals and transition into their careers.
What is one example of an obstacle you personally encountered — and overcame?
Thanks to very supportive parents and several great mentors, I did not have to face any personal obstacle or barrier as a woman in the engineering and computer science fields and to get to the leadership position I am in today. However, I am fully aware that engineering and computer science disciplines remain heavily male-dominated. By changing practices to increase opportunities in STEM for women, and providing an environment where our women students can thrive, we will help narrow the gender gap and ensure a diverse and talented STEM workforce.
What advice do you have for female students in your college?
I want to tell the female students in ECS to believe in themselves because we believe in them. Take advantage of the opportunities provided by the college and the university. Stay engaged and connected. Be confident and do not be afraid to be assertive. Engineering and computing are constantly evolving fields with unlimited growth. Career prospects are diverse and plentiful with numerous opportunities to work on exciting emerging technology and for professional advancement.