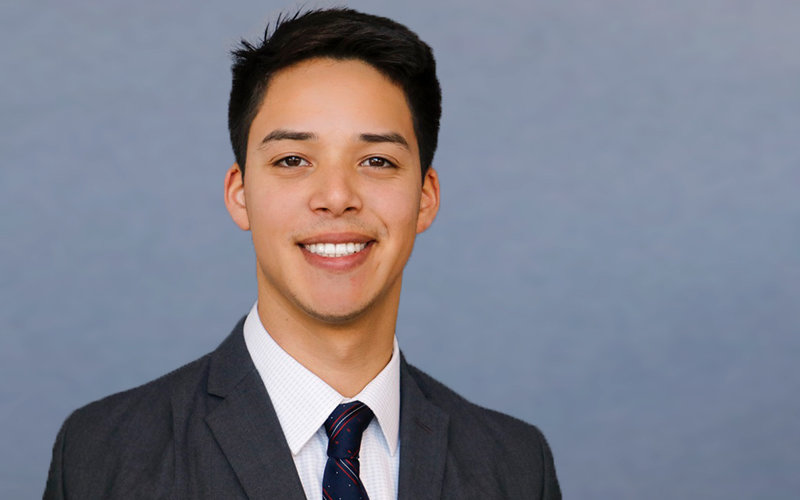 By winnowing down roughly six months' worth of research into a three-minute presentation, clinical psychology student Dylan Serpas took first place in this year's Grad Slam competition at Cal State Fullerton.
"It was a challenge to comprehensively describe the background, importance, findings and implications of my projects within the time limit," shared Serpas, who studied the functional outcomes among aging adults with fibromyalgia. "The presentation needed to be understood by a lay audience, so I focused on telling them what I did, what I found and what it means for my field of study."
Serpas, who is graduating in May, was one of eight candidates who took part in Grad Slam, hoping to win cash prizes and two coveted slots in the inaugural California State University systemwide Grad Slam competition.
This fall, he will start his doctoral program in clinical psychology at the University of South Florida, focusing on investigating community-level health disparities among diverse populations.
2021 CSUF Grad Slam Competitors
Jillian Bentley, education-secondary education, "Four Star Champions and Still Not Winning: Social Activism by the United States Women's Soccer Team Creates Emblematic Protest Icon"
Emma Bianco, history, "The White Supremacist Women of Orange County"
Eric Blalock, sociology, "How Citizens View the Police"
Laura Chavez,* doctor of nursing practice, "Second Victim Phenomenon: The Perioperative Provider Perspective"
Eric Cortez, clinical psychology, "Ethnically Diverse College Students' Views of Mental Illness and Treatment"
Kaitlin Martinez-Hall,* communications-mass communications research and theory, "Thematic Analysis of Disability Coverage: The Hopes and Hardships of People With Disabilities"
Samir Mulgaonkar,* mechanical engineering, "Reducing Automobile Greenhouse Gas Emissions Using Generative Design Process and Additive Manufacturing"
Dylan Serpas,* clinical psychology, "Examining Functional Outcomes Among Aging Adults with Fibromyalgia"
*2021 graduate
Learn more about graduate programs at Cal State Fullerton on the graduate studies website.