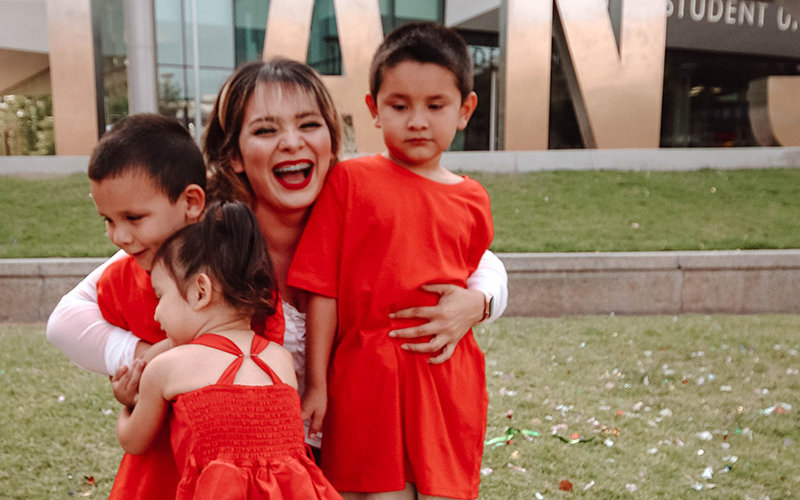 Alexis Figueroa came from a home of abuse and poverty. She entered the foster care system at age 6 and lived in six foster homes and two group homes.
While growing up she faced many different challenges — from being a teenage mom to struggling with mental illness, academic losses and the pandemic. But she never wavered in her desire to earn a college degree to change her life for the better.
Figueroa is among the Class of 2021 Cal State Fullerton Guardian Scholars and is earning a bachelor's degree in human services. Wearing a cap and gown, she plans to walk with pride at the university's June 14 in-person stage walk commencement celebration, with her mother and sister by her side — cheering her on.
In college, Figueroa sought support through the Guardian Scholars Program for current and former foster youth to make sure she made it to the graduation stage.
"I wanted to show everyone in my family that I could do anything. But mostly, I went to college to show my kids that there is a life beyond what we know. I want to be the example and push them to shoot for the stars."
The 22 graduating seniors from the Guardian Scholars Program were recognized for their achievements at a recent virtual ceremony hosted by the Center for Scholars. For the complete list of graduating students, watch the Guardian Scholars Senior Celebration video:
Since 1998, the Guardian Scholars Program has provided financial, academic, social and personal support to current and former foster youth through donor, foundation and community support. Some students receive full scholarships, while all scholars have access to support services and resources.
During the coronavirus pandemic, a record number of students were given some kind of assistance to remove financial barriers so students could remain focused on their education, said Yajayra Tovar, director of the Center for Scholars.
The center has responded to nearly 200 emergency requests from scholars, including Figueroa, for help with food and housing costs, books, utility bills, as well as for mental health services, Tovar said. Figueroa received financial assistance to pay bills and repair her car.
Finding Resilience and Empowerment
Figueroa transferred to Cal State Fullerton from Santa Ana College and is a first-generation college graduate. Her mother didn't finish high school and her father immigrated to the U.S. from Mexico.
"Both found themselves in a cycle of poverty, lack of resources and support and teen pregnancy. I followed a similar cycle. I was a teen mom and was in a very abusive relationship with little to no support," said the mother of two sons, ages 5 and 4, and a 3-year-old daughter.
"I chose to fight through the struggle for the benefit of my children. With the support and resources that I found, I was able to change my cycle."
Being involved in the Guardian Scholars Program has helped guide and empower Figueroa in her academic and personal journey as a single mother, while attending classes, doing homework and working three part time jobs.
"I wanted to become a Guardian Scholar because it was a way to take my power back," said Figueroa, who is co-president and a founder of the Guardian Scholars Student Association and volunteers as an advocate for sexual assault victims.
"I always had identity issues since being in foster care has such a negative stigma — and I internalized that. I wanted to own that part of my life and embrace it because it made me who I am today: resilient."
Figueroa, who addressed her fellow graduating Guardian Scholars during the virtual recognition event, relayed that the program's staff are her role models and biggest cheerleaders who helped her to become assertive, open-minded and compassionate.
"I always had the center's staff to fall back on and help guide me," she said.
Figueroa wants to become involved in foster care reform and intervention. She plans to pursue a master's degree in social work at CSUF, with the career goal of becoming a licensed social worker and a lawyer for social welfare.
"I want to change the broken foster care system. I want to give these youth a chance at life — and not settle for a predestined life of poverty, pregnancy and abuse," she said.
"I can only hope to be part of the reformation and spark a passion in all foster youth to pursue a life of success and happiness. I want to show them that I changed and rewrote my story and they can, too. I've become a better woman, mother — and a college graduate."