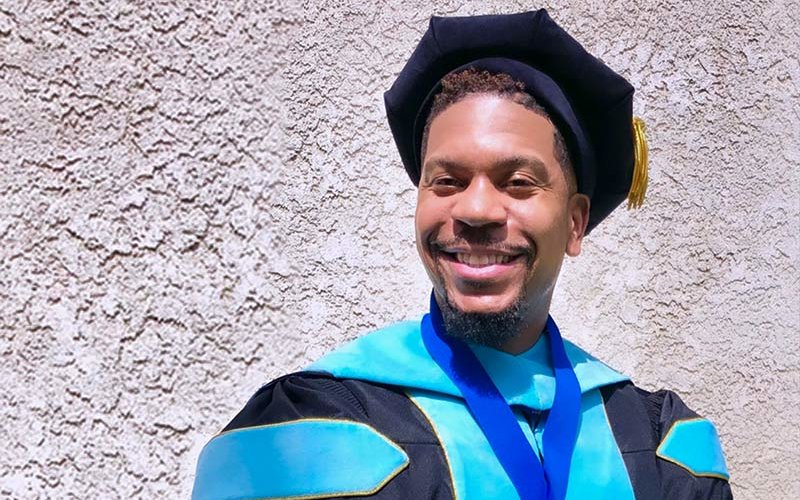 Finishing his doctorate in education amid the COVID-19 pandemic proved a herculean effort for Cal State Fullerton student Brandon D. Harris, who feared unemployment as a part-time community college instructor. Bills stacked up for his young family, and he questioned his career path.
But staying true to his passion for higher education and his dream of becoming a community college president, Harris doubled down on his efforts by completing additional online trainings and volunteering for various campus programs to strengthen his resume.
Harris joins the Class of 2021 this spring, graduating with a doctorate in educational leadership and a community college concentration. For his scholarly and community service achievements, Harris was named the Alumni Association's Outstanding Graduate Student with a $1,000 award.
"It took a village of support to pull me up from the hopelessness and remind me of my resilience during difficult times," he shared. "I would like to thank that village and remind others to never give up."
Harris's dissertation focused on underrepresented populations — to inform education leaders and programs like the university's Male Success Initiative-Fullerton, which empowers students of color to reach their full potential. To further deepen his understanding of such groups, Harris involved himself with the African American Resource Center and Phi Beta Sigma Fraternity Inc. Off campus, he served as a volunteer adviser for the Gay-Straight Alliance at College of the Canyons.
"Whether it was my role assisting students in the Male Success Initiative, working with esteemed CSUF professors on publications highlighting supportive programing, or finishing my dissertation on representation, the common accomplishment was being a servant leader to a generally underserved population," explained Harris, who additionally received a graduate honors scholarship award from the Pi Lambda Theta national education honor society.
"Brandon contributes significantly, and pays it forward by caring and modeling for other Black students in our program and in his own classrooms," shared Ding-Jo Currie, lecturer in educational leadership. "We need more Brandon Harrises in the world."
Putting research to practice, Harris has taught sociology, criminology, women's studies, research methods, and race and ethnic studies at such institutions as Cal State Northridge, Los Angeles Mission College and Los Angeles Valley College. He also guest lectured at Santa Monica College, Pasadena City College, Cal State Dominguez Hills and Los Angeles Trade Technical College.
Harris's advice to future Titans is: "Let your efforts be guided by a just, equitable and inclusive foundation of values. It is not about you or me, but the collective 'we.' Lastly, remember to make the decisions today that your future self will thank you for."
As he celebrates his graduation, Harris will be thinking of two family members who died during his academic journey: his Aunt Venus and Uncle Lloyd. Both served as parental figures for him and his siblings when they lost their mother to breast cancer at an early age.
"Rather than losing focus and allowing my grades to suffer, I stayed determined to defend my dissertation as my aunt and uncle would have liked me to do," said Harris, adding that his uncle had planned to be at his graduation and the pair had looked forward to a summer of watching the Las Vegas Raiders and relaxing by the pool.