3, 2, 1. Liftoff! A team of Cal State Fullerton student engineers has launched a project to design and build a rocket that can soar 10,000 feet high and carry a self-piloting glider that will release and fly back to the ground.
"Rocket research is important for many reasons, but for this project we are focused on space exploration and space research," said Brandon Alam, president of the Titan Rocket team.
"Rockets provide the power and speed necessary to deliver satellites into orbit and spacecraft to the other planets and farther parts of space, allowing us to get a better understanding of the solar system."
The 10-member team is building the rocket, named "Aphrodite," for the 2021 Spaceport America Cup, in which more than 150 collegiate rocketry teams from across the country and world will compete. The June 18-20 competition is being held virtually due to the coronavirus pandemic.
The senior design project caught the attention of judges at the recent 2021 ECS Student Projects Virtual Competition and Showcase. The team won the award for "Overall Best Project Team of the Year" and a $1,500 cash prize.
The College of Engineering and Computer Science hosted the competition, which featured 58 student capstone and senior design projects across departments. A panel of faculty members and input from industry professionals selected the winning projects. (see related sidebar)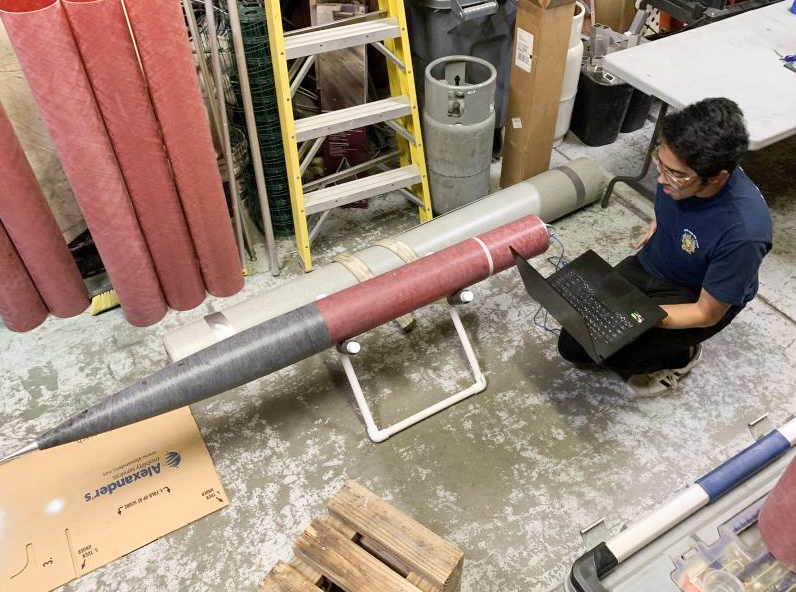 The rocket team members, and their roles, are Joshua Espinosa and Paloa Nova, airframe; Alam and Greg Stai, avionics; Steven Carlson and Alyssa Paglomutan, payload; Alex Haddow and Tu Tran, propulsion; and, Drew Rios and Zack Mouawad, recovery. All are mechanical engineering majors and 2021 graduates, except for Espinosa.
Rocket Research
Under the mentorship of Salvador Mayoral, associate professor of mechanical engineering, the student engineers worked together to come up with a design and research solutions, such as using propulsion, guidance and electrical systems, to ready their rocket for the competition.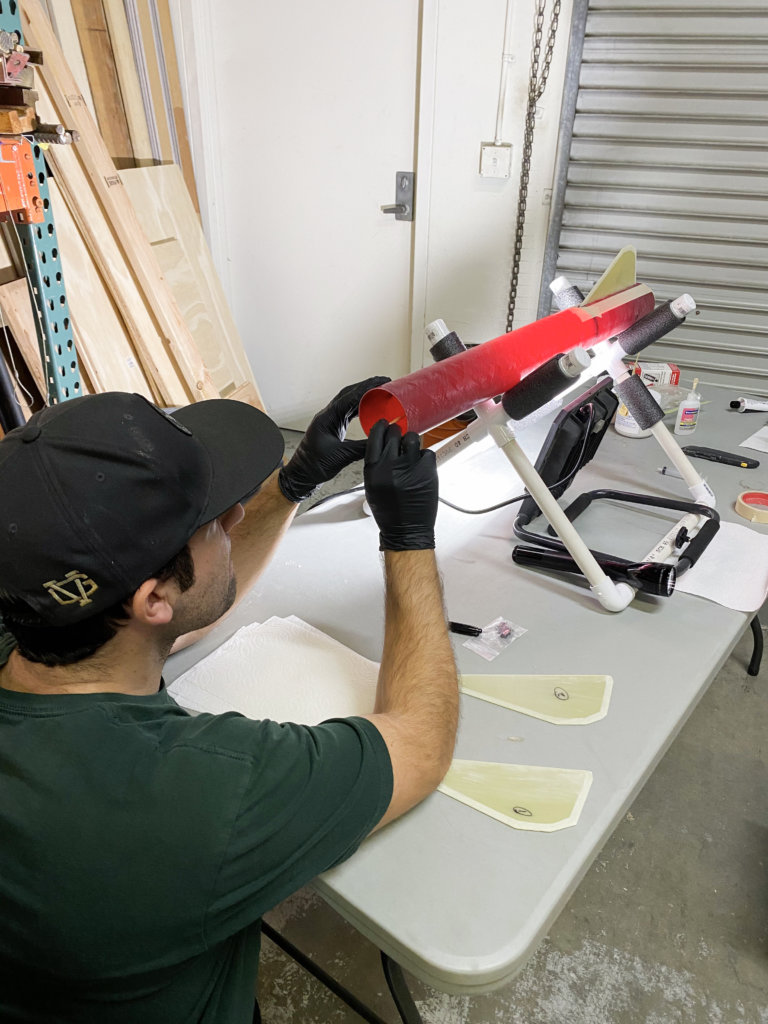 "This project has prepared us to get an idea of what engineering a solution from scratch is all about, and the skills and experience that are needed as future engineers," Alam said.
For the competition, the students are designing a rocket that can reach as close to 10,000 feet as possible and carry a scientific payload — an attached glider — that weighs at least 8.8 pounds. The autonomous glider will measure temperature, altitude and pressure as it is released and descends back to the ground, Alam said.
The rocket will be equipped with onboard electronics for tracking the rocket and igniting recovery systems, including two parachutes to make sure it lands safely.
"Even though the competition is virtual, we will still be launching the rocket through an FAA certified launch location for collegiate team rockets and high-power rockets, with the proper certified individuals there to oversee the launch," Alam added.
Alam, whose curiosity with rockets and the technology behind them began at an early age with sci-fi movies and pop culture, is looking forward to the competition and fulfilling a childhood dream.
"As a kid, I was always obsessed with technological advancement in cars, but rockets were always the most fascinating," he said. "I became obsessed with technology that didn't exist from movies like 'The Iron Giant' and 'Star Wars.' This inspired me to want to become an engineer and be a part of technological advancement."