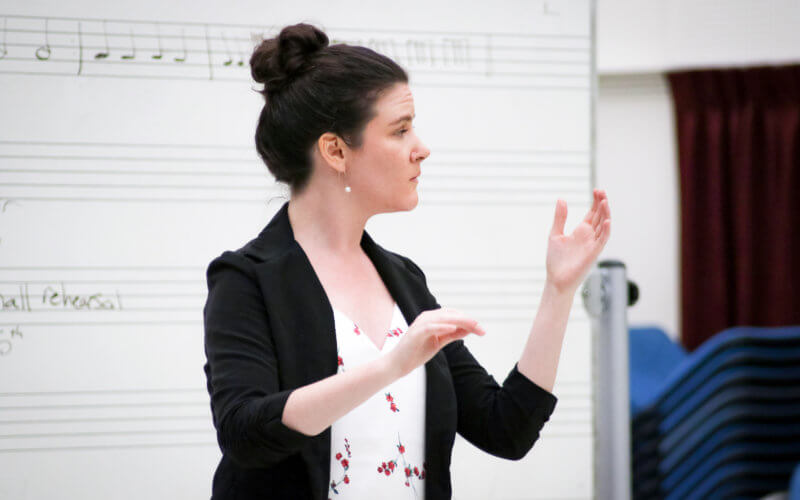 Eleven Cal State Fullerton students competed in the 35th annual California State University Student Research Competition, with four of the scholars winning first- and second-place awards.
This spring's competition, held virtually April 30 and May 1 and hosted by Cal Poly Pomona, featured 197 projects presented by undergraduate and graduate students from across the CSU system.
"The CSU Student Research Competition is a once-in-a-lifetime opportunity for some of the best and brightest students to present their research and creative activities in a highly competitive environment," said Terri Patchen, professor of elementary and bilingual education and faculty fellow for student creative activities and research.
Patchen mentored the university's finalists and helped them develop their research presentations. In addition to their eight-minute recorded research presentations, the students participated in a live Zoom Q&A session before a panel of judges and an audience.
CSUF Award Winners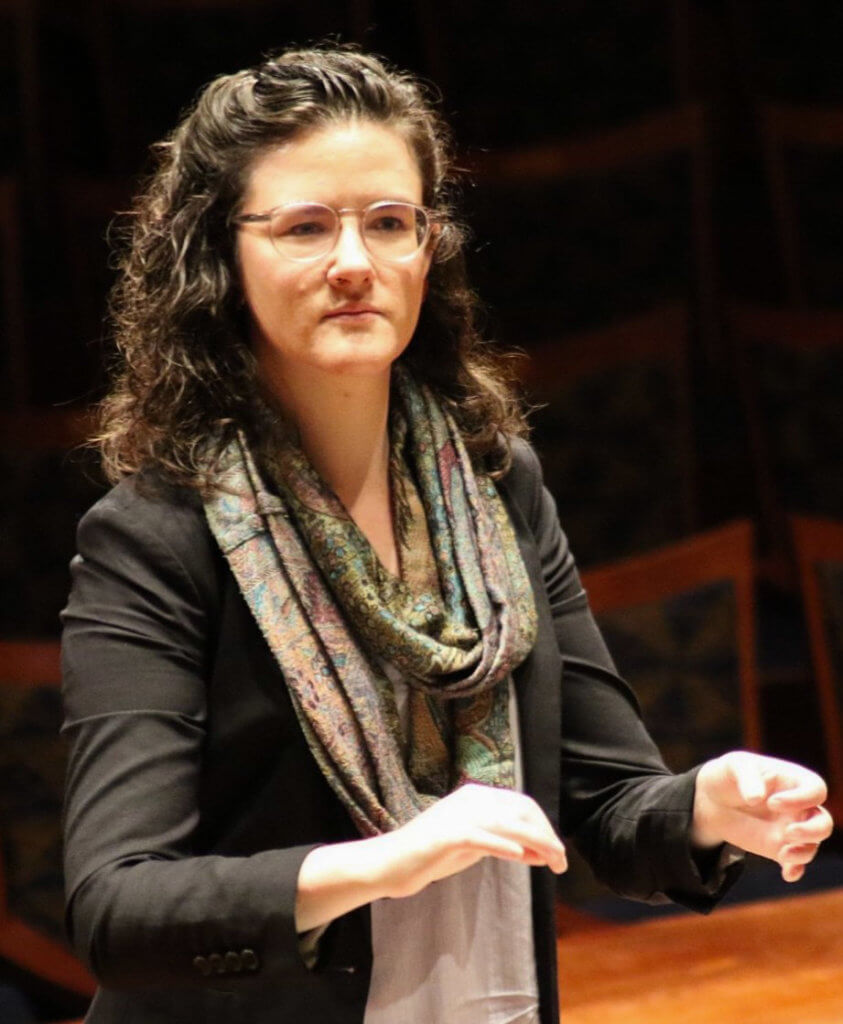 Sierra Farquhar-Wulff, graduate student, music
First place: Creative Arts and Design category
Project title: "Gender Discrimination in the Choral Conducting Profession"
Faculty mentor: Rob Istad, professor of music
Farquhar-Wulff is a choir director based in Fullerton and assists with CSUF Concert Choir and performs with the University Singers. She plans to graduate next year, and eventually pursue a doctorate in choral conducting and teach at the college or professional level.
Research focus: The purpose is to understand how gender affects employment and the work environment within the choral conducting profession. My research takes publications — between 2003 and 2017 — and extracts relevant data regarding the number of women in choral leadership positions, job titles and pay, which was compared to 2020 data. I also conducted interviews with 10 leading female choral directors to illustrate the common trends in how gender affects work environments.
Why this research is important: This research shows gender equity problems within the field that have not been adequately addressed. There are far more men in positions of power, and a persistent pay gap. The choral world has been working towards being a more inclusive and welcoming place, but that work hasn't made much of a difference for women. Solutions to the equity problems include increasing mentorship opportunities for young female conductors, diversifying graduate program student bodies, hiring committees with diverse membership, and recruiting diverse candidates.
Alexa Vega Rivas, undergraduate, psychology
First place: Behavioral, Social Sciences and Public Administration category
Project Title: "How Do the Effects of Trump's Immigration Policies Influence White and Latino Support for the American Dream?"
Faculty mentor: Ella Ben Hagai, assistant professor of psychology
Vega Rivas, a first-generation college student and University Honors Program scholar, plans to pursue a doctorate in social-political psychology after she graduates next year. Her goal is to become an educator in the psychology field.
Research focus: This project aims to understand how the negative effects of former President Trump's immigration policies would influence white and Latino support for the American dream. I found that when confronted with the negative effects, white people were less supportive, whereas Latinos were more supportive of the American dream. This was a surprising find, as I had thought Latinos' belief of the American dream would decrease.
Why this research is important: This research is important because it demonstrates that even when confronted with the blatant negative effects of harmful policy, Latinos felt even stronger about their belief in the American dream. My research highlights the complexity of identity in the United States and showcases that Latinos in politics are not a monolith. Latino political views can differ through age, gender and socioeconomic status.
Kathryn Eckholdt, undergraduate, biological science-ecology and evolutionary biology
Second place: Biological and Agricultural Sciences category
Project title: "Talking Trash: Will a Trash Interceptor in Newport Bay, CA Intercept Wrack Subsidies, Too?"
Faculty mentor: Danielle Zacherl, professor of biological science
Eckholdt, interested in pollution and trash solutions, is influenced by her grandfather who was a NASA engineer for the Apollo missions. After she graduates next year, she's considering pursuing an engineering degree to one day build a cleanup contraption to use in the ocean or other bodies of water to help the environment.
Research focus: This research examines the composition and amount of wrack — washed up plants and algae — and trash in Newport Bay. A trash interceptor is set to be installed in Newport Bay and it has been shown to collect a lot of trash, but also wrack. Wrack can offer nutrients for plants and animals, so it's important that it's not haphazardly removed. The project provides a baseline of the amount of wrack and trash in the bay, with terrestrial wrack the most abundant type of wrack, and plastic trash the most abundant type of trash.
Why this research is important: Removing nutrients can be fatal to certain organisms in an ecosystem by taking away their main source of food. The goal is to find whether the lack of, or change in the type of wrack, is detrimental to organisms in Newport Bay. This ongoing research will show whether a trash interceptor has a significant impact on the composition or amount of wrack. This research is important to monitor cleanup initiatives to make sure they don't do more harm than good.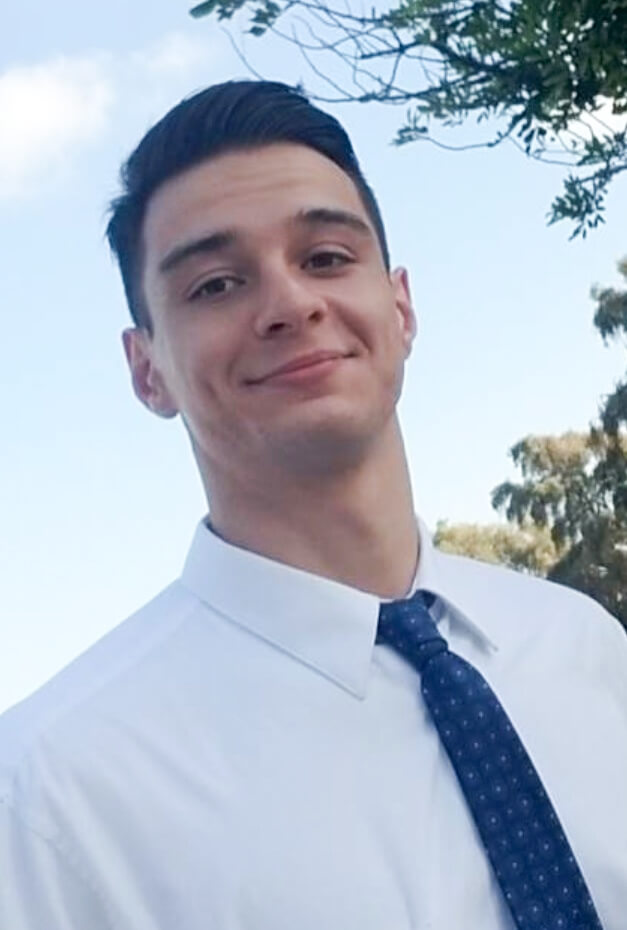 Makar Makarian, undergraduate, chemistry
Second place: Biological and Agricultural Sciences category
Project title: "Microwave-Assisted Synthesis and Kinetic Studies of Donepezil-Based Acetylcholinesterase Inhibitors for the Treatment of Alzheimer's Disease"
Faculty mentor: Stevan Pecic, assistant professor of chemistry and biochemistry
Makarian, a native of Moscow who came to the U.S. at age 12, is a first-generation college student and plans to attend pharmacy school after earning a bachelor's degree next year.
Research focus: My research focuses on synthesizing and evaluating a library of molecules to treat Alzheimer's disease that inhibit an enzyme in the brain, which breaks down a neurotransmitter called "acetylcholine."
Why this research is important: Alzheimer's disease is a devastating neurodegenerative disease that kills more people than breast cancer and prostate cancer combined. In addition, Alzheimer's and dementia deaths have increased by 16% during the COVID-19 pandemic. Based on the mechanism that we work on, there are currently three approved drugs, but these drugs are associated with adverse effects. There is an interest in the development of new therapeutics with improved potencies that can be used for the treatment of Alzheimer's disease.