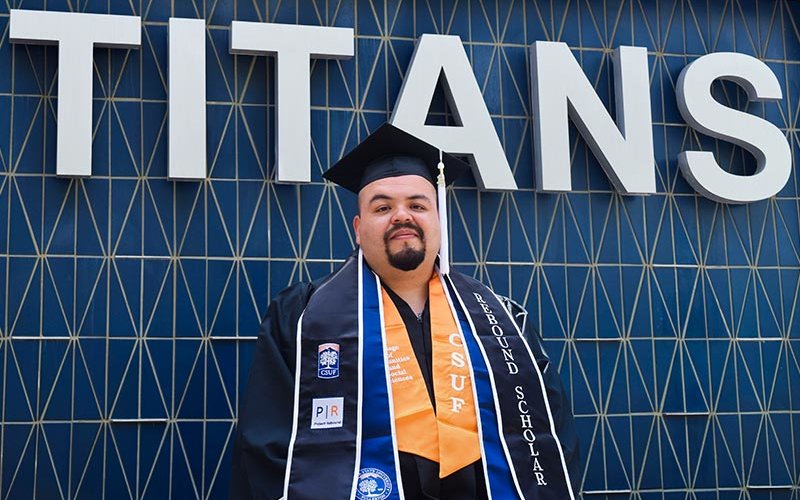 After graduating with Cal State Fullerton's Class of 2021, Sergio Torres looks forward to spending time with his fiancee, seeing a baseball game and having a homemade dinner with his family.
The first-generation and adult re-entry student overcame many challenges during his pursuit of a bachelor's degree — including his past incarceration — to excel in college, give back to his campus and community, and garner the Alumni Association's Outstanding Senior Award along with a $1,000 stipend.
When the liberal studies major and Chicana and Chicano studies minor arrived at Cal State Fullerton as a transfer student several years ago, he was unsure if he belonged. But Project Rebound, a program that supports the higher education and successful reintegration of formerly incarcerated individuals, connected him with people and resources to help him discover and pursue his passions for ethnic studies, higher education and helping others.
"Sergio understands the value and transformative nature of higher education, and uses his knowledge and lived experience with the criminal justice system to elevate others and amplify the voices of Latino and Black men re-entering our communities," said Romarilyn Ralston, Project Rebound program director.
"I have had countless doors open for me because of my relationships with my fellow Titan community," shared Torres, who will begin CSUF's Master of Science in education-higher education program this fall, with the goal of one day becoming a professor. "Being recognized by the Alumni Association is an honor, but most of all, it is a joyous occasion for my Project Rebound and Chicanx family because if one of us makes it, we all make it."
Nominators shared that during the COVID-19 pandemic, Torres's "heart of gold" propelled him to organize a clothing drive to provide warm clothes and food to 30 homeless individuals.
"I often refer to Sergio as one of the best success stories I have witnessed in my career," added Connie Moreno Yamashiro, assistant dean of student affairs in the College of Humanities and Social Sciences. "His commitment to creating change has resulted in being involved in multiple leadership positions in the student organizations Rebound Scholars and Alianza ChicanX, which he co-founded. With both organizations, he mobilized students on campus to support each other and the community."
Torres's senior project consisted of cataloging street murals in Santa Ana, his hometown. The project involved procuring equipment, taking hundreds of photographs, contacting and interviewing artists, and reaching out to scholars who are developing similar projects within the growing field of digital humanities.
"Sergio is convinced that art can build stronger communities and that, as he illustrates in this project, it can bring hope and healing in moments of despair," explained Angeles Sancho-Velazquez, professor of liberal studies and Torres's senior thesis adviser.
"Sergio's graduation this spring culminates an all-important chapter in a remarkable story of resilience, willpower, and sheer passion for improving his own life and the lives of others," she continued. "What all his extracurricular activities and projects have in common is that they involve mentoring and advocating for others. This is why Sergio's story is outstanding: His success does not end with him; it contributes to the success of so many others."
Torres's advice for future Titans is to find their community on campus. "When I first stepped onto the CSUF campus, I felt like I was just one out of 30,000 plus students," he said. "However, when I found my community, I became part of a loving and caring family."