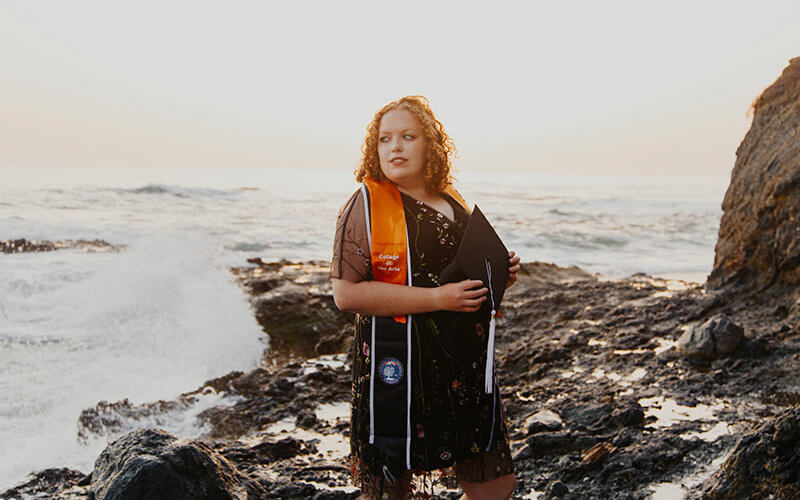 "If I decided that I wanted to make a space octopus that breathes fire, all I would need is my computer," said Mia Bullock, who came to Cal State Fullerton to learn how to animate.
What she didn't expect was that the university would open her eyes to the beauty of all visual arts disciplines, including animation, illustration, graphic design, drawing, painting, photography, ceramics, glass blowing, sculpting and metal working.
"I was encouraged to try classes outside my requirements, and that is how I discovered the beauty of glass blowing and illustration, which are classes I would likely have never tried," she said.
"The faculty also taught me all aspects of the entertainment field and helped me decide which part of animation I most enjoyed: 3D modeling and bringing characters and environments to life," added Bullock, whose goal is to work for a major motion picture studio.
Graduating magna cum laude this spring with a Bachelor of Fine Arts in entertainment art-animation, Bullock has been impressed with the caliber of work her fellow classmates have produced during their time at Cal State Fullerton.
"I have seen the students on this campus create entire galleries of work because of their passion — students turn molten glass into pumpkins and ornaments, students draw anything you can think of, and other students take those same drawings and bring them to life," Bullock continued. "Creativity has no bounds in these studies."
Bullock credits arts faculty members for teaching her all aspects of the entertainment field as well as for encouraging her to make the most of her college experience.
"The College of the Arts is the most creative group on this campus," she said. "Our classrooms consist of stages, computer labs, studios, kilns and furnaces. We even have a life-size sculpture of Kung Fu Panda!"
Addressing her fellow graduates, Bullock challenged: "Our tassels are white for a reason. It is the blank canvas we need to create. As students in the visual arts, it is our job to bring this tassel to life. Give it meaning. Create something only you can do. Your next step is to create your future."