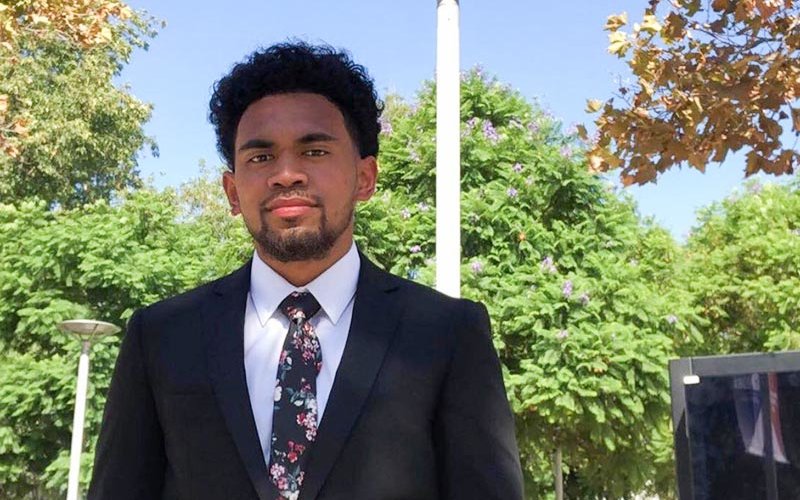 Fitu (Theodore) Malepeai
Distinguished faculty, families, friends and fellow graduates of 2020 and 2021.
Congratulations!
Before I continue, I would be remiss if I didn't take this time to say a few words in Samoan.
Fa'afetai i le Atua
Fa'afetai i matua
O le fa'amoemoe ua taunu'u, o le laau o le ola
Faamalo finau. Faamalo tauivi.
Faamanuia leau faauu
Manuia le lumana'i
Soifua!
Oftentimes, people doubt themselves — myself included. We challenge our strengths, question our abilities and we may even convince ourselves that we simply can't. Despite the achievements we may have, the qualities we may possess, we continue to be our worst critics. To those thoughts, we continue to prove them wrong. Whether these ideas are self-inflicted or influenced by our surroundings, we persevered. Continue to be you, unapologetically — especially those affected more in these trying and dividing times based on the color of your skin, your gender and/or your identity. I admire your strength and resilience.
Let us reflect on our journey to get here.
I'm sure it wasn't "the best" — procrastinating, late nights and early mornings, but we still made it. We are here with our fellow graduates and classmates that have all experienced the odd comfort when we heard "No, I haven't started either." Or even in research, where we realize that we're not the only ones that are lost at times. Undergraduate research was a great experience. Thank you Dr. Kelvin Billingsley (associate professor of chemistry and biochemistry) and my lab mates and friends. Lab taught me that we can learn new applications of our scientific and mathematical knowledge and expand into new professional and educational opportunities.
Today, graduation is an indication that we are more than capable. We celebrate years of hard work and perseverance. We pay tribute to our support systems, God, family, friends and faculty. But, don't forget you, the student. You dedicated countless hours to academics while balancing life in a pandemic. This pandemic pushed us all out of our comfort zone and into unfamiliar and daunting circumstances. Nonetheless, we came, we studied, and in spite of life and its unforgiving ways, we graduated.
As we go onto our different paths, may we continue to grow individually, better our communities and foster a welcoming and accepting environment for all. Let us strive for equality amongst genders, justice despite race and respect regardless of differences.
Power, peace and prosperity to you all, especially the oppressed.
Congratulations, again, Class of 2020 and Class of 2021! Black Lives Matter. Respect Women. Stop Asian Hate. Abolish the oppressive systems.
— Submitted by Fitu (Theodore) Malepeai, who earned a bachelor's degree in biochemistry
Fitu is one of the College of Natural Sciences and Mathematics Class of 2021 student commencement speakers. He is a first-generation college graduate born in American Samoa and raised in Carson. His parents taught him and his four sisters to always give back and volunteered at service events in his community. He continued volunteering in college to help youth through CSUF Athletics (he participated in men's track and field in his first two years) and less fortunate communities with Kappa Alpha Psi Fraternity. He is pursuing a master's degree in chemistry in the fall at CSUF while working as a chemist. His career goal is to become a surgeon.
Watch the College of Natural Sciences and Mathematics virtual commencement celebration here.