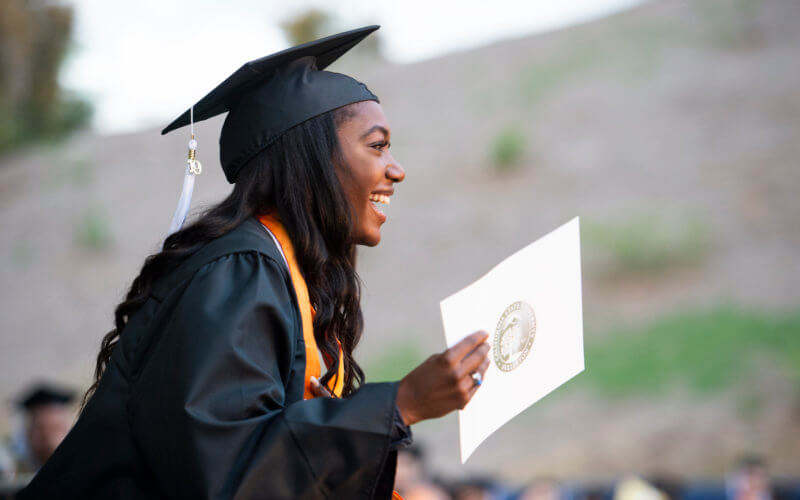 It was a day so many had been looking forward to … and many thought they might not see. But this year, Cal State Fullerton is offering graduates of 2020 and 2021 the opportunity to walk across the commencement stage at a modified, in-person celebration. While the music of 'pomp and circumstance' will fill the air during the four-day celebration, and graduates can take their "victory lap" walking across the stage in their commencement regalia, it's a very different celebration than most students envisioned when they began their higher education journey.
"We know what a difficult time this has been and our goal was to try to create a moving and celebratory experience for our students and families," said Andrea Kelligrew, director of university events. "In the midst of coming out of a pandemic that upturned lives for more than a year, the university sought out ways to offer graduates a way to celebrate this significant achievement while maintaining safety and remaining in compliance with state health guidelines."
When in-person commencement ceremonies were cancelled last year, President Fram Virjee made a solemn promise to 2020 grads.
"When it is safe to do so, I promise you will be able to participate in commencement activities," he told students. He kept that promise. So on Saturday, June 12, about 3,000 2020 grads will finally be able to take a celebratory walk across the stage … even though they earned their degrees the previous year.
The next three days (Sunday, June 13 through Tuesday, June 15), will be devoted to the just over 7,000 of 2021 grads expected to participate.
For all in-person commencement stage walks, each graduate will be allowed two guests. Guests will remain with the graduate for the duration of their time on campus.
Virtual ceremonies will take place on June 11.
To learn when the ceremonies of the eight different colleges will be taking place, visit fullerton.edu/commencement/schedule.
Additional Information
Commencement will be covered on the university's official social media platforms: Instagram, Twitter, Facebook and Snapchat (csufofficial). Graduates are urged to use #CSUFGRADS when posting on Twitter and Instagram so posts can be shared on Wakelet. The in-person stage walk sessions will be live streamed on YouTube and Facebook.
Commencement website: fullerton.edu/commencement