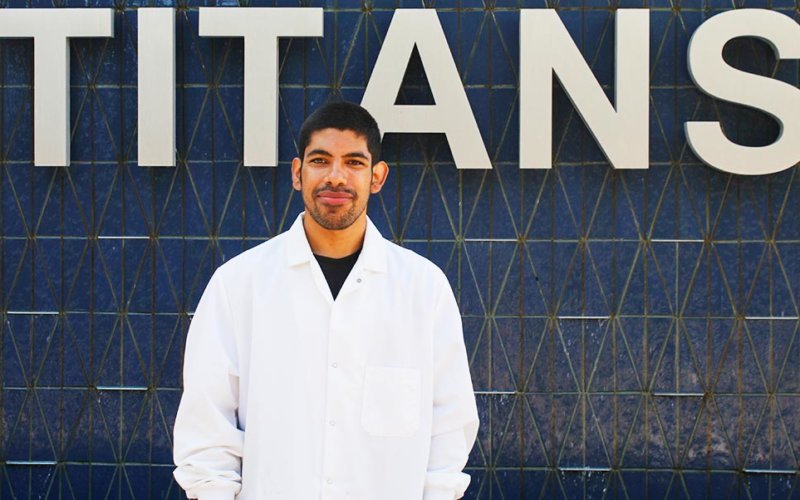 Jose Gonzalez Jimenez remembers when he decided he wanted to learn chemistry. In the fourth grade, his teacher used chemistry demos as a carrot to get students to complete their work on time. Not sure what chemistry was all about, but intrigued by a new and different type of science, he always worked quickly to get his work done. He became enthralled with the idea but was still very much tied to his first love of soccer. Jose lived in Mexico until first grade and soccer was one of his early memories — and something he was very good at. However, when it was time to decide what he was going to do in the future, that curiosity sparked in elementary school of this new science won out.
Jose entered Cal State Fullerton as a civil engineering major and quickly switched over to chemistry. He found as his chemistry classes became harder and more detailed, his curiosity became deeper as well. In the fall of 2019, he joined the solid state chemistry lab of Dr. Allyson Fry-Petit, assistant professor of chemistry and biochemistry, and realized that the same passion he could pour into hours of practicing soccer could be poured into understanding new oxygen transport membranes. Both required tenacity and patience to keep coming back to the work when it was hard — something Jose was prepared to do.
In December of 2019, his hard work paid off when he was able to perform one-of-a-kind, cutting-edge experiments at Oak Ridge National Laboratory in Tennessee. Since that time, Jose has been working tirelessly to complete the analysis of the data and propose improvements to how the experiment is done. His work will be submitted for publication during the next academic year.
Jose's experiences doing chemistry while at CSUF have made him sure that a doctorate in chemistry is his next step. He aims to continue his studies in solid state chemistry, with a focus on magnetism. Jose, who is earning a bachelor's degree in chemistry, was accepted into three highly competitive graduate programs. He will be attending Rutgers University this fall.
— Submitted by Allyson Fry-Petit, assistant professor of chemistry and biochemistry