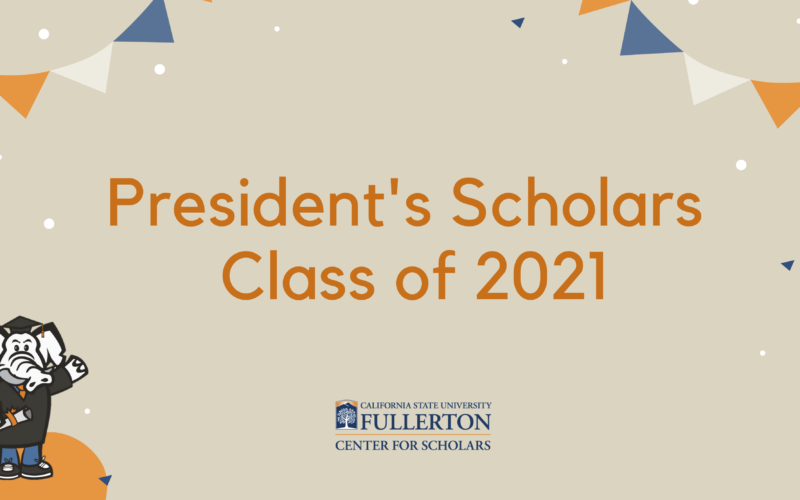 As a self-motivated, academically strong overachiever, Asha Bhattacharya immediately found her community at Cal State Fullerton in the President's Scholars Program. She enjoyed connecting with other ambitious students who valued education as much as she did. What she didn't realize, though, was the important role the program would play in supporting her emotional and mental health in college.
"President's Scholars is so much more than a scholarship," shared Bhattacharya. "It is a support network. It's a group of very driven individuals, and what we need — because we put so much pressure on ourselves — is emotional support. And that is definitely a big benefit that the program provides."
Bhattacharya is among 14 President's Scholars graduating in the Class of 2021. All were recognized for their achievements both on and off campus in a virtual ceremony this spring, hosted by the Center for Scholars.
(Click on a slide to read the student bio)
Yajayra Tovar, director of the Center of Scholars, told the graduating seniors that despite COVID-19's challenges, their commitment to helping their communities did not waver.
"You made it clear that a pandemic was not going to stop you from leading. You quickly pivoted and found ways to keep your community connected and active. Through civic engagement, you continue to advocate for those who need help or a supportive voice, and those who are underserved and marginalized."
For Bhattacharya, much of her community work has centered on mental health.
"As a resident adviser, I got to speak with students firsthand about their struggles and saw that mental illness is something that affects a lot of people. I thought about how we have the gym where you work on your physical health before physical issues happen. We need to create a system where people can proactively work on their mental health before problems escalate."
Bhattacharya took her idea of a "mental fitness center" to President Fram Virjee, and there are now plans to open such a center when CSUF returns to campus.
The marketing major, who will begin her career as an area manager with Amazon, is grateful for the proactive mental and emotional support she has received through the President's Scholars Program. She is excited that future Titans will have the chance to focus on their mental fitness as well.
Learn more about the President's Scholars Program on the Center for Scholars website.