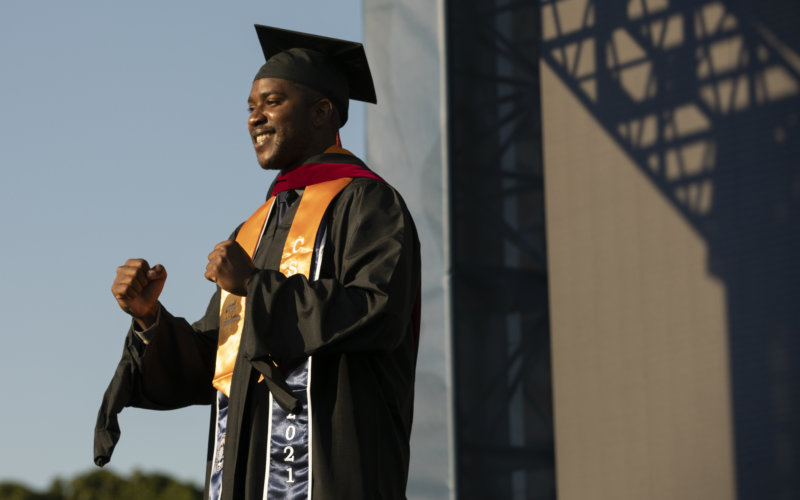 Commencement 2021 at Cal State Fullerton was a culmination of a promise kept and the resolve and resiliency of the classes of 2020 and 2021.
In 2020, when the pandemic was shutting the nation down, President Fram Virjee promised the graduates that they would participate in a commencement ceremony once it was safe to do so.
Virjee kept his promise.
On June 15, about 3,000 graduates from the Class of 2020 and 7,000 Titans from the Class of 2021 were finally able to take a celebratory walk across the commencement stage.
Their invited guests snapped photographs of the graduates crossing the stage and also at several locations around the university. At the in-person ceremony, they were showered them with flowers, Hawaiian leis, balloons and hugs.
It took a village to coordinate the June 12-15 celebrations that featured a tented intramural field with huge fans to cool guests during a few days of extreme heat. In addition, dozens of campus volunteers helped make the day special for the graduates and their invitees.
Not only that, but the president and his wife, Julie, attended every college ceremony, posing for thousands of photos with happy graduates.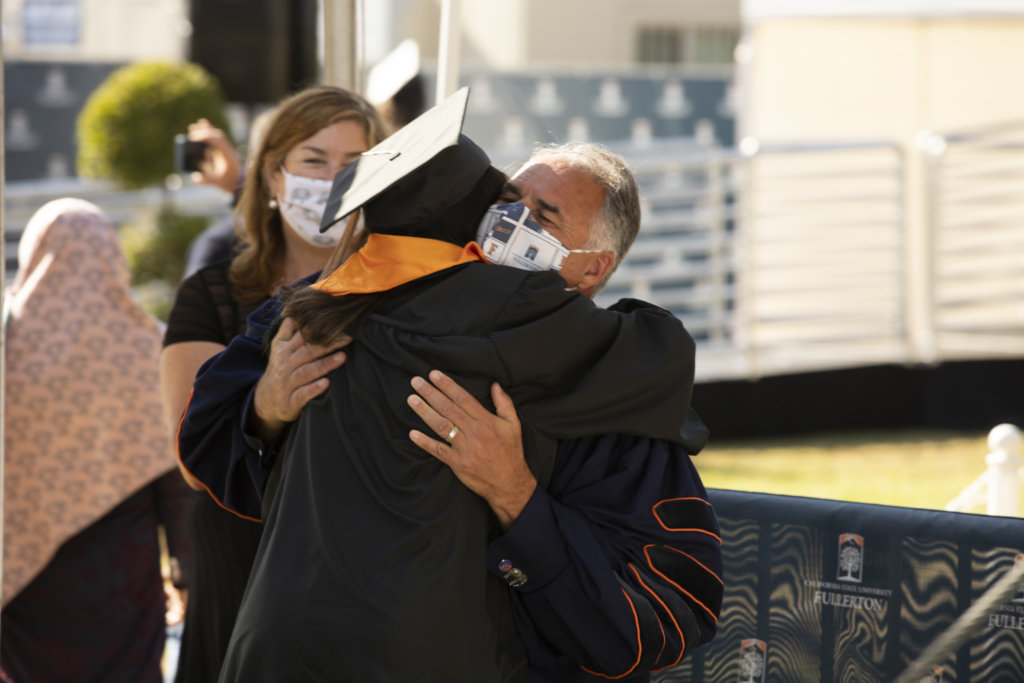 "It is amazing seeing and meeting all of our 2020 and 2021 graduates, along with their families, at our long-awaited and well-earned in-person commencement celebration," Virjee said as he posed for yet another photo with a graduate from the College of Humanities and Social Sciences. "I might be losing my voice, but it is well worth it to see the joy on our graduates' faces as they cross that stage and join our more than 300,000 alumni."
Thousands of other celebrants shared this moment at home with graduation parties — tuning in to the virtual commencement platforms, livestreams and inviting friends and family over to celebrate the momentous occasion.
It Takes A Titan
Because of pandemic protocols, masks were required, and social distancing was reinforced at the events.
But the health and safety requirements did not deter these graduates. They had spent the past year navigating courses on Zoom, dealing with concerns about the pandemic, and living in a world that looked much different before the arrival of COVID-19.
"It feels wonderful to be here in person to celebrate all the hard work that I put in," said Amy Zieske, who earned a bachelor's degree in public health. "This has made all those hard days and good days worth it. Being outside in the sun with friends and family has been such a treat."
For kinesiology graduate Kevin Threet, COVID-19 and the pivot to online courses were tests that he confronted head-on.
"Resiliency is the key," said Threet, who plans to work in sports medicine. "You've got to stay consistent despite the trying times. All you can do is try your best."
Shelly Burke, who earned her doctorate degree in nursing, said the pandemic has taught everyone a lesson.
"It was tough, but we learned to adjust to the pandemic and work in an environment that was unfamiliar. Eventually, we got used to it." Burke, who also teaches at the university, said, "It's all about adjustments."
Each graduate was allowed to bring two guests, and for Emily Rumaldo's mother, Marilu, it was a proud moment as she watched her daughter cross the stage.
"I'm so proud of her because of all that she has put in," she said. "Sometimes she would say, 'Mom, I can't do it,' and I'd say, 'You can do it.' She's so smart."
Emily, who earned her degree in public health and plans to get her teaching credential, said her parents are the motivation behind her educational success.
"I did it for my parents. They immigrated here from Central America so I wanted to do something for them. Regardless of whether it was online or in person, I gave 100 percent to my studies and at the end of the day, I'm gonna walk across the stage and feel accomplished."
A Marriage Proposal
Cal State Fullerton 2020 graduates Alexis Chaires and Alexis Ibarra crossed the stage and then professed their love for each other. After Saturday's ceremony, Ibarra dropped to one knee in front of the university's promenade entrance and asked Chaires to marry him — as family and friends cheered.
Chaires earned a bachelor's degree in health science and Ibarra, a bachelor's degree in criminal justice.
"We are so grateful that we got to experience our college years at CSUF together and create wonderful memories, which is why he decided to propose on campus — the place where it all began," Chaires said.