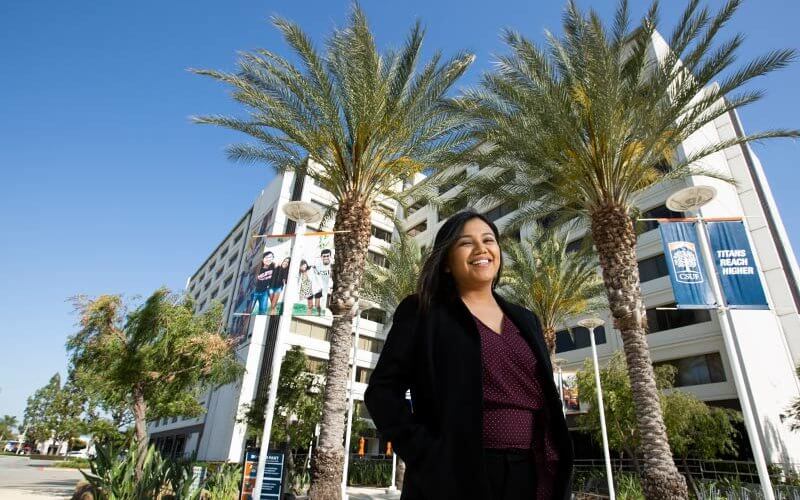 In elementary school, María Angélica Hernández was used to tagging along on all of her brother's Cub Scout field trips. The day they visited the Jet Propulsion Laboratory in Pasadena, though, was different. There, space exploration and NASA's rover, Opportunity, captured her imagination, turning into a lifelong passion.
"Ever since then, I've always wondered what we're doing out in space and how NASA is changing the world with technology," the Class of 2021 graduate shared.
Hernández arrived at CSUF as a transfer student, eager to be part of the university's well-regarded communications program. Her desire to tell stories led her to focus on public relations and corporate communications. However, as the first person in her immediate family to attend college, it wasn't always easy.
Impact of the Pandemic
"I had to work almost full-time, and as a first-generation student, you don't feel like you belong a lot of the time," she admitted. "But I got involved with the Public Relations Student Society of America, which does a really great job with making students feel welcome. I always felt welcomed even though I couldn't show up to everything."
Some of Hernández's challenges were further exacerbated by the pandemic. She faced financial troubles, and her learning environment at home was cramped and filled with distractions.
Despite the difficulties, though, Hernández is an optimist and believes that the pandemic was a blessing in disguise for her.
"I've been able to do out-of-state internships, which I don't think I would've been able to afford if they weren't virtual," she explained. "And I started my own public relations consulting business, another thing I don't think I would have been able to do if I were going to in-person classes."
Power of Mentorship
For Hernández, mentorships have been key to getting her where she is today: ready to graduate and begin her lifelong dream of working at NASA (summer internship), followed by the start of a career in corporate communications at IBM in New York City.
"Ricardo Valencia, assistant professor of communications, has been a huge influence on me and the trajectory of my career," she shared. "In his public relations writing course, he encouraged us to write about something we're passionate about, so almost all of my content was related to NASA."
Ken Hagihara, lecturer in communications, pushed Hernández to continue to pursue her dreams, even when she wavered. Ron Imus, lecturer in marketing, helped her prepare for her IBM interview. He also recommended her for the Executive in Residence program in the College of Business and Economics, where students are paired with local business leaders for one-on-one mentoring."That program has been a huge life-changer for me," Hernández relayed. "I've been able to meet an incredible group of people who have helped me with accountability, being more open to change, and learning how to have fun and find balance in my life. I hope that every Cal State Fullerton student either goes out and finds mentors or takes part in a mentorship program like this one."
Learn more about the communications program at Cal State Fullerton on their website.