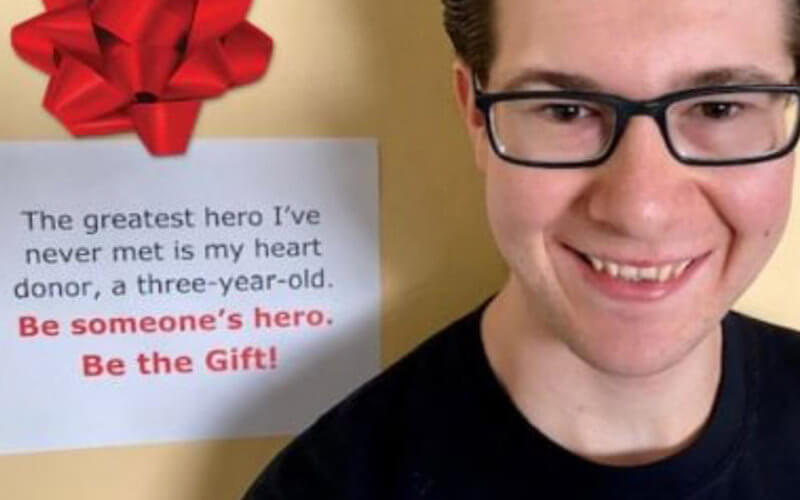 Christian Sutton, who graduates with a bachelor's degree in communications-public relations, takes his responsibilities as a volunteer ambassador for Sierra Donor Services very seriously. After all, the work of organ procurement organizations is what saved his life. When Sutton was 2 years old, he received a heart transplant.
For his dedication to this nonprofit, Sutton received the Community Engagement Medal from CSUF's Center for Internships and Community Engagement.
"I have a personal connection to the work I do," he said. "I was given the gift of life 23 years ago and I don't take one day for granted."
When the pandemic hit, Sutton discovered he needed to figure out a way to complete his internship remotely. Working with the College of Communications and Sierra Donor Services, he was able to develop a program where he could provide service to the organization and still receive internship credit.
"We basically created a public education internship that could continue even after I served my hours," he said. "I was the 'inaugural intern' but I had seven years of experience volunteering as an ambassador, so that helped."
As an ambassador, Sutton served as an advocate and educator, telling others about organ donation and dispelling myths. For instance, there are no age limits to being a donor (the oldest organ donor was 98, the oldest tissue donor was 101), the only medical condition that can preclude someone from donating is if they have sepsis or an active cancer (cancer survivors may donate), and most religions do not prohibit organ donations (in fact, many believe it is an act of charity and benevolence).
Sutton chose to major in communications because he knew storytelling is a big part of reaching out to potential donors.
"I talk about my experience and how I have been able to remain in contact with the donor family who helped save my life," he said. "People respond to personal stories, and I want to demonstrate the power that organ and tissue donation has to save lives. And then we encourage them to register and to discuss their wishes with family and friends."
He even wrote about his volunteer work in a blog post for the Public Relations Student Society of America.
Upon his graduation, Sutton will head to Florida to serve an internship with Walt Disney World. He hopes to be able to combine his two passions — education about organ donation and Disney — in his future, perhaps working at Disney while volunteering with a donor program.