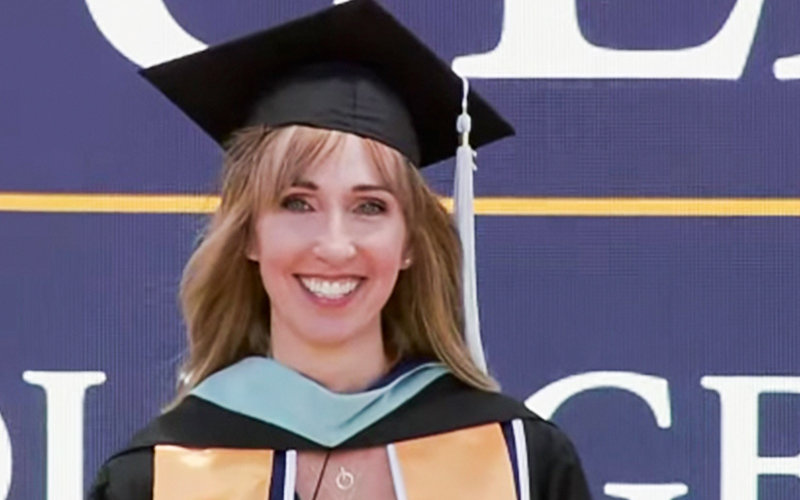 Walking to her car after participating in Cal State Fullerton's Class of 2021 commencement this weekend, two-time graduate Dianne Mason '18, '21 (B.S. human services, M.S. counseling) was overcome with nostalgia.
"I felt my throat tighten as I realized that my time as a student at Cal State Fullerton had truly come to an end," she said. "The last five years have been the most transformative of my life, first as a transfer student majoring in human services, then as one of the lucky few to be accepted into the master's in counseling program."
When Mason came to CSUF five years ago, she had no idea the impact her professors and the school would have on her life.
"Not only did I gain knowledge and skills that I will use in my career, but I grew personally into a better, more confident, more authentic version of myself," she reflected.
As an undergraduate student, Mason served as a participant, leader and supervisor in her "Character and Conflict" classes. "The class is a great opportunity for students to experience personal growth in small groups that meet weekly for an entire semester."
In the graduate counseling program, she expanded her knowledge around issues related to diverse cultures and social justice. "So many important, difficult, challenging conversations were had in counseling classes that changed my view of racism, white privilege and white supremacy — which are so pervasive in our society," said Mason. "I am still learning, and will continue to learn and do everything I can to contribute to a better, more just world.
"I feel so passionately about this, and I have my fellow counseling students and professors to thank for speaking their truths and sharing their stories."
In addition to graduating with honors, Mason was awarded the Department of Counseling's Outstanding Scientist-Practitioner Award for her research project, "Rethinking Apostasy: Exploring Therapists' Work with Religious Disaffiliation," and practicum work as a counseling trainee. Beyond the classroom, Mason participated in the Human Services Student Association and the Graduate Counseling Student Association and worked as a teacher's assistant in the "Crisis Intervention" class.
"With so many opportunities to learn and serve, I feel very well prepared to embark on my new life as a CSUF alumni," shared Mason, whose post-graduation plans include publishing her master's research project, working as an adjunct professor and a counselor in the community, and researching doctoral programs.
"My ultimate goal is to impact others in a positive way, to 'pay it forward' in any way that I can. I will never forget my life as a CSUF student and I will forever be a proud Titan."