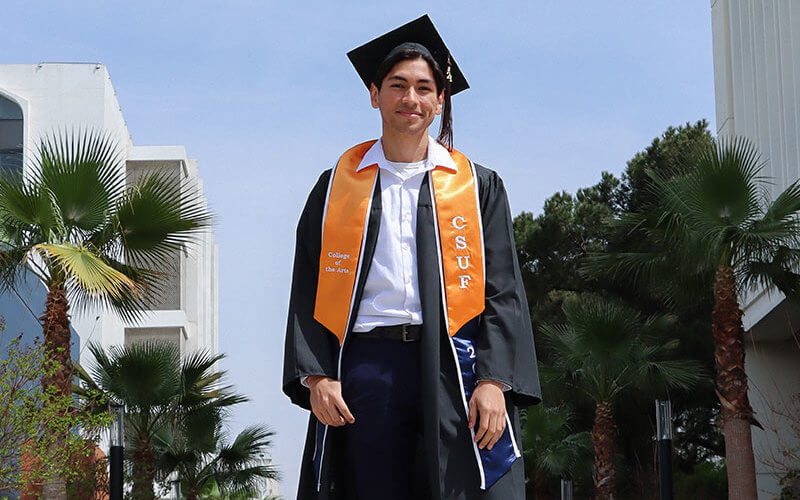 As a new dance student at Cal State Fullerton, Moises Felix showed up to class every day with the intention of being perfect.
But the philosophy of Damian Woetzel, former dancer with the New York City Ballet and current president of The Juilliard School, changed Felix's mindset: It is within the imperfect that artists take their biggest steps and find their truest strengths.
"This is when I recognized the power and the value of being unfinished, the beauty in being imperfect," shared Felix. "It was at this point in my artistic journey that projects, papers, rehearsals, performances and kinesthetic practices became more than just a grade.
"After stepping away from what I had previously believed to be a successful artist, I was able to forge art from a deeper, more profound place," he continued. "With the incredible guidance of my professors and mentors here at Cal State Fullerton, I have been able to take unimaginable steps toward becoming the artist I aspire to be."
Felix graduates this spring with a bachelor's degree in dance and a minor in kinesiology. During his time at CSUF, he has studied ballet and contemporary dance techniques by José Limón, Martha Graham and Lester Horton; and had opportunities to perform works by Bryn Cohn, Colin Connor, David Hochoy, Leslie Scott, Anna Sokolow and Doug Varone.
Outside the classroom, Moises has taught ballet and modern dance at several color guard programs, including Arcadia High School and Palm Desert Charter Middle School. He has performed with Los Angeles-based dance company Dance Aegis and guest performed for Fuse Dance Company.
"I remember transferring to Cal State Fullerton as a shy, intimidated and eager Titan, unaware that I had just stepped into what would be my home for the next three years," recalled Felix.
"When I look around at the many faces that I have had the honor to share this experience with, I see ambitious, dedicated, diligent and inspiring Titans. Even when some of our lives turned upside down when faced with a pandemic, even when confronting the frustrations and struggles of virtual learning, our graduating class still managed to reach higher.
"As a proud graduate of the Class of 2021, I know my work is only just beginning."