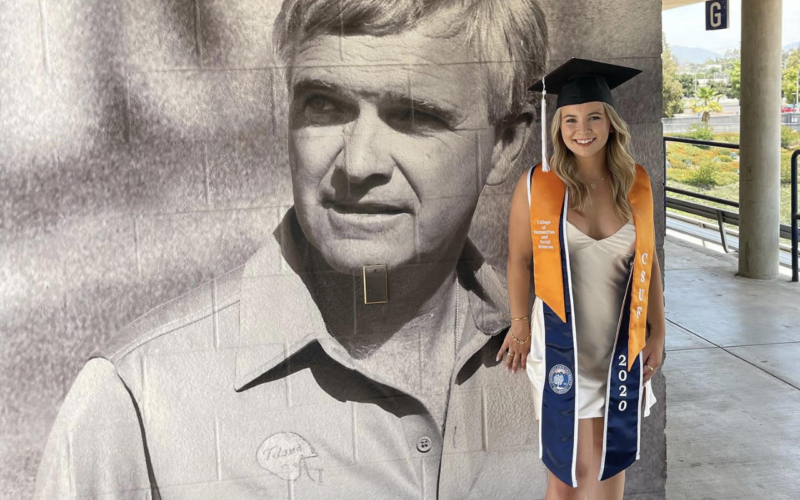 When Cal State Fullerton Class of 2021 graduate Aileen Murphy walked across the commencement stage this week, she carried on the Titan family legacy. She also donned a cap that read "For My Titan in Heaven."
Her late father, Gene Murphy, was the university's football head coach from 1980 through the program's end in 1992. Her mother, Christine McCarthy, worked on campus for 32 years in various roles, including as director of athletic academic services, and now serves as treasurer of Academic Professionals of California.
"I will say it was a very bittersweet day graduating from the university where my parents met and only having one parent there to see it," said Murphy, who earned a bachelor's degree in sociology. "But I know my dad is cheering me on from heaven."
While her mother and boyfriend watched as she walked across the commencement stage, Murphy described it as an "amazing" experience. Graduation Day culminated years of hard work, struggles and dedication to earn a college degree, especially during a pandemic year.
"It was extremely important for me to go back to campus and walk, even if it meant that it wouldn't be like a normal college graduation. Participating in the in-person stage walk on Tuesday wasn't just for me, I did it for my mom, too. School has always been hard for me and I can't tell you how many times I begged my mom to let me quit, but she always pushed me to keep going and helped me in any way that she could," Murphy said.
"I probably would not have graduated if it wasn't for her and I will always be grateful for that. I was so glad I was able to bring her to the graduation. She loved being able to watch me celebrate my accomplishment."
Murphy transferred to CSUF from Fullerton College, where her father was football head coach from 1993 to 2007. After retiring, he was a consultant with the program until his death in 2011 when she was 14.
"I chose to attend CSUF because it was where I needed to be. It felt like home the minute I stepped on campus — and I knew I wasn't going to have that feeling anywhere else."
She faced academic challenges during her college journey. But she ended up making the dean's list almost every semester at CSUF, with the help of academic advisers like Janette Hyder, now Male Success Initiative counselor and senior career post-graduation coordinator.
Murphy is working full time in accounting at a local business, with the hope of returning to dance — she was on the winning dance team at Fullerton College. She's considering trying out to become an NFL cheerleader to keep close to her football roots.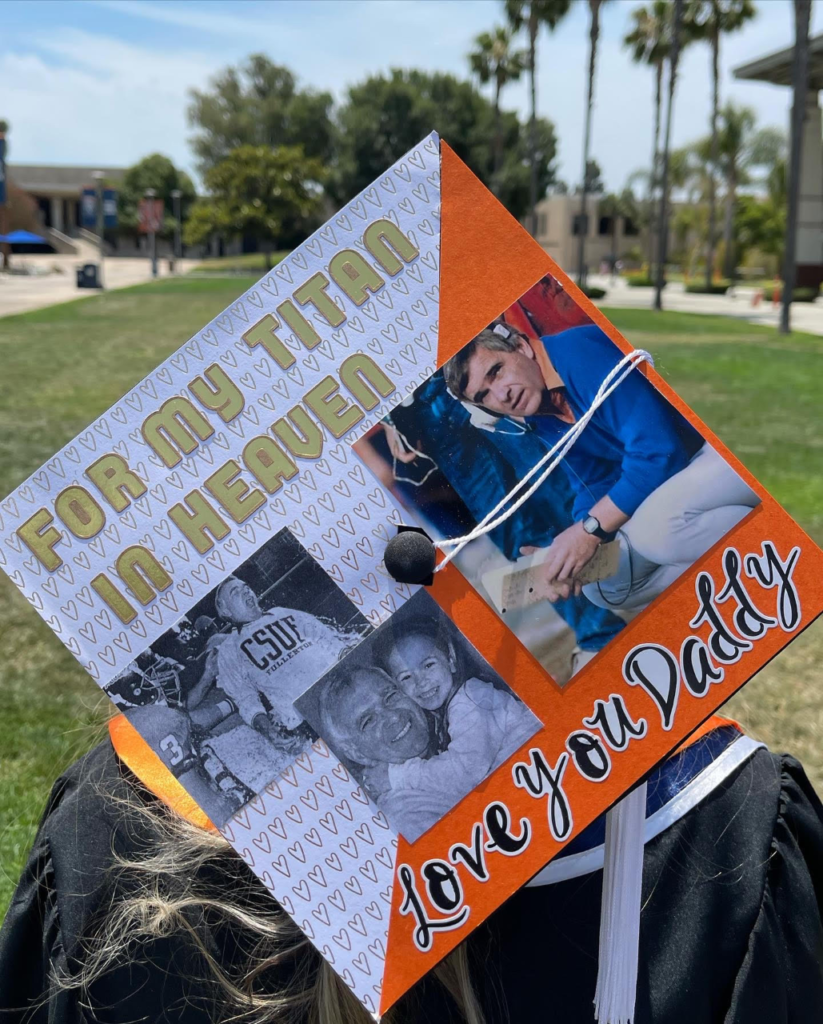 While her dad was not here to see her graduate, she shared that he'll always be with her in her life and future career.
"Still to this day, people come up to me or find a way to contact me and tell me stories about my dad and how much they love and miss him. I am very proud to say that my dad did not just leave us with his amazing football legacy, but a legacy of just being the man that everyone could count on and love.
"I miss him every day, especially during milestones like this in my life. But I know he is up there smiling down at me, prouder than ever."