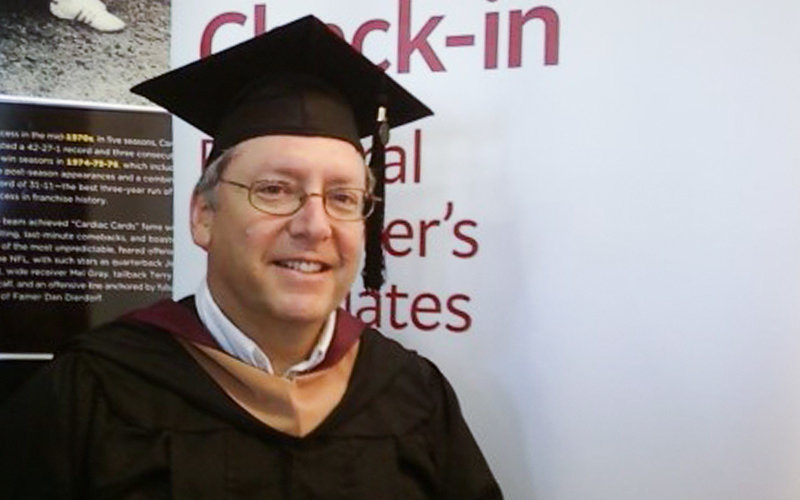 Mark Guttenplan
Welcome graduating students, faculty, family and honored guests to the 2021 Cal State Fullerton College of Engineering and Computer Science Virtual Commencement Celebration. My name is Mark Guttenplan.
This is a beautiful day in Southern California and it is good to be alive.
This has been a year to remember — or maybe forget. Fifteen months ago while most Cal State Fullerton students were transitioning from in-class learning to online learning, my cohort (No. 16) in the online-only Master of Science in software engineering program was working as if nothing had changed. The only thing that had been added was the use of Zoom.
The software engineering program was designed to be challenging, and it is challenging, and worth every second. It's funny, since my other degrees are in other areas, I had to provide a resume and a personal statement on why I should be admitted to the program. My statement was easy — it is because I love this subject and this is where my passion lies. And, I am hoping that this may sound familiar to you, too. If you love what you are doing, everything you do seems to be easier; life is good and there is no obstacle you cannot overcome.
Almost every week for the last 22 months, we have had to post our opinions in our class forums. Believe me when I say that you get to know your classmates during this process, and I'm telling you that the love and passion for this subject is there. I know it, because I have read it. My teammates Christine and Kevin are the best because they love what they are doing.
Sometimes there will be challenges. A very smart engineer recently told me, "Be true to your engineering convictions and accept the reality that you will be wrong sometimes, and use that to grow." Yes, you can flip a challenge to a positive.
Go out and build on what you have learned here. You have the tools and the skills to do something special. All you have to do is want it and go get it.
Thirty years from now, you will all be able to tell your grandkids that you not only attended college during a pandemic, but that you were able to overcome all obstacles and challenges thrown at you, and graduate with a degree that could help you to become a new person.
And now, I am guessing that you will be showing a copy of that new degree to mom and pops, and asking them for the car they promised you. Congratulations Class of 2021!
— Submitted by Mark Guttenplan, who earned a Master of Science in software engineering
Mark is the College of Engineering and Computer Science Class of 2021 student commencement speaker. He is a senior principal systems engineer at Raytheon Integrated Defense Systems/Command Control and Battlefield Radar Systems.
Watch the College of Engineering and Computer Science virtual commencement celebration here.