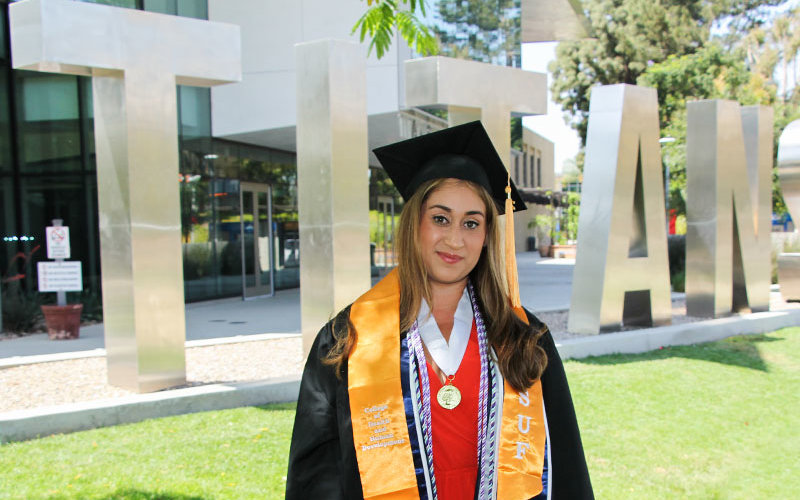 Jorge Contreras said his appreciation for his Native American identity grew even stronger because of his time at Cal State Fullerton. Contreras participated in the Inter-Tribal Student Council, and will start a new position as the club's event planner after graduation.
"The club really helped me dive more into the diverse native cultures there are throughout the world and with the people around us," said Contreras, who earned a bachelor's degree in communications-entertainment and tourism.
Contreras is one of the graduates from the Class of 2021 who were recognized by the Chicano/Latino Faculty & Staff Association via video on June 11. Latinx and Native American graduates also had the opportunity to wear sashes with sarape colors over their graduation robes at in-person ceremonies throughout the weekend.
The association also released a video recognizing class of 2020 Latinx and Native American graduates in May.
Taja Garcia, who earned a bachelor's degree in nursing, said she will always remember participating in programs and activities such as the Nursing Student Association, Student Veterans Association, Allied Health Student Association and the School of Nursing student task force.
"As a Latina and first-generation bachelor's degree recipient, I am proud to be a Titan and am very blessed to have had an amazing experience," Garcia said. "I look forward to applying my Titan education in our society."
After graduation, Garcia hopes to work at a Veterans Health Administration medical center to provide nursing care to fellow veterans. She also has plans to pursue a master's degree.