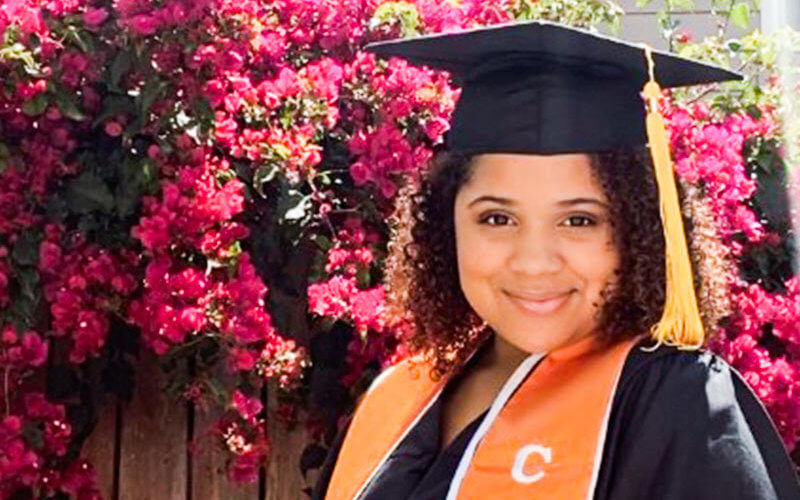 Although Naomi Belgrave has attended Cal State Fullerton's Pan-Afrikan Recognition Celebration many times as a student, it was important for her to take part in this year's celebration as a Class of 2021 graduate.
"I have attended many (celebrations) before as a student and felt the joy, fun and euphoria that space provides for Black Titans," said Belgrave, who is graduating with a bachelor's degree in biological science and a minor in African American studies. "Meeting so many people who share the same goals and aspirations as you is empowering in itself and seeing the families hype up their kids in one of their greatest achievements makes the moment that much greater."
Belgrave addressed fellow graduates during the 32nd annual celebration, hosted virtually in May. The celebration recognizes Cal State Fullerton's Black and African American graduates and includes speeches and presentations from campus and community members. Up to 120 African American CSUF graduates received kente stoles to wear over their graduation robes.
With a theme of embracing Umoja, or "unity" in Swahili, this year's event also recognized how students made an effort to connect and support one another during a fully virtual academic year and the COVID-19 pandemic.
"When you think of Umoja, you should think of unity," said Torrell Foree, coordinator for the African American Resource Center, at the ceremony. "You should think of community, think of your friends, your family, your loved ones, your professors, staff members, the organizations that have all been here to help you on this journey toward graduation."
This spirit of community guided Belgrave's undergraduate career as a Titan. Belgrave said her proudest moments as a student include her work with the Afro-Ethnic Student Association, for which Belgrave served as president during her senior year. In addition, Belgrave said her involvement with the American Medical Student Association helped her on her path toward becoming a pediatrician.
Belgrave's post-graduation plans include travel, possibly completing a post-baccalaureate program and attending medical school.