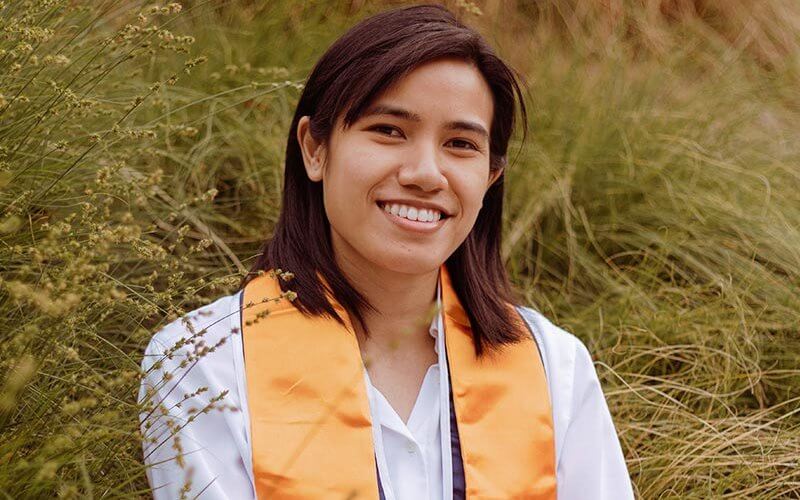 Danielle Batalla did not know what having a community really meant until she arrived at Cal State Fullerton five years ago as a freshman.
Graduating with a bachelor's degree in philosophy and minor in Asian American studies, Batalla said the things she appreciates most about Cal State Fullerton are the diversity of its student body and various organizations that promote unique experiences and long-lasting friendships.
Batalla was inspired to attend the 19th annual Asian Pacific Islander Desi American Recognition Celebration to show gratitude to her community. She addressed fellow graduates at the virtual celebration in May, remembering how the COVID-19 pandemic interrupted their in-person college experience.
"I think we can all agree that the ending to this journey is not the most glamorous, but we should celebrate it anyway," Batalla said.
The annual celebration includes speeches and presentations from campus and community members, and is an opportunity for family and friends to recognize the accomplishments of APIDA graduates. Graduates also received APIDA Recognition Celebration sashes to wear over their graduation robes.
This year's theme, "APIDA Resilience," highlighted the challenges of the past year and how students have only become stronger for it. Batalla urged fellow graduates to reflect on the "small moments of solidarity" that carried them through difficult semesters.
"Whoever your support network may be in your life, take some time out of your day to give them thanks," Batalla said. "The conditions of our virtual environment do not take away from the fact that we worked hard. Reaching this milestone today is a testament to our efforts and tenacity as college students."
Batalla served as the communications and graphic design lead for the Asian Pacific American Resource Center and as president of the Philosophy Club. She also worked as a research assistant and tutor for the Department of Philosophy, and as the technical director for Titan Radio.
Some of her favorite memories include planning events, connecting with the APIDA community and learning more about its various histories. Batalla also had opportunities to publish and present her work in philosophy journals and conferences.
"The professors of the philosophy and the Asian American studies departments guided me, counseled me, and gave me an invaluable education," Batalla said. "The folks at PASA Kaibigan (or Pilipinx-American Student Association), Titan Radio and DIRC became great friends and helped me grow as a student. I can say now that I'm walking away with a support network that is stronger than I imagined."
Batalla's post-graduation plans include participating in a Philosophy in an Inclusive Key program as an Iris Marion Young fellow and completing a summer internship with the Los Angeles nonprofit AHRI for Justice as part of its BLOOM (Building Leaders Organizing Our Movement) program. She plans to attend graduate school and work in the education field in student affairs or as a teacher.