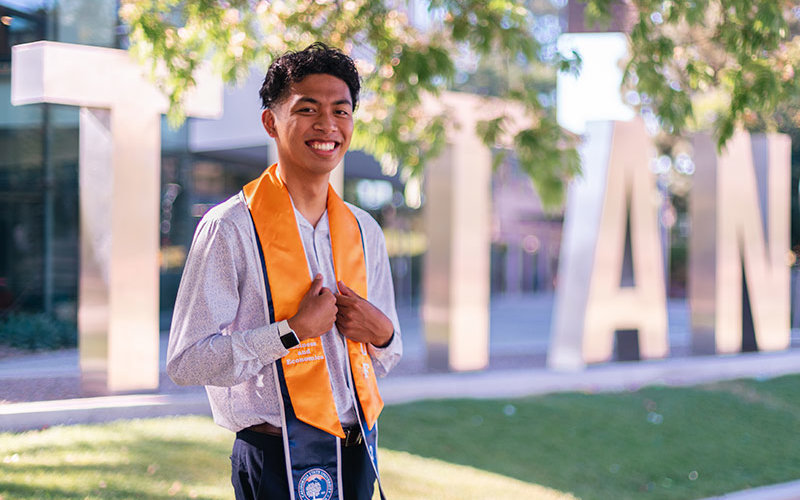 Class of 2021 graduate Rex Abiang said it was important that he participate and celebrate fellow graduates' achievements at the 22nd annual Pilipinx American Recognition Celebration, also known as "PGrad."
The event was an opportunity to see the friends he made at Cal State Fullerton while celebrating his new bachelor's degree in business administration-marketing.
"It was great getting to know many people participating in the ceremony and hearing others' future plans," Abiang said.
Pilipinx American Student Association, or PASA Kaibigan, hosted the virtual event in June. The ceremony recognized Cal State Fullerton's Pilipinx American graduates and featured videos, messages and presentations. Graduates also had the option to wear PGrad stoles over their graduation robes during the 2021 commencement ceremonies in June.
In a virtual environment, Abiang said attending Pilipinx American Student Association meetings and events helped him form strong connections and understand more about his Pilipinx background and culture.
These annual events included Friendship Games, a gathering of Pilipinx American student organizations from multiple college campuses, and Pilipinx Cultural Night, a student production showcasing Pilipinx American cultures through performing arts.
"I am very happy I stuck with the club even as we transitioned online," Abiang said.
Abiang's post-graduation plans include starting a full-time career in social media marketing or advertising.