Red abalone, the largest species of abalone in the world and the most common abalone found off California's coast, is in trouble due to overfishing, disease and climate change.
In her study, graduating master's student Marissa Velarde Wu is mapping out the red abalone spawning behaviors and characteristics to find out why populations are declining in efforts to save this protected marine snail.
Velarde Wu, who will earn a master's degree in biology, is working on completing her thesis project this summer and graduates in August. The 2021 graduate plans to participate in Cal State Fullerton's in-person stage walk commencement celebration June 13.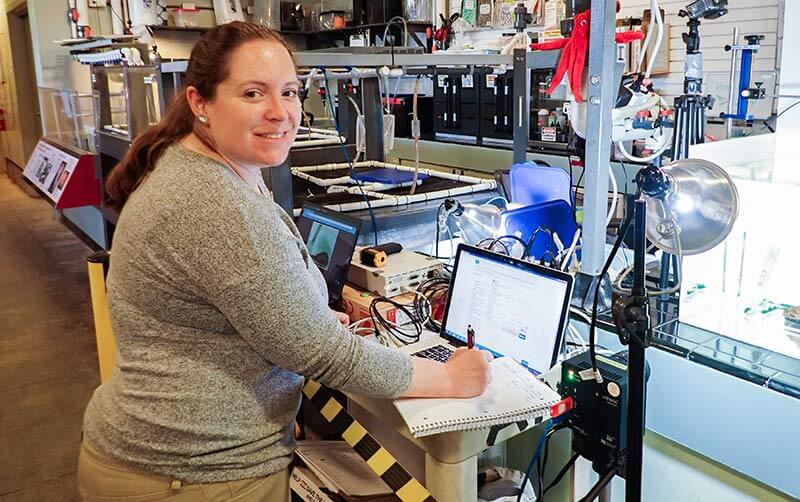 She is working with research mentor Danielle Zacherl, professor of biological science, to characterize female red abalone spawning behaviors and ​body movements. The goal is to help the sea snail repopulate in barren habitats or in captive breeding programs as part of restoration and conservation efforts.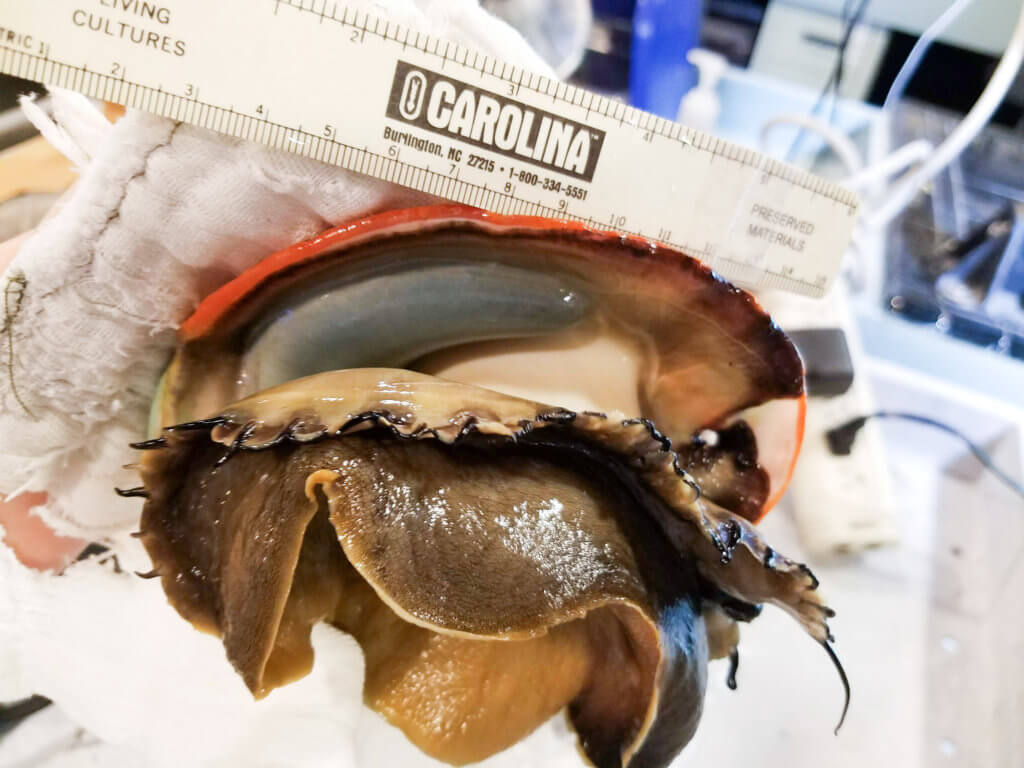 Red abalone, which have reddish to pink shells and are colorful inside the shell, are part of the kelp forest ecosystem. The large shellfish is a food source for marine animals such as the octopus, and feeds on kelp in the rocky intertidal zone of the ocean, which makes way for new growth, Velarde Wu noted.
"My study aims to better understand their reproductive behaviors, the benefits of these behaviors, and how these behaviors can increase the potential for a successful reproduction event in the wild," she said.
Studying Abalone Reproductive Strategies
For the study, Velarde Wu examined 15 of the free-spawning marine species, from which eggs are released in volcanic-like plumes underwater for external fertilization. She compared the body movements and the coinciding plumes to see how they changed over time within and among the red abalones.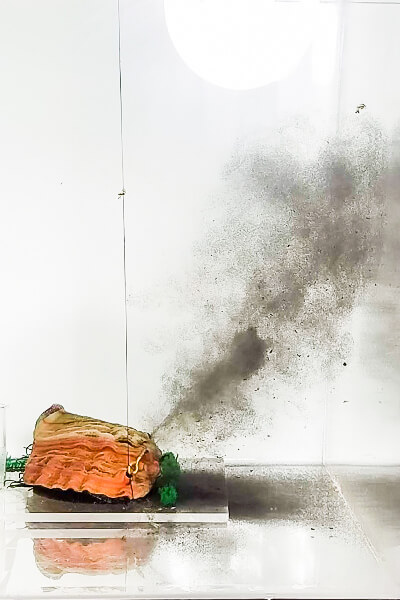 "What I found was that spawning female red abalones could produce taller egg plumes and faster moving eggs when they exerted ​body movement forces within a certain range. Sort of like ​when a bellows pushes a blast of air into a blacksmith's fire.
"This new information about the impact of abalone contraction forces on egg plumes will enhance our knowledge of evolved abalone reproductive behaviors, launch future studies, and guide restoration strategies and policies for protected abalone species."
Knowing the range of contraction forces that affect plume height of the released eggs is useful for models that can track egg dispersal along reefs by plugging in the plume heights, Velarde Wu explained.
The contraction force range can also be used in models of adult distribution and density on a reef to suggest a modified nearest-neighbor distance range that divers may target when releasing formerly captive bred abalones into protected habitats, she added.
"The results of this project can also lead to future research looking into the contraction forces and plume heights with the addition of a current either in a lab or field setting, or both, and then seeing if the abalones orient themselves a certain way in a current or low flow that might compliment the effects of the contraction forces."
Staying on Track to Graduate
Before the coronavirus pandemic hit, Velarde Wu worked on her research project in the aquatic nursery at the Cabrillo Marine Aquarium in San Pedro. Luckily, she collected egg samples and had enough data to analyze plume heights ​and contractions — and continued working on the project from home. She processed and analyzed the mountain of data she had collected and collaborated with ​Kevin Nichols, associate professor of mathematics, to statistically analyze the data.
Velarde Wu works full time as an informal educator and aquarium manager at the Roundhouse Aquarium Teaching Center, an Oceanographic Teaching Station in Manhattan Beach, located at the end of the pier. Her research experience gave her leadership and management skills that she will use in her work and conservation efforts.
While in the graduate program, Velarde Wu faced challenges keeping up with her studies while working full time. But with the help and encouragement of her research mentor, she improved her grades and stayed on track to graduate.
"I struggled to study enough while working and dealing with imposter syndrome. I even landed on academic probation. But I improved my time management, got my GPA back up and settled on a research project," she said.
"It helped to be part of Dr. Zacherl's inclusive and accepting lab. She is supportive and would give words of affirmation — just when I need that form of encouragement."
Velarde Wu is the 2018 recipient of the Rachel Carson Scholarship in Conservation Biology, awarded to students pursuing careers in conservation biology, and the Coppel Graduate Science Award, given to an outstanding biology graduate student. Both of the awards are from the College of Natural Sciences and Mathematics.