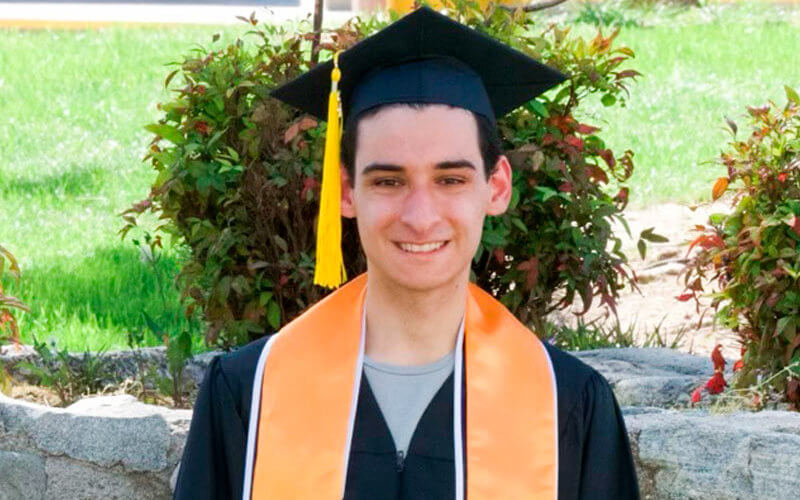 Allen Badolian
Hello fellow graduates of the Class of 2021, distinguished faculty and supporters everywhere! Despite the incredible feeling of harmony that this ceremony and, truly, this community that we call the CSUF College of Natural Sciences and Mathematics, has provided me especially through these uncertain times. I truly am nervous to give this speech. It can't be harder than NSM classes, right? Wrong it seems! So much so that in preparing for this speech, I went to my fellow peers to ask for some advice.
A great friend told me, I kid you not, "Do your Conan impression." "Not at commencement!" I replied. I went to my mom, Stella, my rock, like so many of our mothers and caregivers. She advised me to begin with "Hello my distinguished colleagues" and give thoughtful advice and maybe a quote. I said, "Mom, that's great, but these are NSM majors." In other words, they can already find the statistical significance of how successful they will be or perform the transfection of their dreams and aspirations to find the gene responsible for happiness.
Finally, I asked my brother Christopher, the best friend I could ever ask for and a fellow Titan in biochemistry. To my unsurprised delight he exclaimed, "Ask a rhetorical question. What advice would you give to your younger self?" I wondered, what would I tell that person? A shy kid, sitting between the massive echoing walls of a lecture classroom with 100-plus others, excited yet nervous, hoping no one talked to him. Should I tell him we graduated? What an accomplishment, so many are counting on him, and he would want to know, right? Then I thought about what he was in for.
I would like each of you to reflect on a few moments of your wild and beautiful journey. Trust me, if you still remember it now, it must have been memorable! I think about pizza parties in the Titan Student Union after our lab practiced proper safety and etiquette (even though someone left dye on the sterile slides every time). We were nervous, happy and sad — together with professors and peers. I remember then I wasn't so shy anymore. Did I miss something? When thinking about what advice I would give to myself, I thought at first, what wouldn't I say? But now, I know my answer.
It's nothing. I would not give that needy kid any advice. Why? Because together we surfed the full wave of our educational experience at CSUF; we really did. Remember when a problem finally made sense after hours of studying? Uncertainty is on the road to being certain. Embrace ambiguity. I was once shy and timorous. Now I am now prepared to pursue a master's degree and taking part in what I love to do, which is genetics research and continuing to pursue my lifelong goal of becoming a physician. It was truly my path at CSUF that made me who I am today, leaving not a stone unturned. For that I will never be thankful enough, to my family of course, but also to this campus and faculty.
We think about the future daily, especially today, and in a lot of ways we have become that kid starting a new thing again. I implore all of you to not be scared, be brave and know that your experiences, good or bad, are going to be yours. Why not own them? Though we hail from
different places (I am a first-generation Armenian American myself), our moments here at CSUF unite us unequivocally — from our newfound compatriots to those we only recognize. These individual, yet shared experiences, will thrive in our minds forever. That is powerful. That is your Titan badge. So, wear it with pride.
As NSM majors we will operate (literally for some of you) as scientists, researchers, teachers, health care workers and more. We are uniquely capable of making sense of the universe. In fact, we are in such demand today that you may feel inundated or overwhelmed. I want to implore you to never forget why you majored in the sciences or mathematics. I'll leave you with these simple yet poignant words, a quote like my mom said to do: "Your time is limited, so don't waste it living someone else's life" by Steve Jobs.
Congratulations and thank you Class of 2021!
— Submitted by Allen Badolian, who earned a bachelor's degree in biological science
Allen is one of the College of Natural Sciences and Mathematics Class of 2021 student commencement speakers. He will begin the master's program in biology this fall at CSUF and work under research adviser Nikolas Nikolaidis, professor of biological science. His goal is to become a physician.
Watch the College of Natural Sciences and Mathematics virtual commencement celebration here.