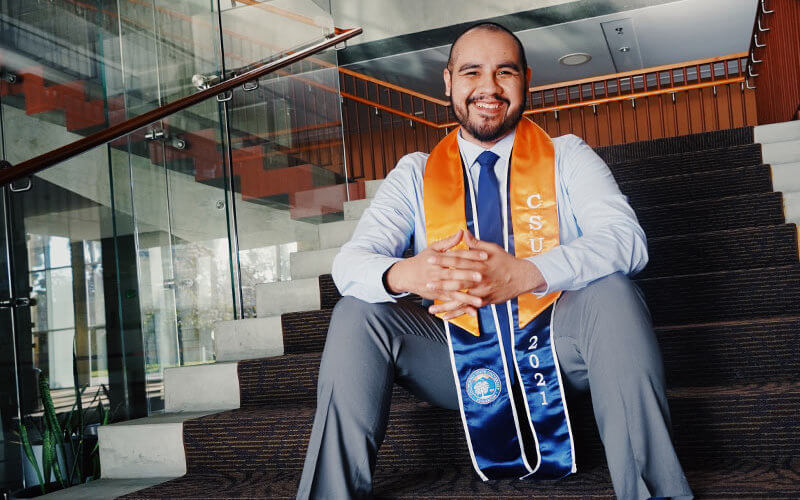 For many theatre majors, the COVID-19 pandemic proved a formidable challenge in the pursuit of their education. Live performances were canceled, virtual instruction became the norm and the loss of in-person collaborations were felt deeply.
It was no exception for Cal State Fullerton theatre major Abel Marquez, who persevered through an unexpected senior year to join the graduating Class of 2021.
"This last year has been challenging, full of personal and professional hurdles for all of us," he reflected. "As we transitioned to online learning, it became more and more difficult to feel the love of our friends and colleagues. We mourned the hours we didn't get to spend in theaters, the weeks of work no one would see, and the years of wisdom in professionals and loved ones we lost.
"But during a time of crisis, a time of mourning, a time of political and social unrest, we leaned on our communities to give us hope and to remind us of the indisputable power of our art."
Marquez, who was accepted to eight different schools, chose to make Cal State Fullerton his home because of the strong reputation of its program and faculty. Soon after arriving, he took on such leadership roles as student liaison and student advocacy and connection adviser for the Kennedy Center American College Theatre Festival.
Amid the pandemic, Marquez and fellow Titans (Sabrina Lopez, Zion Pham, Lesley Aguirre, Rani Shori, Damian Arteaga, Brandon Bruns) signed the Theatre Artists Union for Student Equity and Diversity letter, coming together to advocate for BIPOC (Black, Indigenous and people of color) theatre students.
For his achievements at Cal State Fullerton, Marquez was honored with a Services to the School Scholarship and Student Life and Leadership's Titans Leaving Their Legacy Award.
"I came to Cal State Fullerton to continue my education. Little did I know I would leave with an immense feeling of Titan pride and so many lifelong friendships," he said. "The bonds we have formed here, the calluses from our labor and the memories we have made on this campus will live on, forever, with us."