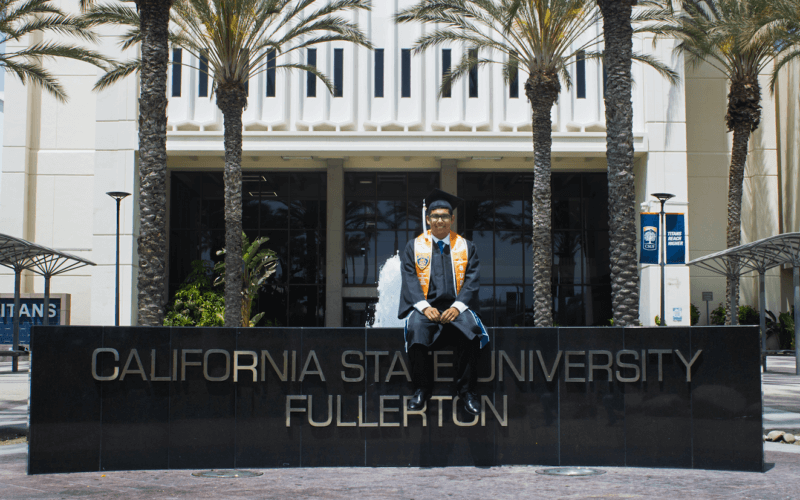 Six community service officers from the Cal State Fullerton Police Department will be graduating this spring: Miguel Araico (B.A. criminal justice), Jaime Arroyo (B.A. criminal justice), Natalia Diaz (B.A. psychology), Kenneth Gonzalez (B.A. criminal justice), Samantha Hajj (B.A. criminal justice, American studies) and Karina Villa (B.A. political science).
"We are so proud of our graduating seniors," said Chief Raymund Aguirre. "As students at Cal State Fullerton, all of our community service officers had to juggle work for the police department as well as their own family lives, all while continuing to pursue their degrees. Policing is a 24-7 operation, so the students often had to work different shifts, events (pre-pandemic) and be willing to serve as representatives of the police department. We will miss seeing them on campus but congratulate them for their achievements."
Community service officers are responsible for assisting patrol officers, handling all manner of records functions, conducting campus safety escorts and live scans, locking and unlocking doors around campus, and helping with campus events and community outreach opportunities.
Samantha Hajj has dedicated her time to the students, faculty and staff of the university by assisting in organizing community events, providing administrative assistance to the police personnel, issuing campus keys, overseeing the lost and found property on campus and more. "Once I finish my undergraduate studies, I want to pursue a master's degree in criminalistics in hopes of becoming a crime scene investigator or forensic scientist," she said.
Kenneth Gonzalez, who will graduate cum laude, began working for the university police in the summer of 2019.
"I have gained a great deal of community service experience and knowledge of the law enforcement field," he said. "I have enjoyed every day I've spent working for the CSUF Police Department and the connections I have made. My future goal is to work for an Orange County law enforcement agency so that I can play a part in protecting my community and representing its values."