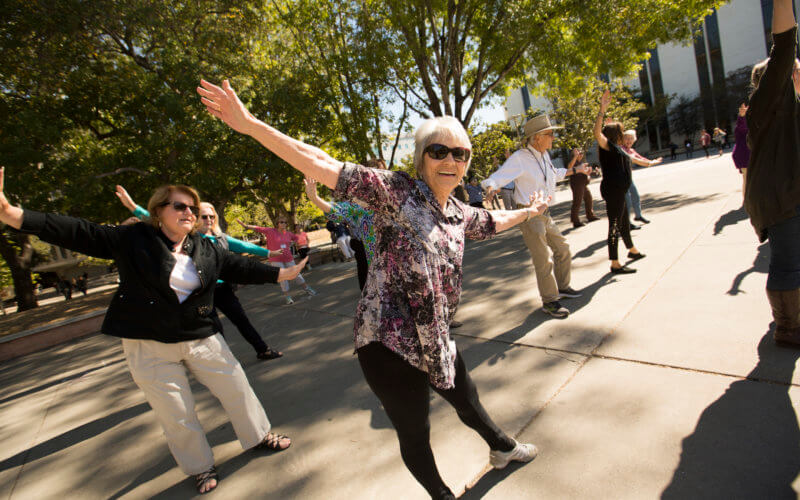 Cal State Fullerton was recently recognized by the Age-Friendly University Global Network for its commitment to providing programming and service to the aging community. Laura Zettel-Watson, professor of psychology and coordinator of the Aging Studies Program, will serve as the Age-Friendly University contact at CSUF.
At Cal State Fullerton, this includes thousands of undergraduate and graduate students. About 500 students over the age of 60 graduate from CSUF every spring.
Academically, CSUF offers a minor in aging studies; Master of Science degrees in gerontology and gerokinesiology; and aging tracks in the Bachelor of Science in kinesiology, Master of Public Health and the Master of Social Work. A wide range of programs and services focused on "elders" include the Aging Studies Academic Program, Center for Successful Aging, and Fibromyalgia & Chronic Pain Center. A local chapter of Sigma Phi Omega (SPO: National Gerontology Honors Society) brings Cal State Fullerton students and the community together to educate and inform on aging issues.
In addition, the university's Osher Lifelong Learning Institute, which enrolls approximately 1,600 members, supports students who are often decades older than the median age of college students nationally. Many OLLI members are involved in studies conducted by faculty and students, mentor CSUF students, and participate in a wide range of programs to assist students in their educational endeavors.
"At CSUF, we embrace our wide-ranging diversity, not as a hollow talking point, but as a strength we can and must leverage to create collaborative and vibrant learning communities," said Fram Virjee, president of Cal State Fullerton.
The university has extended connections throughout the local community to offer internships at several Orange County sites, including St. Jude Medical Center, New Hope and Project Life. Faculty also conduct research in collaboration with existing programs and serve as board members of various services. These include the Orange County Older Adult Mental Health Council, Orange County Aging Services Collaborative and Orange County Strategic Plan for Aging Committee.
To achieve this designation, the university must adhere to 10 Age-Friendly University Principles established by the Association of Gerontology in Higher Education. They are:
To encourage the participation of older adults in all the core activities of the university, including educational and research programs.
To promote personal and career development in the second half of life and to support those who wish to pursue second careers.
To recognize the range of educational needs of older adults (from those who were early school-leavers through to those who wish to pursue master's or Ph.D. qualifications).
To promote intergenerational learning to facilitate the reciprocal.
To widen access to online educational opportunities for older adults to ensure a diversity of routes to participation.
To ensure that the university's research agenda is informed by the needs of an aging society and to promote public discourse on how higher education can better respond to the varied interests and needs of older adults.
To increase the understanding of students of the longevity dividend and the increasing
complexity and richness that aging brings to society.
To enhance access for older adults to the university's range of health and wellness programs and its arts and cultural activities.
To engage actively with the university's own retired community.
To ensure regular dialogue with organizations representing the interests of the aging population.