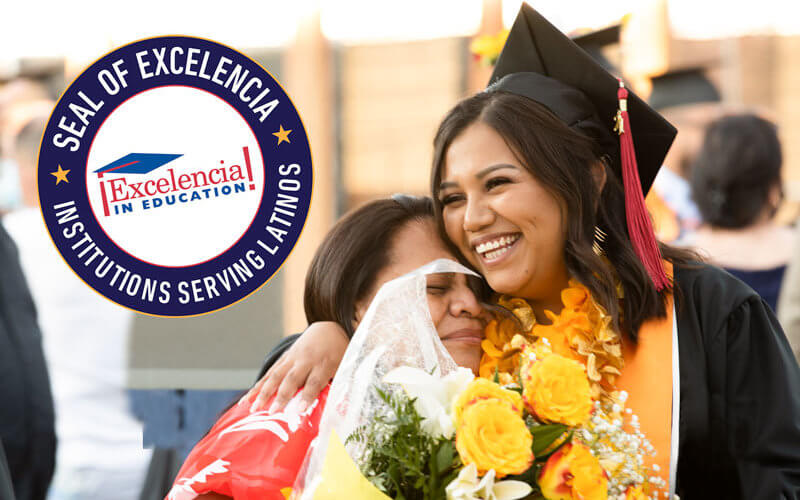 Cal State Fullerton is one of only 10 institutions across the U.S. to earn the 2021 Seal of Excelencia. The three-year certification recognizes the university's trendsetting leadership in engaging, enrolling and graduating Latinx students.
"As the No. 3 institution in the nation for conferring baccalaureate degrees to Latinx students, Cal State Fullerton is proud to purvey a college-going culture in which all Titans have equitable opportunities to cross our commencement stage into a brighter future," said President Fram Virjee.
"The Seal of Excelencia not only recognizes this success, but also challenges us to further eradicate systemic inequities and amplify our role as the only CSU Hispanic-Serving Institution in Orange County. We are grateful for this prestigious recognition and applaud all Titans — faculty, staff, students, alumni and donors — whose work and investments made it possible."
To earn the seal from Excelencia in Education, a Washington D.C.-based nonprofit dedicated to accelerating Latinx student success in higher education, CSUF underwent a rigorous verification process.
The university had to demonstrate that its efforts to intentionally serve Latinx students — who make up 47.3% of the student body — align across the areas of data, practice and leadership. This included a thorough examination of the university's strategy and mission; transfer, enrollment and retention processes; representation among students, faculty and staff; degree completion; and more.
Elizabeth Zavala-Acevez, associate vice president for student affairs, led the 20-member cross-divisional team tasked with collecting best practices and supportive data for the Excelencia submission.
"CSUF has long been intentional and effective in serving Latinx students, and the committee was tasked with finding examples and data to support that narrative," explained Zavala-Acevez. "We worked with every division to bring forward some of our best practices that exemplify how the university has created an environment in which Latinx students thrive and are able to reach their goal of a college degree. I want to thank everyone involved in the Excelencia project for their hard work and tireless commitment to telling our campus' Latinx success story."
President Virjee attended the Seal of Excelencia announcement ceremony Oct. 29 in Washington, D.C. During his remarks, he noted that the university "is one of only four institutions in the nation to be named a Seal of Excelencia recipient AND an inaugural Fulbright HSI Leader by the U.S. Department of State – in the same week."
Learn more about the seal, read the application or watch the announcement ceremony at president.fullerton.edu/excelencia.