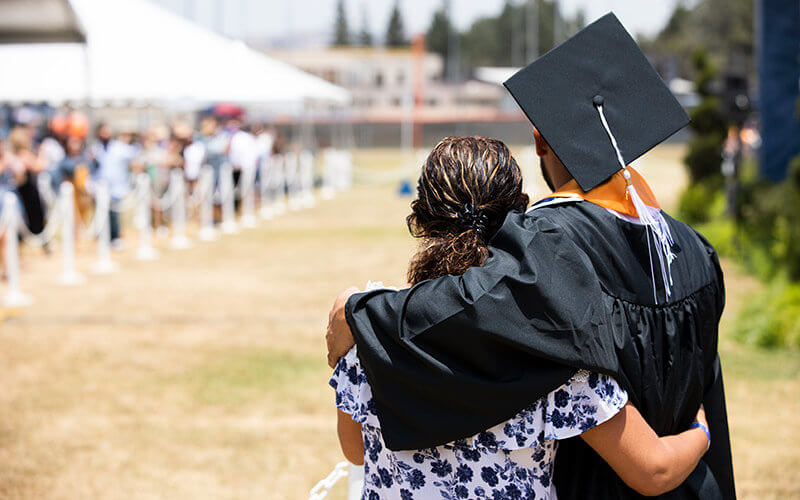 Cal State Fullerton's third annual First-Generation College Student Celebration Week takes place Monday, Nov. 8, to Friday, Nov. 12, to highlight the first-generation college student experience and to encourage a strong sense of community for first-generation Titans at CSUF. 
A first-generation student is someone whose parent or legal guardian has not completed a four-year degree in the U.S. As of fall 2021, 32.4% of Cal State Fullerton undergraduates identified as first-generation students.
The event aligns with National First-Generation College Student Day, which occurs every Nov. 8 to honor the anniversary of the Higher Education Act of 1965. The act launched need-based grants, work-study opportunities and federal student loans, allowing more low- and middle-income students to obtain college degrees. Over the past few years, it has grown nationwide into a weeklong celebration at U.S. colleges and universities.
The Division of Student Affairs hosted a kickoff event Monday at Becker Amphitheater. The week will also include such virtual and on-campus programming as financial aid workshops, student panels, an online "Teaching First-Generation College Students Across Cultural Strengths" course and an alumni/student first-gen mixer at the Golleher Alumni House. 
Julianna Hernandez, assistant director of strategic initiatives and partnerships, discussed the first-generation experience and the support services CSUF has for first-generation students and their families.
What are some common misconceptions about the first-generation student experience?
Students often think they have to navigate their educational experience on their own, without realizing that there are many other first-generation students, faculty and staff who are experiencing or have experienced similar challenges and have overcome them.
This is one of the reasons why we want to bring awareness to the first-generation experience. We want students to know they aren't the only ones who have experienced being the first in their family to attend or graduate from college. As a first-generation Titan alum myself, I always encourage students to really take advantage of the resources on campus, and to always ask for help when needed, even though it might feel a little scary.
What makes Cal State Fullerton an ideal first-generation college student community?
A good number of our students who are first-generation have other identities, such as Hispanic-Latinx or veterans, and our campus diversity reflects that. For example, 70.2% of first-gen students are also Hispanic/Latinx. There are multiple layers to the first-generation experience. Often, students want to have a support system. Students get involved in clubs, and they find this family environment within the organizations. Those environments help move them forward. 
Our campus also has a vested interest in supporting first-generation students, because we know that they are likely to be underrepresented students who face additional barriers. Our goal is to help eliminate those barriers, much like our efforts with Cal State Fullerton's Graduation Initiative 2025 to eliminate obstacles for students working toward their four-year graduation goals. 
We have administrators, faculty and staff who personally understand first-generation experiences, such as President Virjee and Vice President for the Division of Student Affairs Tonantzin Oseguera. Other CSUF programs that serve first-generation students include Abrego Future Scholars, Educational Opportunity Program, TRIO Student Support Services Program, Center for Educational Partnerships programs (GEAR UP, Upward Bound, Educational Talent Search, McNair Scholars Program), and our Career Center's "I Am First" Program.
I hope every single student on our campus feels welcome and supported at some point, whether walking in a center to ask a question or interacting with a faculty or staff member. It starts with events like this that let students know it's okay to ask for help.
Are there virtual tours and experiences available for prospective first-generation students?
Outreach and Recruitment has wonderful resources and a webinar series that can be helpful for our first-generation and future Titans. We also offer self-guided and guided tours and services.