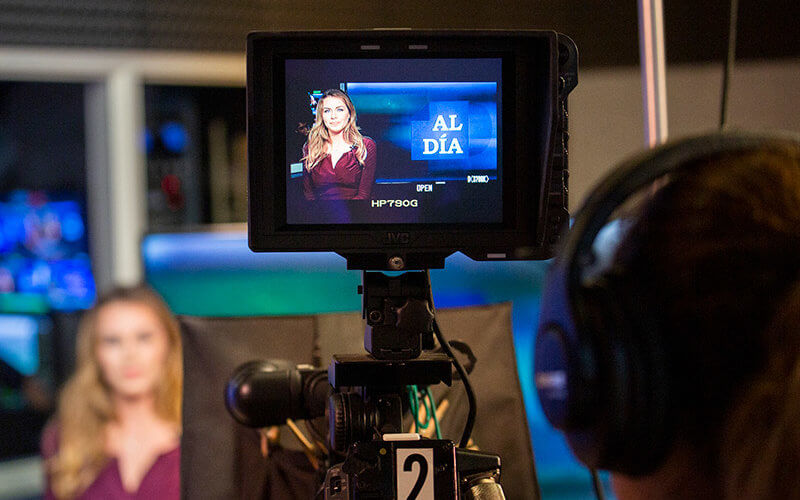 When Romyna Camacho and Abbey Fernandez came to Cal State Fullerton to pursue communications, they had no idea that prestigious national broadcasting awards were in their future.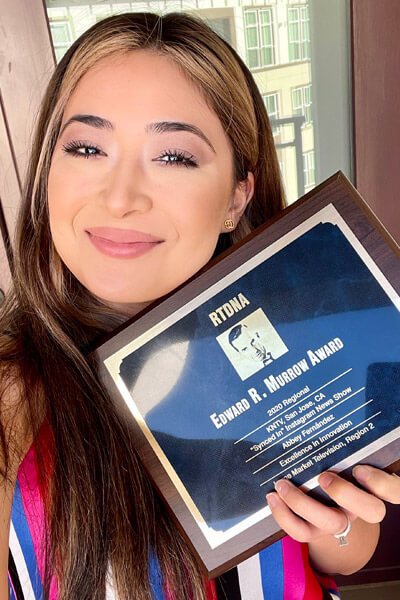 As first-generation students at CSUF, Camacho and Fernandez, both '18 (B.A. communications-journalism), were eager to get involved in such on-campus organizations as "Al Día," CSUF's student-produced Spanish-language newscast, and Latino Journalists of CSUF, a student chapter of the National Association of Hispanic Journalists.
They also discovered the Latino Communications Institute, a work development program in the College of Communications that prepares Latinx students — many of whom are first-generation — for careers in news media.
"I transferred to CSUF as a junior," said Fernandez. "I chose the university because it had a great broadcast program and was affordable. Plus it had fantastic extracurricular programs for Hispanics, like Al Día and LCI."
Camacho, who currently works at Telemundo San Diego, explained how all the experiences worked together to boost her career.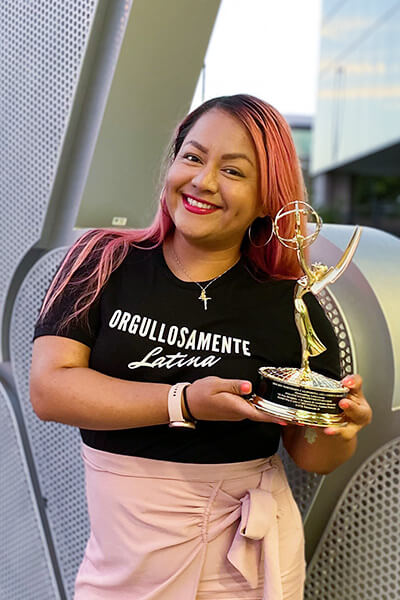 "The programs gave me hands-on experience that I fall back on to this day. In 'Al Día,' I practiced what I learned in the classroom and came to an internship at Telemundo Los Angeles with experience. At that internship I met a mentor, and she hired me for a job in the Bay Area. LCI helped me build a network of professionals, something a degree alone cannot do."
Three years after graduating, Camacho has already garnered three news Emmy Awards as a content producer.
Jose Campos '14 (B.A. communications-journalism), a bilingual digital producer at NBC 5/Telemundo 39 in Dallas-Fort Worth, has six Emmys under his belt as well. He credits LCI for jump-starting his career in broadcast journalism and providing a lasting support network.
"CSUF and LCI were extremely helpful. The school programs provided the right tools and connections to get started with my career in the journalism industry," he shared.
Campos interned with Telemundo 52 Los Angeles, MundoFox Los Angeles, The Luca Group (a radio and TV production company) and hosted a weekly Spanish radio program on Titan Radio. He was then hired as a digital producer for Telemundo Arizona where he also worked as a reporter for the daily newscasts. He currently manages the digital platforms at the North Texas stations and also hosts the Telemundo 39 Emmy Award-winning digital newscast "Contigo Primero."
"Even as an alumnus, I know I can still rely on LCI for support if I ever need it," he said. "I can also connect with future journalists and mentor them. It's surely a great educational program for anyone interested in journalism."
Fernandez, a digital correspondent/producer at NBC in the Bay Area, noted that serving as president of the Latino Journalists organization afforded her opportunities to network, which ultimately resulted in her landing her current job.
She explained that her involvement with Al Día and LCI "not only helped sharpen my Spanish skills in storytelling, but being a part of these programs also solidified how important Latino representation in my career field truly is. Now wherever I go, whatever I do, representing my culture and language are always at the forefront of my personal and professional priorities."
Fernandez is the recipient of an Edward R. Murrow Award for Excellence in Innovation in the large market television category for her daily news show, "Synced In." The illustrious award recognizes notable achievements in the broadcast and digital journalism industry.
Learn more about LCI, "Al Día" and the Latino Journalists of CSUF on the College of Communications website.