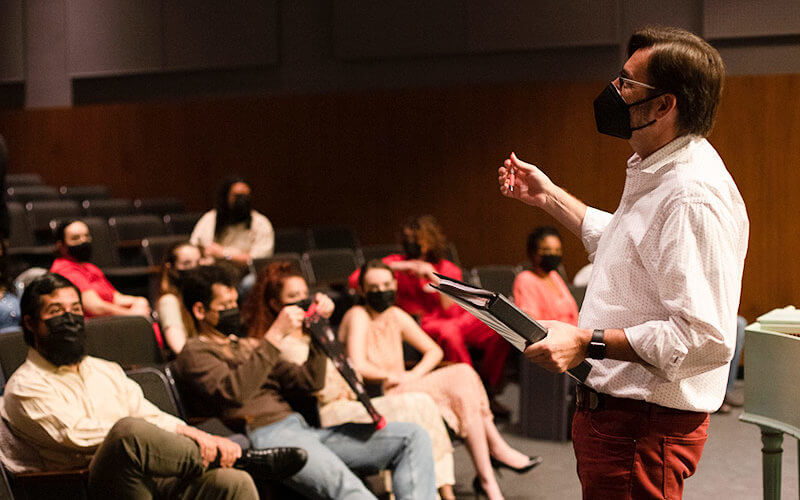 For decades, Cal State Fullerton has maintained a reputation for being a school that turns out opera stars. Deborah Voigt, Rodney Gilfrey, Jubilant Sykes, James 'Marty' Schaefer, Charles Castronovo, Omar Crook and Christopher Job are a few names who have graced the university's stage over the years.
This fall, Kerry Jennings joined the School of Music's faculty as an associate professor of opera studies after a career as a concert soloist and award-winning stage director.
Just months after being hired, he staged his first production, "Opera Meets The Seven Deadly Sins," featuring an eclectic mix of scenes from favorite operas such as "Dido and Aeneas" and "The Rake's Progress," as well as new scenes of two literature classics, "The Scarlet Letter" and "The Grapes of Wrath."
Jennings describes how he came to choose a life in opera.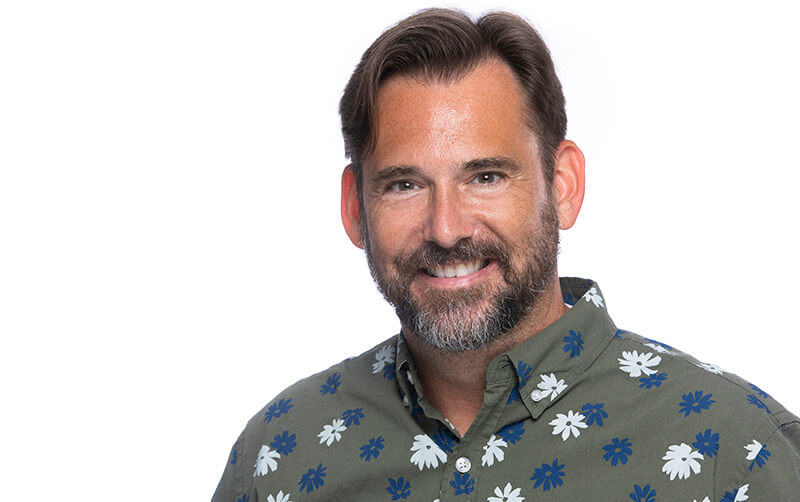 How did you become interested in opera?
I have always sung. My father was a minister and so I grew up singing in the church and later in choirs. I was also in band, playing the trumpet and the French horn, so I knew I wanted to major in music when I went to college. However, coming from a small town in North Carolina, with little to no experience in classical music, I really had no idea what that would entail. I had never even heard an opera, much less seen one, until the first year of my undergraduate studies.
One of my friends played the 1972 recording of Puccini's "La Bohéme" with Luciano Pavarotti and Mirella Freni and to say I was hooked would be an understatement. Since that day, that opera and those singers have remained favorites of mine.
Why did you choose to teach at CSUF?
Although I have been directing opera workshop classes since the beginning of my teaching career, it has only been within the last four to five years that I've done more fully staged opera direction, and I really love it. So, I thought I would look for a position that not only allowed me to do more opera direction, but also one that was at an institution looking to invigorate or expand its opera program. My colleagues have been so welcoming and the students have been a complete joy to work with and get to know.
Describe "Opera Scenes: Opera Meets the Seven Deadly Sins." Why did you choose this?
There are a few things I take into account. First, I want to make sure that it is an educational experience for the students, which means choosing a repertoire that is not only appropriate for each singer's voice, but also appropriately challenging. The population of the class ranges from sophomores to graduate students and so you have to meet the students where they are technically and artistically. You not only have to make sure that everyone has a fulfilling experience but that you also present a high-quality product for your audience. I like to do "scenes programs" that offer a variety of repertoire but still have cohesion. This cohesion allows you to have a theme and then ultimately a title. I think a title like "Opera Meets the Seven Deadly Sins" catches more eyes than just "Opera Scenes," and, in turn, that brings more people to the theatre. And we hope they'll come back for the next production.
Is this the first opera you've been involved with at CSUF?
This scenes program was essentially my debut as an opera director at CSUF. I am also very much looking forward to next semester when we will present a double bill of Giacomo Puccini's "Gianni Schicchi" and Michael Ching's "Buoso's Ghost." Mr. Ching will be coming for a weeklong residency in the spring to work with our singers and orchestra as well as our composition students.
What was the audition process like? Does each scene involve a different singer?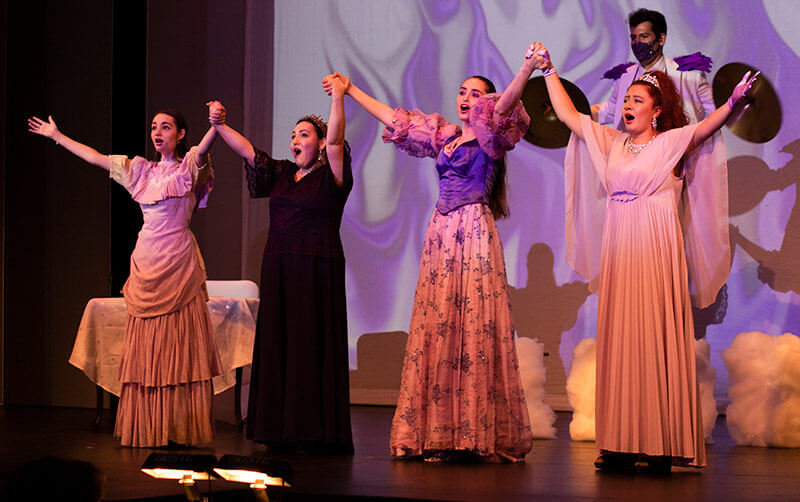 For the scenes program, I had students audition with their "best" operatic aria or art song, showing their current technical and artistic skill. That gives me enough information for casting purposes. For larger-scale works, I will be more specific, depending on the language and style of the piece. I might even use excerpts taken from that work for callback material. For the scenes program, since every singer is in the final scene, all singers in the class are in at least two of the seven scenes, and some might even be in more than two if they are a "voice type" that you need to fill out a scene. It is always my goal in a scenes program to cast everyone in a named role and have at least some sort of solo part.
What are your favorite operas and who are your favorite composers?
There are many and they vary depending on what I sing versus what I listen to. As a singer, I love singing Mozart and Benjamin Britten, for example, and there are several contemporary composers that I enjoy singing. They fit my voice well which then allows me a sense of comfort when tackling those roles. But my romantic heart loves almost anything by Giacomo Puccini and I adore "Der Rosenkavalier" by Richard Strauss, which is funny and heartbreaking and has some of the most glorious music ever composed. If you listen to the final trio in that opera and are not either moved by it or just astounded by the beauty of it, I don't think we can be friends.
What do you hope to accomplish with the opera program at CSUF?
My main goal is to give the students an educational, rewarding and varied experience that prepares them for today's musical landscape. We can't and shouldn't throw out the standards with the bath water, but we also have to understand what is being done now and look toward the future. As often as I am able, I want the students to experience new works, which is why our double bill next April is really a perfect pairing. Not only do they get to experience a tried and true opera in "Gianni Schichhi," which contains one of the most recognizable arias in all of opera ("O mio babbino caro"), but they also have the opportunity to learn a new opera and work on it with the composer. Our production of "Buoso's Ghost" by Michael Ching will be the California premiere of that work and it is those kinds of opportunities that I want students to have.
Is your goal to stage one show a year?
Actually, my goal is to stage no fewer than three operatic performances each year. Those will range in size and scope, of course. For instance, a scenes program is a valuable teaching tool and also a good introduction to opera for students and audiences. And naturally I hope we will continue to do a fully staged opera each spring, but I also would like to add a chamber opera element to our offerings and really have a full opera season. We have so many wonderful singers in our program here and providing them and our audiences with a variety of experiences is really important to me. ​
What would you say the biggest misconception is about opera?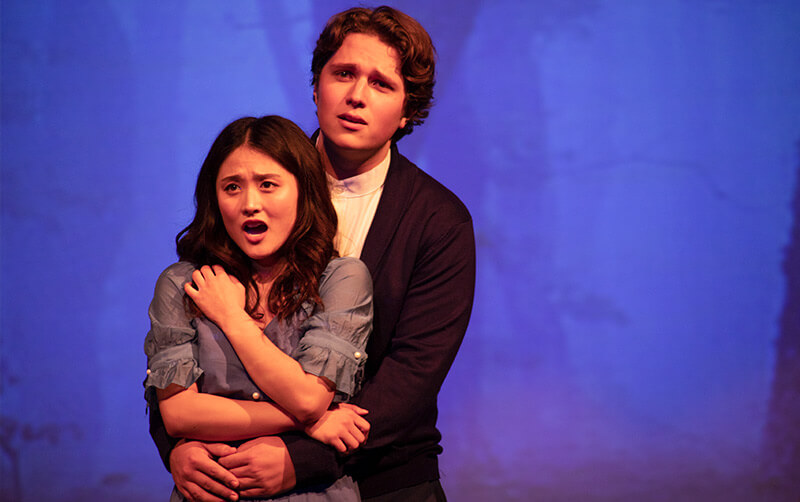 ​There are a number of misconceptions about opera. I think a lot of people see opera as elitist and something rich people do just to have another excuse to dress up and hobnob. I also think that many see opera as unrelatable and boring. The truth is that opera offers something for everyone. There are fantastical stories and fairy tales for those who want that sort of escape, but opera is also about regular people and the highs and lows of everyday life that all of us can relate to. I think the key is to get people in the seats so they can move beyond these misconceptions and stereotypes, and that is the job of the companies, directors and even the singers. We have to honor our current audiences while cultivating new audiences so our artform not only survives but thrives.
What is it you love about opera?
There are so many things I love about opera. The human voice is a miraculous thing to me, and to hear an unamplified voice soar over an orchestra and envelop you in the theatre is just magical to me. But truly what I love about opera is that it is a synthesis of all that is theatre and it brings so many different people together (singers, instrumentalists, set and lighting designers, costumers, dancers, and so many others) with one goal: to tell a story through music.