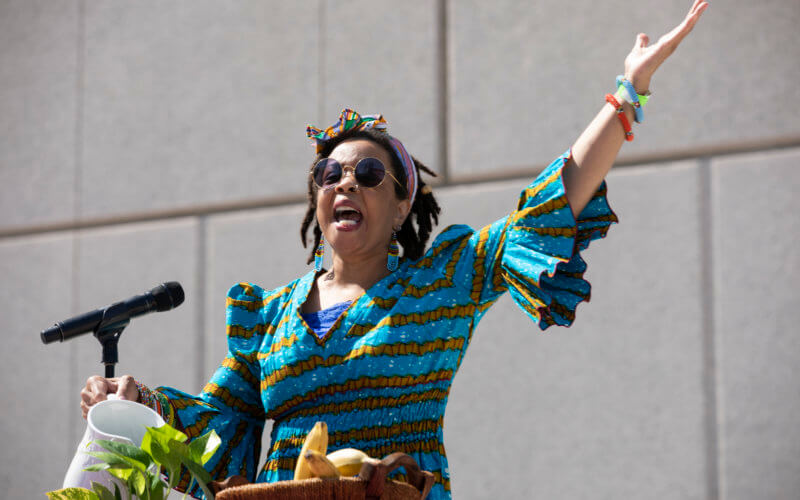 From entertainment game nights to Titan Table Talks and civil rights activist Angela Davis' return to campus, the celebration of Black History Month continues throughout February as Cal State Fullerton champions Black joy with a variety of programs and events.
The African American Resource Center teamed up with multiple campus partners including Diversity, Inclusion and Equity Programs and Associated Students Inc. to curate a month of events centered around this year's theme: "Black Joy."
"Too often we only associate the Black experience with trauma, conflict and pain. Black Joy serves as a reminder that the joy expressed by Black/African American people is an act of resistance on its own," said Torrell Foree, coordinator of the African American Resource Center.
While some events like the Spades Tournament on Feb. 22 will ask attendees to join in the fun with games, other events like "Titan Table Talks: Resiliency in the Black Community" will center on celebrations through conversation. Bobbie Porter, assistant vice president for diversity, inclusion and equity, will be joined by three other panelists to share stories of resilience.
"The Freedom of Our Hair" event on Feb. 24 will feature a presentation by Gwendolyn Alexis, a lecturer in the African American Studies department, who will walk attendees through a history of natural hair, focusing on the glory and freedom that comes with embracing Black hairstyles.
The campus will also welcome back educator and activist Angela Davis 50 years after she first spoke to a CSUF audience in 1972. The highly anticipated event is set to hit maximum capacity in the Titan Student Union Portola Pavilion, according to Austin Ysais, ASI's program coordinator in charge of the event. However, the speech will also be livestreamed on Titan TV as Davis reflects on 50 years and asks the audience: Where do we go from here?
The full list of events, both in-person and virtual, can be found on the African American Resource Center website.