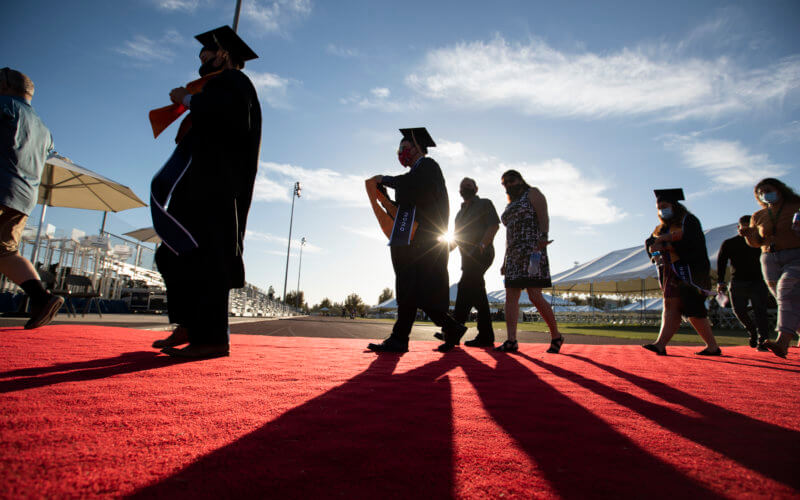 In the 2022 rankings recently issued by U.S. News & World Report, Cal State Fullerton's online master's programs ranked well among accredited graduate programs surveyed across the U.S.
The College of Business and Economics' online Master of Science in Information Technology program ranked No. 2 in California, behind USC, and the Best Online Master's in Business Programs (excluding the MBA degree) was No. 21 among the 193 business programs surveyed. The categories surveyed by U.S. News for this distinction were engagement, expert opinion, faculty credentials and training, student excellence, and student services and technologies.
"In our online information technology master's program, students study with a cohort of fellow working professionals, who take two courses a semester year-round and complete a degree in 20 months. This program allows students to acquire the knowledge and skills they need to immediately expand or advance their careers and to establish an indispensable network of colleagues within the industry," said Sridhar Sundaram, dean of the College of Business and Economics.
"This recognition underscores our steadfast commitment to staying ahead of the information technology trends as we provide the most rigorous education possible and ensure our students are among the most valuable talent within the workforce."
The College of Engineering and Computer Science graduate programs — Master of Science in Software Engineering and Master of Science in Environmental Engineering — hit No. 3 in California, behind UCLA and USC, and No. 30 nationally in Best Online Master's in Engineering Programs, placing it in the top 30% of the 104 programs evaluated. 
"Our online degree programs in software engineering and environmental engineering allow access to high-quality education with increased flexibility. The online environment enables students to manage work, class schedules and family while pursuing the educational opportunities needed to reach their professional goals," said Susamma Barua, dean of the College of Engineering and Computer Science.
"This recognition is an acknowledgement of the quality and the level of services we provide to students and the learning technologies available for them to successfully complete their degrees. The recognition also speaks to the faculty's commitment to promote student engagement similar to a traditional classroom setting."
Based on the survey of past software engineering master's students, the satisfaction rate for the program is greater than 80%. "Many students in the program already have years of industry experience, and some are top managers and find the program expanded their perspectives, knowledge, and skills on software engineering and software projects," said Christopher Ryu, professor and coordinator for the Master of Science in Software Engineering.
U.S. News also ranked Cal State Fullerton No. 2 in California among all universities and No. 3 nationally among public universities for faculty research impact. The university also climbed to No. 5 (from 16th the year previous) in Washington Monthly's Regional Universities — West social mobility ranking, which considers graduation rates, strong social mobility, low-cost tuition and low debt for students.