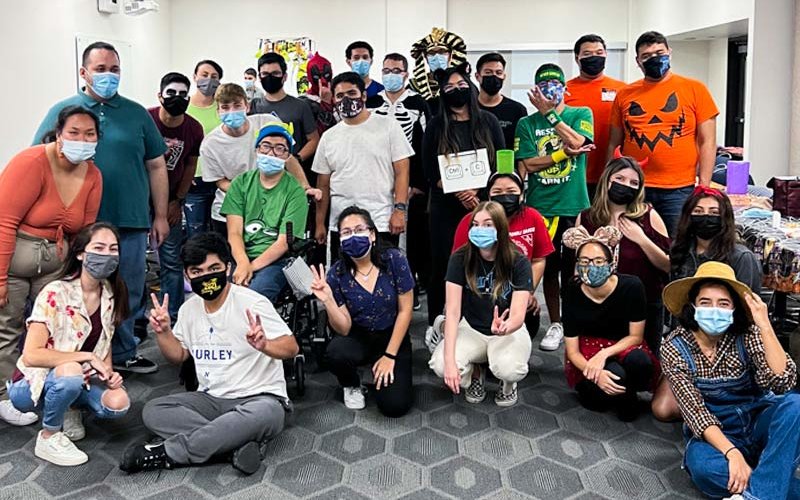 Jessica Bernal, a fifth year English and communications double major and president of Cal State Fullerton's Best Buddies organization, said her club strives to cultivate friendships, start meaningful conversations about developmental disabilities, and destigmatize negative stereotypes.
"Talking about developmental disabilities often seems taboo. I think a lot of people have these misconceptions about people with disabilities, and they think of them as outcasts and treat them as such," said Bernal. "It's important that people try to be active in clubs like ours to really see that people with disabilities are people, too."
Disability inclusion at CSUF is championed by leaders like Bernal, who go above and beyond to create kind and supportive communities. Their dedication to raising awareness shines especially bright throughout the month of March – Developmental Disabilities Awareness Month.
Developmental Disabilities Awareness Month began in 1987 when President Ronald Reagan declared March as a time to support and raise awareness for individuals with disabilities through encouragement and opportunities to lead successful careers.
Every March, CSUF organizations and resources aim to not only start new conversations about developmental disabilities, but also encourage friendships, provide knowledge and promote acceptance.
Best Buddies
CSUF's Best Buddies organization is a local chapter of Best Buddies International, a nonprofit that creates safe and positive opportunities for individuals with disabilities to build one-on-one friendships. 
The campus chapter empowers members by individually pairing them up with local college-age students who have intellectual and developmental disabilities. The executive board works with a local adult transition program to help students with IDDs find comfort and safety in a community that celebrates friendship and kindness.
The buddy pairs spend the semester building healthy friendships while attending club socials, planning casual hangouts and participating in fundraisers.
The club also aims to spread awareness through outreach events that encourage people to engage with the topic of developmental disabilities.
Before the pandemic, one of Best Buddies' biggest campus events was "Spread the Word to End the Word," an event where club members asked students, faculty and staff for pledges to end the use of the r-word.
Abled Advocators
Abled Advocators is another club that aims to break down negatively held stereotypes about people with disabilities. Kaelyn Rojas, president of the club, is a fifth year double major in psychology and chemistry who was looking for a safe and welcoming community. That's exactly what she found when she attended her first Abled Advocators meeting in 2019.
"All students have obstacles they face, disability or not, but I think the students in Abled Advocators are exceptionally resilient and kind no matter what comes their way," Rojas explained.
Reflecting on the month, Rojas said one of Abled Advocators' greatest strengths is its dedication to starting conversations about developmental disabilities. The club is working to see how those conversations can help advocate for specific changes they want to see.
"It's important to discuss developmental disabilities and their effect on academic performance. It's important we all advocate for equitable access around campus for the needs of students whether it's technology, how classes are taught or getting around campus. Being an advocate can be as simple as taking the time to learn," said Rojas.
Disability Support Services
CSUF also supports the campus community with Disability Support Services. DSS raises awareness and provide students with disabilities an equal opportunity to succeed and learn. 
Ana Quiroz, the associate director of disability support services, said that one of the ways DSS helps students is by advocating for "universal design for learning." This approach takes into consideration systemic barriers in education and helps DSS advocate for different styles of learning.
"I think having knowledge of the laws that protect individuals with disabilities and having a better understanding of how to implement UDL is key in order to foster more inclusivity. We need everyone to come together to create a more inclusive and diverse environment," said Quiroz.