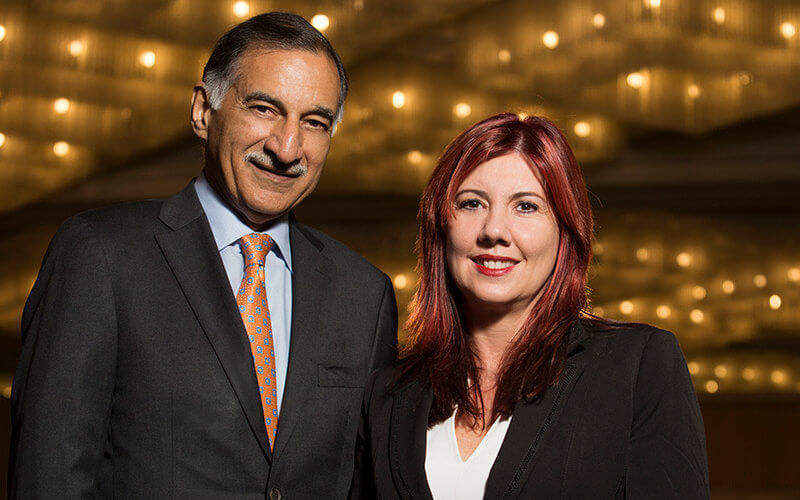 During the 2022 Spring Economic Forecast at Cal State Fullerton's Meng Hall, CSUF economists gave their insights on what may result from continuing inflation, rising interest rates, current employment trends and a new era of globalization.
Mira Farka, associate professor of economics, and Anil Puri, professor of economics and provost emeritus, tackled such topics as higher prices at gas stations, grocery shelves and restaurants, the impact of Russia invading Ukraine, and the COVID-19 pandemic.
Speaking to local business leaders, government officials, policymakers and students, the co-directors of the Woods Center for Economic Analysis and Forecasting within the College of Business and Economics noted the leisure and hospitality employment sector is still hard-hit, 17,000 jobs below its February 2020 high.
"Even though the unemployment rate has fallen, the number of people employed is well below pre-pandemic," reported Puri and Farka. "In fact, employment numbers are lower across the board: by 676,000 for the entire state, 56,000 for Orange County, 229,000 for Los Angeles County and 33,000 for the Inland Empire."
Meanwhile, the housing market's double-digit price appreciation has continued, with the median price in Orange County reaching $1.167 million in February 2022. Over the past 18 months, cumulative price appreciation has been 31.9% for Orange County, 16% for Los Angeles County, 27.5% for Riverside County and 21.6% for San Bernardino County.
"In the short term, over the next 10-12 months, we expect continued growth, albeit a decelerating one, coupled with high inflation: an expansion with stagflation dynamics. … Our longer-term view, however, is decidedly more grim," the economists said.
"The confluence of an escalating war, rapid rate hikes, unprecedented labor shortages, persistent supply disruptions, higher energy costs, a multi-decade spike in inflation and continued flare-ups in a once-in-a-century pandemic are bound to dim even the most Pollyannaish outlook."
Read the full story from the College of Business and Economics.