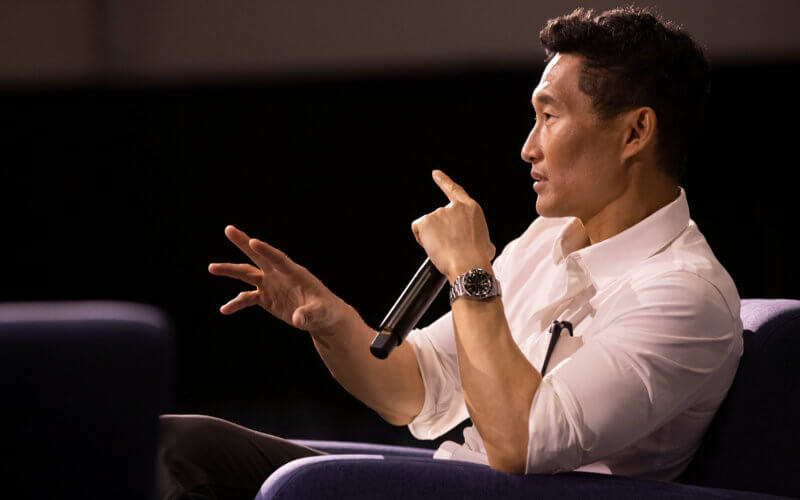 For the past three decades, Daniel Dae Kim has increased exposure for marginalized groups — especially Asian Americans — as an actor and producer.
His roles on such television shows and movies as "Lost," "Hawaii Five-O" and "Always Be My Maybe" combat stereotypes of Asian Americans, a group lacking representation in television and film despite being the fastest-growing racial or ethnic group in the U.S. from 2000-19.
Kim recently spoke to about 300 Cal State Fullerton students and community members at the Titan Student Union Pavilion on his work in entertainment and social justice advocacy. The event, titled "A Conversation With Daniel Dae Kim," was part of the university's "Beyond the Conversation" speaker series.
Event organizers Associated Students Inc. and the divisions of Student Affairs and Human Resources, Diversity and Inclusion said the speaker series aims to provide thoughtful and informative conversations for students on diversity, equity and inclusion.
Born in Busan, South Korea, and raised in Easton, Pennsylvania, Kim spoke about the highlights of his career, including his role on ABC's Primetime Emmy Award-winning series, "Lost," which aired from 2004-10.
"One of the ways that 'Lost' was really revolutionary was in its casting," Kim said. "I'd never seen a show with an international cast where there was a language other than English spoken predominantly by a character. You got to see people from all parts of the world as fully realized human beings, as whole characters and not stereotypes."
Kim's film and television production company, 3AD, also aims to tell compelling stories that celebrate traditionally underrepresented voices. The company produces ABC's "The Good Doctor," which centers on a young surgeon with autism and Savant syndrome. It has been one of the network's highest-rated series since its 2017 premiere.
During the event, Kim encouraged students to use every opportunity they get to inspire change. Last year, Kim spoke before Congress and urged lawmakers to help stop anti-Asian hate incidents in the United States and protect Asian Americans from further violence.
Kim said those who wish to be helpful allies to Asian American communities should "really seek to understand" the Asian American experience and try to ask questions without judgment. Diverse media representation also helps audiences understand the nuances of the Asian American experience, he said.
"Ultimately, the power of good stories comes from when you tell fully human experiences and get really specific about culture," Kim said. "When you do that, ironically, that becomes very universal."
Mason Romero, an education graduate student who attended the event, said Kim's talk helped him learn different techniques to start classroom discussions with students about diversity, equity and inclusion.
"What stood out to me was how inspirational he was to the students, assuring them that they have what it takes," Romero said. "Also, in case I'm ever in the classroom helping students navigate being discriminated against or being bullied, it's important to understand students' experiences and make sure everyone gets it, or we can have a discussion on it."
Aidan Shon, a freshman cinema and television arts major and aspiring director, said he attended the event to meet Kim and learn more about succeeding in the entertainment industry.
His favorite message from Kim during the event: "There is no room for you in show business; you have to make your own room."
"Sometimes, you've got to bust that door down and show people what you're made of," Shon said. "He showed a lot of people in this industry what he's made of. I respect that, and that's what I want to do, too. I want to kick that door down and tell people 'Hey, world, this is me.'"