Stem cell research is one of the fastest growing segments within medicine and biotechnology. To keep pace with this trend, Cal State Fullerton's Bridges to Stem Cell Research program offers hands-on research experience to a select group of undergraduate biological science and biochemistry students. 
Last July, the BSCR program was awarded a $3.6 million grant from the California Institute for Regenerative Medicine, the latest in a series of grants that totals $9.7 million in funding since the program's inception in 2010.
The program equips the next generation of stem cell researchers with fundamental skills through a seven-month curriculum at CSUF, followed by a 12-month, full-time internship at one of the university's partnering institutions. These institutions include Stanford University, UC Irvine and the University of Southern California.
Up to 10 new stem cell scholars are selected each spring. These scholars, upon completion of the program, will be prepared to enter the workforce at multiple levels as research technicians, doctoral candidates, medical doctors and other related disciplines.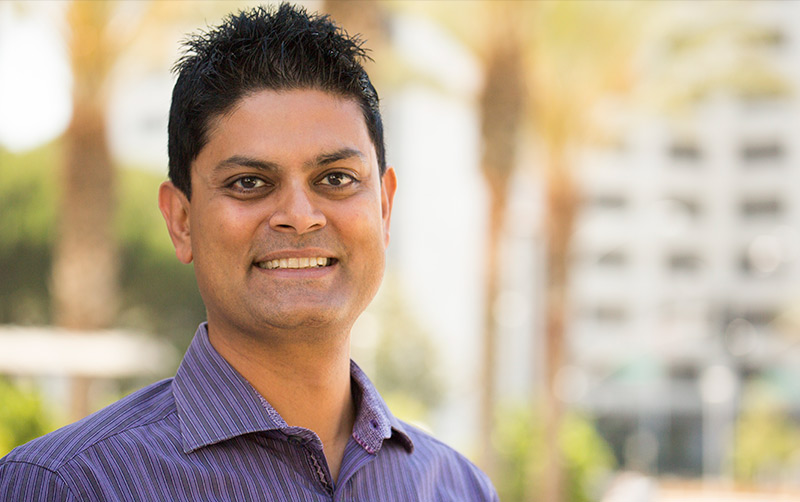 "While there are many biotechnology companies in California with stem cell portfolios, there is a clear shortage of technically-skilled employees in the field," said Nilay Patel, BSCR program director and associate professor of biological science. "Graduates of the BSCR program will be highly qualified to fill such positions. Our partnering institutions and several biotechnology companies have actually reached out to me in the past asking for recent program graduates."
Allison Banuelos '19 (B.S. biochemistry) discovered her passion for research through working with Patel and participating in CSUF's Research Careers Preparatory Program. When she heard about the BSCR program, she jumped at the chance to apply.
"At my internship with Stanford, one of my projects involved using induced pluripotent stem cells — which are made from adult cells and programmed to become a specific type of cell — to understand how an autism-linked mutation can cause abnormal brain development," she explained. "I enjoy making such scientific discoveries and having thoughtful discussions about them with others."
Intrigued by stem cell research, Brian McFadden '12 (B.A. psychology, B.S. biological science-molecular biology and biotechnology) applied for the BSCR program to immerse himself in the budding field. Interning under a UC Riverside faculty member, McFadden's research focused on hypoxic stroke studies in newborn children.
"During birth, if babies have the umbilical cord wrapped around their neck, this can lead to a stroke and subsequent brain damage," he explained. "Most of our research involved trying to replicate this situation in rats by inducing a stroke.
"We would then inject the rat with stem cells in an effort to repair damaged sites and track how successful the cells were in accomplishing this," continued McFadden.
After completing the BSCR program, McFadden went on to work in islet cell manufacturing at City of Hope Hospital, but eventually pivoted to working in sales at genome engineering company Synthego.
"Through my experience in the program, I can communicate and empathize about science in my current role," he said. "I have a clearer understanding of what a client is trying to accomplish because I've been on the research side of things and can go beyond simply selling a product."
Now a third-year doctoral student studying stem cell biology and regenerative medicine at Stanford, Banuelos credits the BSCR program for helping her thrive in graduate school.
"Many of the program's learning objectives like writing scientific proposals and reading scientific papers prepared me for developing my own thesis project and scientific publications," she shared. "I am grateful I learned these essential skills before starting my graduate studies.
"In thinking about my future, I was unsure whether I wanted to pursue a doctorate. The BSCR program helped me discover opportunities to be a leader in science beyond academia," added Banuelos, who hopes to start a career in biotechnology venture capital.
Learn more about CSUF's Bridges to Stem Cell Research program by visiting the program webpage.