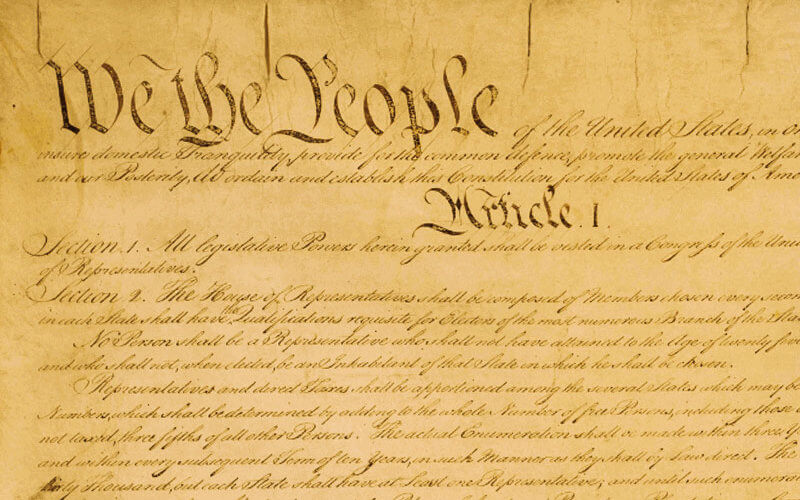 Cal State Fullerton students, as well as participants from the University of Pennsylvania, James Madison University, University of Oregon, Sam Houston State University and Marymount Manhattan College, will gather via Zoom on April 9 to share their thoughts on playwright and actor Heidi Schreck's Broadway hit, "What the Constitution Means to Me." The public is invited to attend from 11 a.m. to noon.
Heather Denyer, assistant professor of theatre and dance, coordinated the event as a catalyst to address attacks on women's, LGBTQ+, and voting rights in the United States. Prior to Saturday's webinar, students performed readings of the play.
Denyer answered questions about how the program was created.
When did you become aware of the play?
I saw the play on Broadway in 2019 and was blown away by how much it felt like the theater we need right now. I started teaching the play in my theater histories courses and I wanted to bring the play to the larger campus community. This past winter, I felt overwhelmed by the Supreme Court discussions and the inevitability, I believe, that they will overturn Roe v. Wade. Students began to express growing concerns, too. As we are seeing voting rights being taken away and attacks on the LGBTQ+ community, I want students to feel more connected and not so isolated.
Why do you think it's important for students, faculty and staff to better understand the Constitution?
We have upcoming elections and many people may feel like there is no possibility for positive change. Some might be convinced that their individual votes won't matter and they might not even vote, or at least for the minor elections. We can see this year how much it matters to vote for the school board and other local representatives. When I experienced this play on Broadway, I think everyone in the audience felt pumped. We were ready to go vote, and ready to do something rather than accepting the way things are.
Why does the Constitution elicit such arguments?
In this country, documents such as the Constitution are treated as done deals and many people do not engage with them critically. I think many of us don't actually know what it says — and doesn't say. However, we do understand that it was written by white, cisgender men who enslaved Black people and considered women as property, too. So, we cannot just accept what was written pre-Emancipation, pre-Civil Rights, pre-women's suffrage to remain the same. Many believe the Constitution should be viewed as a living document, open to change. We need more folks to know what the document does and what it fails to do, and to be more informed when voting, following the news, or engaging in conversations about and advocating for social justice.
Why did you reach out to other colleges and universities?
I developed this project because I had to do something constructive. I reached out to several peers at schools across the country. Everyone was excited about the project. Many did not have time to schedule events, but some did, and joined the project. The whole team of producers, Heidi herself, and her assistants have been generous and supportive; they believed in this project and made it possible. I am also grateful that the CSU Entertainment Alliance granted my request for funding. It is my hope that this is just the start of a larger project, and that more schools will organize campuswide readings of the play and get everyone engaged.
How do people attend Saturday's event?
The webinar portion will be from 11 a.m. to noon and you don't have to register. Visit the event page for more information.
What do you hope the audience will take away from this event?
I really hope people feel inspired as part of a community and as citizens. I know that the students involved felt empowered through the experience when they read the play, and the audience was excited, too. I hope to continue this project and other projects related to theater for social change next year. Change starts with grassroots movements. Together, we can be a part of the change we need.