When graduate student Marisol Rivera was 15 years old, both of her parents were deported to Tijuana, Mexico. Since then, she has worked to transform her pain into a powerful example for her two younger siblings, who she officially adopted when she turned 17.
As a first-generation student, Rivera navigated many struggles while earning a bachelor's degree in American studies from Cal State Fullerton in 2020. She persisted in her academic journey, joining the Class of 2022 this spring with a master's degree in American studies.
"I am proud that I was able to transform my past into something beautiful, something radiating in vibrant colors," said Rivera.
An active member of the Titan community, Rivera has participated in multiple American studies organizations, learning how to be a leader both in and out of the classroom. Her dedication and drive earned her the Alumni Association's 2022 Outstanding Graduate Student Award, which includes a $1,000 reward.
"Receiving this award means that people like me, who come from untraditional homes and face struggles caused not by us — but rather larger forces — do have a place in higher education. It means that we are acknowledged and resisting. It means that hope is more powerful than pain. It means that somos orugas transformando dolor en color (we are caterpillars transforming pain into color)," Rivera shared.
Ricardo V. López, vice president of student alumni engagement for the Alumni Association Board of Directors, said Rivera stood out among other nominees because of her passion for uplifting others.
"She is the embodiment of servant leadership, empowering and elevating underserved families in our communities," said López. "She is the epitome of excellence, resilience and mindful service — that's the core of our Titan spirit."
Rivera said that the most fulfilling part about her college experience has been finding confidence in herself and learning to fully trust her support systems.
"My advisers, professors, mentors, friends and family all told me at one point that I had something unique. I never felt like I believed any of them, and imposter syndrome urged me to believe that their words were clouded with pity. I was not confident in myself or my skills, but about a year ago, I began feeling confident," said Rivera. "Without the American studies department, coordinators, mentors or therapists, I really don't think I would be where I am today."
Along with being a full-time graduate student, Rivera works as a research assistant with Eric Gonzaba, an assistant professor of American studies. Their digital humanities project, "Mapping the Gay Guides," identifies LGBTQ safe spaces throughout America since 1965. She plans to present her research after graduation and look for publication opportunities.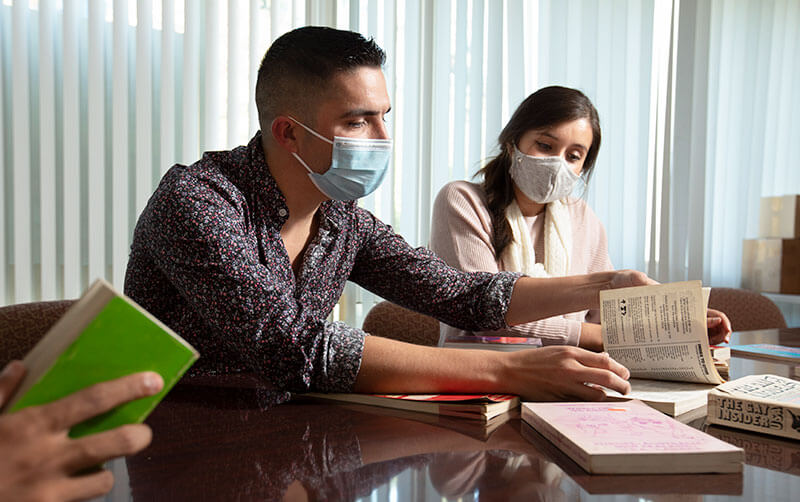 Rivera has also served as president and social media and publicity officer for the American Studies Student Association. She helped plan the association's annual symposium — a responsibility that proved challenging during the pandemic. She is on the editorial board for American Papers, an academic journal designed, produced and published by American studies students.
"Despite the challenges of a pandemic, Mari kept cool-headed and demonstrated leadership skills through it all," said Kristin Denise Rowe, assistant professor of American studies. "She takes up all of this work in a way that exudes professionalism, efficiency and excellence. She's responsible, dependable and detail-oriented. She's also just a pleasure to be around."
The Class of 2022 graduate was awarded two fellowships through the Pa'lante Fellowship Program, which supports first-generation students with financial resources and mentorship, and the Graduate Equity Program, which helps students overcome educational disadvantages throughout their graduate education.
Her next goal involves kick-starting a career in political advocacy, specifically looking for job opportunities in education or nonprofit organizations that "help foster kinder relationships in society by exposing largely neglected histories, unsung heroes and heroines, and cultivating a curriculum that reflects our rich and diverse society," said Rivera.