The College of Humanities and Social Sciences and College of Communications ceremonies on Thursday honored the Class of 2022 for the challenges students experienced during the pandemic and all they have accomplished in spite of them.
College of Humanities and Social Sciences
The third ceremony of the College of Humanities and Social Sciences focused on the departments of HSS Online Degree Completion Program, Aging Studies, Anthropology, Geography & the Environment, Modern Languages and Literatures, and Psychology. Several student speakers were featured.
The ceremony opened with a land acknowledgement by Elder Adelia Sandoval as Cal State Fullerton is built on the traditional, ancestral, and unceded Native land shared by the Tongva and Acjachemen people.
Provost Carolyn Thomas, a Titan alum who earned a degree in American studies, recalled that while studying abroad in Germany, she noticed that people who initially referred to her as an acquaintance began calling her a friend.
"We give friendship easily here but in other places you have to earn it," she said. "There's another expression in Spanish, 'Tell me who you go with and I'll tell you who you are.' It's the idea that the group might shape us more than we shape ourselves. I loved my majors and love them more now. There are always levers you can pull if you understand history and culture.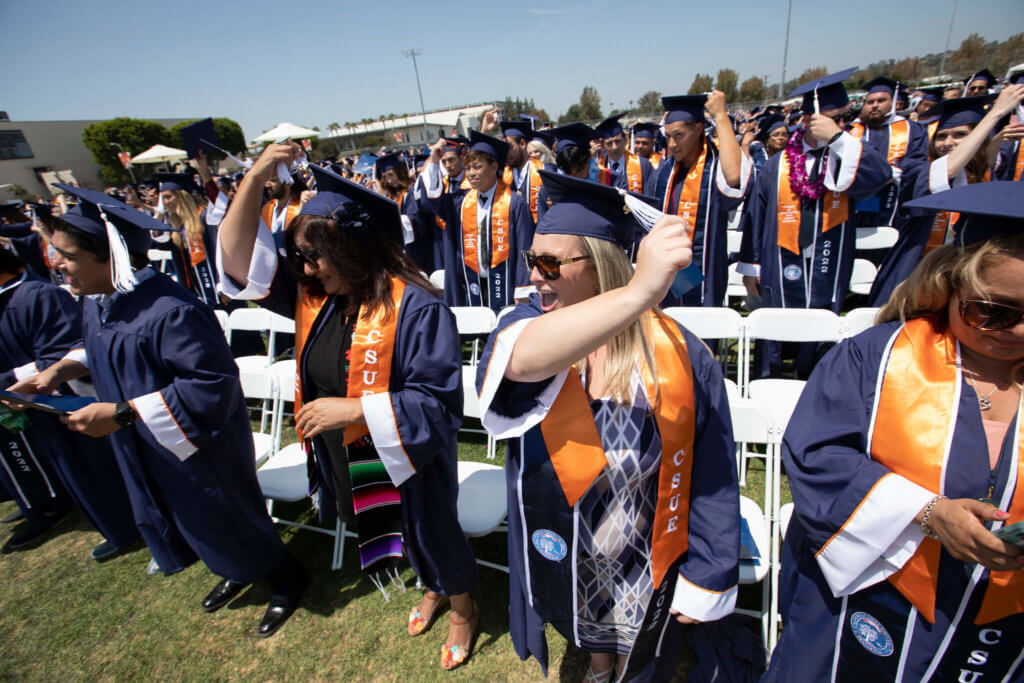 You learn to analyze issues from a variety of viewpoints. I'm comfortable with ambiguity. I'm a decent storyteller, I process information easily and quickly. I learned all those things here."
The several graduating students who spoke at the ceremony were Erick Murillo (graduating with a master's degree in Spanish), Adelia Jones (graduating from the Humanities and Social Services degree online degree program), Deeyanna Pedersen (graduating with a master's degree in gerontology), Denise Allen (graduating with a bachelor's degree in geography), Vanessa Barragan (graduating with a bachelor's degree in psychology), Amaris Aloise (graduating with a bachelor's degree in anthropology and public administration) and Ecenur Sivri (graduating with her master's degree in TESOL).
College of Communications
Led by Dean Bey-Ling Sha, the College of Communications ceremony at Titan Stadium acknowledged graduates for their accomplishments and the hope they inspire as the next generation of leaders and innovators.
During the 9 a.m. ceremony, CSUF President Fram Virjee reminded graduates who might be feeling concerned or fearful about their futures that they are not alone.
"As you prepare for the next chapter, I want to share with you the importance of pursuing a mindset that allows you to determine and chart your own future," Virjee said.
The way graduates approach life, embrace challenges and confront doubt will determine their accomplishments and setbacks above everything else, he said.
"Class of 2022, you have persevered despite a pandemic," Virjee said. "Through those trials, there have been glimmers of hope that have emerged as the best of humanity, illuminating in our darkest hours. That humanity is you. As future leaders of our nation, you've already accomplished so much. That gives me such a sense of hope for what you're going to do for years to come."
Ingrid Otero-Smart, president and CEO of Hispanic advertising agency Casanova//McCann, also spoke to graduates during the ceremony.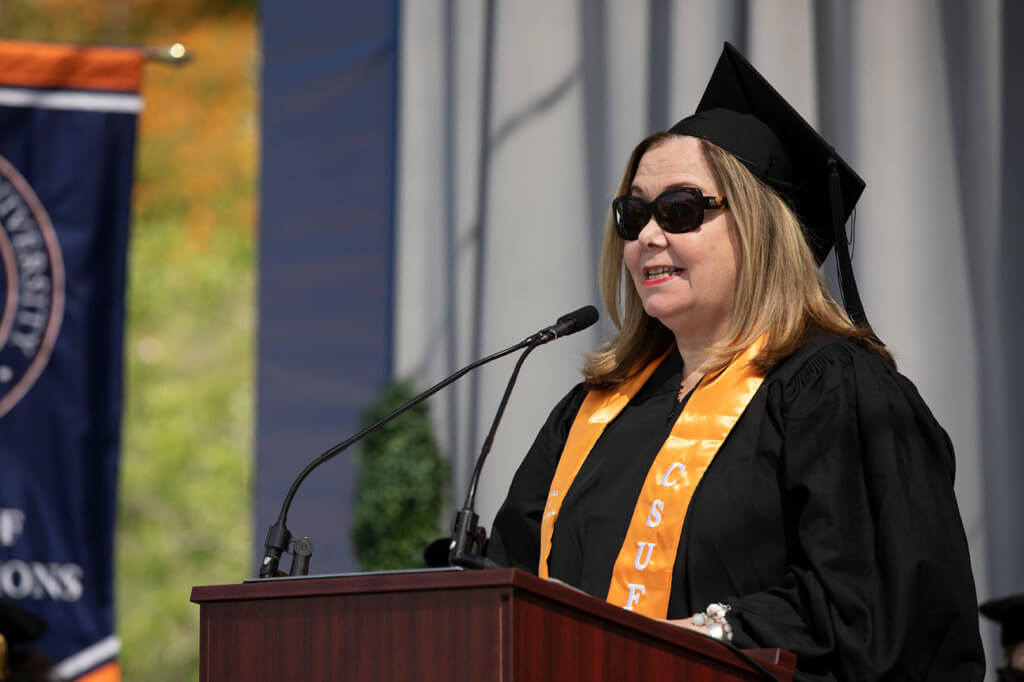 Born and raised in Puerto Rico, Otero-Smart has over 30 years of advertising experience in the U.S. Hispanic market and Puerto Rico. Otero-Smart is also a founding member and on the board of directors of the Association of Hispanic Advertising Agencies, currently known as CMC.
She is on the dean's advisory council for the College of Communications, the agency advisory board for its student-run agency PRactical ADvantage Communications, and the board of governors for the Cal State Fullerton Philanthropic Foundation.
She is also a founding member of the university's Latino Communications Institute and serves as chair of its advisory board. Earlier this year, Otero-Smart was recognized as a 2022 Vision & Visionaries Honorary Alumna.
Otero-Smart noted that graduates — now more than ever before — have access to many resources that can help them create, market, tell stories, communicate new theories and help give the less fortunate a voice.
"Today more than ever, we need strong, ethical, well prepared, courageous and diverse communicators," Otero-Smart said. "As Titans, you are more than ready for that."
Otero-Smart acknowledged how remote hiring, work and meetings have changed how many communications professions operate, but she said graduates shouldn't be discouraged by this new landscape.
"These challenges are there to make you stronger, and if a door closes early in your career, keep going. All it means is that it was not your door," Otero-Smart said. "Find an organization or a community that shares your values, and make your decisions in ways that allow you to sleep well at night. Work hard and have fun doing it. And as soon as you can, start giving back. The rest will certainly follow."
Minjung Kim, associate professor of communication sciences and disorders, was named the college's 2021-22 Faculty Marshal. Kim also earned the college's Rick D. Pullen Award for Academic Excellence. Named after the longest-serving dean of the college, this award recognizes a faculty member who has made a significant contribution to teaching and enhancement of the learning environment.
Kim's research and teaching expertise focus on articulation and phonological disorders, phonetics and speech and hearing science. Kim has served as an undergraduate academic advisor in the Department of Communication Sciences and Disorders and volunteers at the CSUF Communicative Disorders Peer Mentor Center.
"I am honored to serve as this year's faculty marshall," Kim said. "I have found great joy and honor in working with so many wonderful students and I am so proud to see all of you graduate."
Student speaker and human communication studies graduate Luis Bustos recognized how this year's graduates were able to persevere through their coursework during a global pandemic thanks to personal development outside of the classroom and support from families, friends and communities.
"I want to take a moment to celebrate the person behind that nice cap and gown, the person's life outside of the classroom who crafted their own destiny that many of us never get to see behind the scenes," Bustos said.
Bustos noted how graduates were able to complete their degrees because of their strength, grit and determination through unprecedented times.
"We rose to the occasion and became greater than ever before," Bustos said.