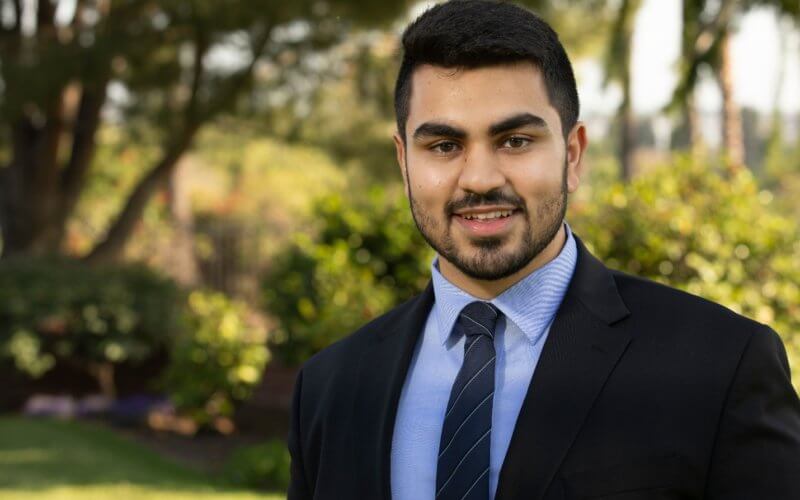 As an undergraduate researcher, Cal State Fullerton graduating senior and future physician Naman Shah has been studying the presence of formaldehyde — a known carcinogen — in electronic cigarettes.
Shah's work on e-cigarettes indicates that the flavoring molecules added to e-liquids can influence how much formaldehyde is formed during puffing.
"The way that the formaldehyde forms during vaping is not well understood because it is not present in the e-liquid before puffing," said Daniel B. Curtis, associate professor of chemistry and biochemistry and Shah's research mentor. "It forms from complex chemical reactions that take place at high temperatures produced in the e-cigarette device, while the user is puffing on it."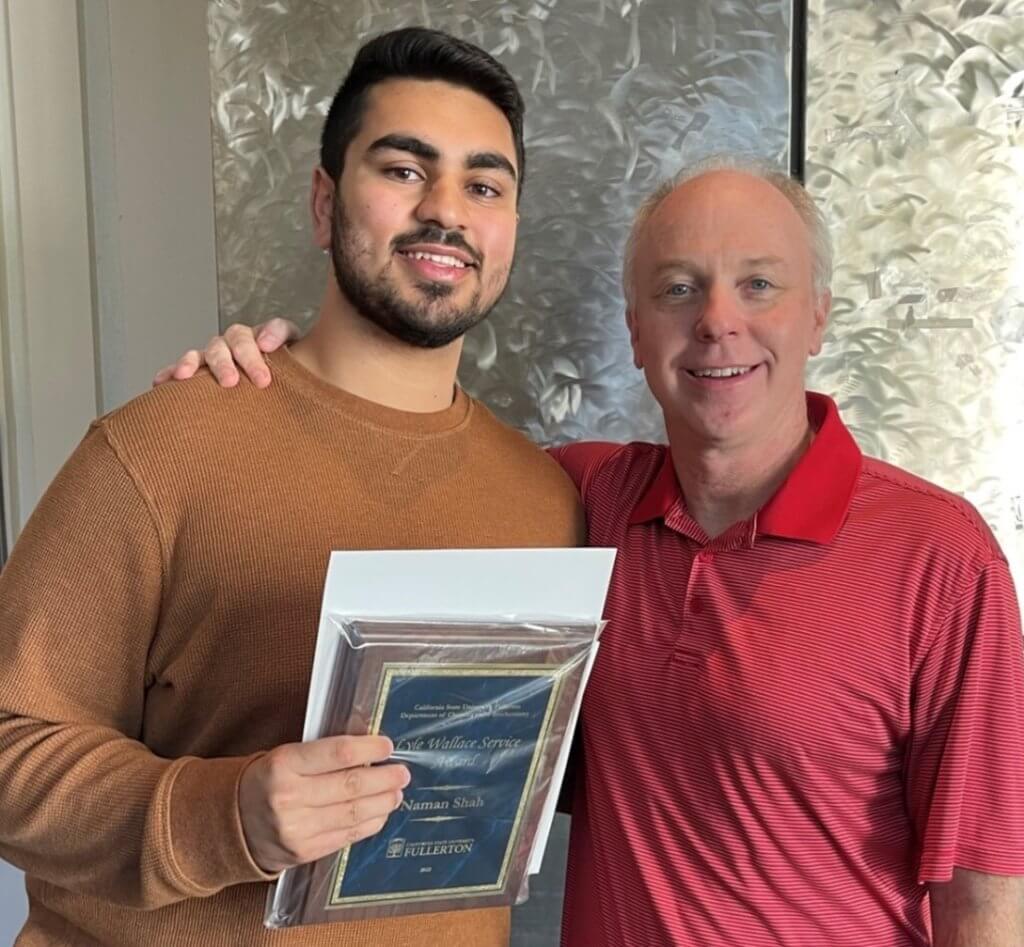 Shah is earning a bachelor's degree in biochemistry and graduating summa cum laude with a 3.94 GPA. The first-generation Indian American and President's Scholar plans to apply to medical school after his May 24 graduation. He also is a student in the University Honors Program and presented his research at the spring 2022 Senior Honors Project Conference, held on campus in May.
"Naman has been working on research in my lab since his first year, which is a testament of how driven he is to try to help society through research," Curtis said. "He has grown as a scholar and worked to mentor other students working on the project."
Why study e-cigarettes?
My grandfather passed away when I was young as a result of extensive secondhand smoke exposure, so I knew the dangers of cigarette usage from a young age. In high school, I saw many of my classmates using e-cigarettes under the perception that it was not dangerous. In my junior year of high school, I became involved in a nicotine research lab at UC Irvine to learn more about nicotine's impact on the adolescent brain. This research fascinated me due to how popular e-cigarettes were becoming despite the potential dangers. After choosing to attend CSUF, I knew I wanted to expand upon my experiences and join a research lab that tackled this important issue.
Why is this research important?
This research can clarify what causes the formation of potentially harmful chemicals in e-cigarettes. My results indicate that the flavorings present in the e-liquid used for e-cigarettes can impact the formaldehyde production. This could impact consumer purchasing decisions to avoid the more potentially harmful flavorings. It could also change the way that these e-liquids are made in the future to decrease the amount of formaldehyde produced. My hope is that my research spreads awareness about the potential dangers of e-cigarette consumption.
Do you have any research results you can share?
I have evaluated how different flavorings of e-cigarettes can affect the amount of formaldehyde produced. E-cigarettes come in a variety of flavors, but my research centers around using two flavors to see if they produce different amounts of formaldehyde. Preliminary results indicate that one flavor produces more formaldehyde than another flavor. I completed my university honors thesis about this research and I plan to publish these findings soon in a scientific journal.
How has your faculty mentor helped you achieve your academic goals?
Dr. Curtis has provided constant, overwhelming support and guidance in the pursuit of this research. Not only was he available to help address issues that came up in the lab, but he was also incredibly supportive in helping me tackle challenges I faced in other avenues.
How did being involved on- and off-campus enhance your college experience?
I have been able to advocate for, and represent, students in various ways, including for Pell Grant reform. Being involved on campus allowed me to truly embrace CSUF's diverse cultures. I have met many lifelong friends and learned valuable lessons. I have also gained clinical experience working and shadowing physicians at local hospitals. These experiences solidified my goal of becoming a physician who advocates for, and serves, underserved communities. I have seen the immense impact of considerate and holistic care — and I hope to provide this to patients as a physician.
Cal State Fullerton's commencement celebrations will take place May 23-26.