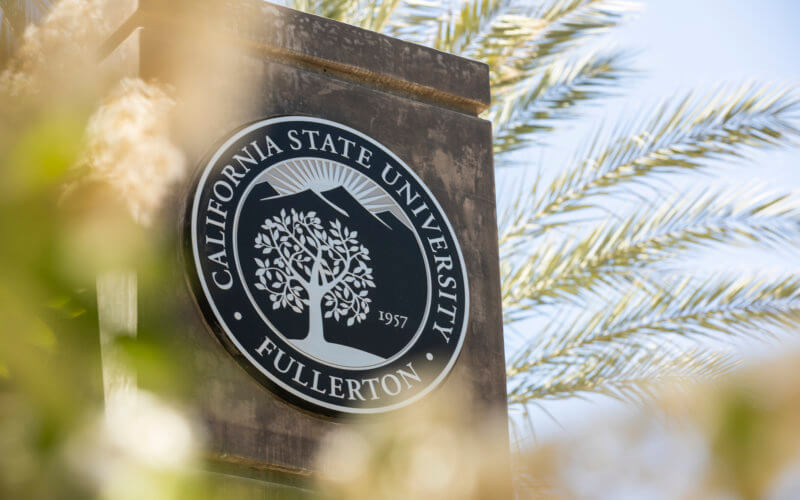 Last summer, Cal State Fullerton received a historic $40 million gift from MacKenzie Scott and Dan Jewett to provide one-time funding for proposals that focus on student success and innovation through the lens of social justice. A total of 131 proposals were submitted and, of these, 11 were selected to be funded this year under the Scott-Jewett Fund for Student Success and Innovation.
Proposals Selected for First-Year Funding
A People's Education Conference
College of Education
$46,500
Requester: Carolina Valdez, associate professor of elementary and bilingual education
K-12 teachers are overwhelmingly white, with many teachers requiring additional development to challenge their biases. Additionally, teachers for social justice often feel alienated from colleagues and need a collective space to build community. Funding is requested to continue to organize the annual "A People's Education Conference."
Advancing the CSUF Dance Program to Equity, Diversity, Inclusion and Social Justice
Department of Theatre and Dance
$103,400
Requester: Alvin Rangel-Alvarado, professor of theatre and dance
The Scott-Jewett Fund for Student Success and Innovation will enable the implementation of the CSUF Dance Program's research-based policies and initiatives towards anti-racism, diversity, equity and inclusion, developed in fall 2020. By implementing these policies and initiatives we will build a long-term learning community where all students succeed and thrive, especially our students from underrepresented communities.
AMIELA: Plurilingual Faculty-Student Partnerships
Department of Literacy and Reading Education
$67,000
Requester: Julián Jefferies, associate professor of literacy and reading education, and Fernando Rodríguez-Valls, professor of secondary education
This proposal aims to expand and make sustainable AMIELA, an inter-disciplinary project to foster plurilingualism in the student body of CSUF by partnering bilingual professors with bilingual students in their discipline to collaborate on a lesson plan delivered in a language other than English.
Black Teachers Matter: Building and Sustaining a Pipeline in Teacher Education
Department of Elementary and Bilingual Education
$77,240
Requester: Abigail A. Amoako Kayser, assistant professor of elementary and bilingual education
This project recognizes and seeks to change the underrepresentation of Black preservice teachers in teacher education programs at CSUF. By working with current preservice teachers enrolled at CSUF, we will establish a pipeline to CSUF with local high schools and community colleges to increase Black preservice teacher enrollment.
Connecting K-16 Students to Orange County's Diverse History and Each Other
Department of American Studies
$48,845
Requester: Elaine Margaret Lewinnek, professor of American studies
In this three-part program, CSUF and local K-12 students will learn about the extraordinary diverse histories embedded in our landscape, and share their connections to these histories with each other and the community. This will build students' confidence, self-awareness and empathy, and promote their social consciousness and civic engagement.
Ujimaa Mentoring Program
Department of Special Education
$149,950
Requester: Benikia Kressler, associate professor of special education
This collaborative mentoring program will provide intergenerational mentoring for Black students across CSUF by connecting undergraduate and graduate Black students with CSUF Black alumni, faculty and staff. Black students will build community with CSUF alumni, faculty and staff, and persist in their education, experience transformative learning and gain confidence in their futures.
Cultivating Success in STEM Internships: Growing Future Engineers and Computer Scientists
College of Engineering and Computer Science
$150,000
Requester: Elizabeth Gomez, graduation specialist
The proposed project will assist in increasing the number of underrepresented and first-generation college students in STEM careers through a formal career exploration process. The desired goal is to educate, inform and support students in applying to summer internships to build and expand their portfolios for future careers in STEM.
Engineering Social Justice: A Design Challenge
Department of Civil and Environmental Engineering
$60,600
Requester: Garrett Struckhoff, associate professor of civil and environmental engineering
There are many examples of social injustice that could be avoided by better engineering decisions. This project will create a design challenge to engage engineering and computer science students with community partners to address social injustice. Top teams will receive seed funding to bring that idea to the next level.
Future Black Communications Professionals
Department of Communications
$98,000
Requester: Jasmine Phillips Meertins, assistant professor of communications
This program aims to create a strong sense of inclusion among Black students within the Department of Communications, and prepare students for the required internships for communications majors. Through formal events, conference attendance and mentoring, this program will encourage students to build community and professional networks.
Partnerships for Student Success
Center for Educational Partnerships
$45,000
Requester: Julianna Hernandez, assistant director of strategic initiatives and partnerships, Student Affairs
CSUF's intersegmental partnerships through the Anaheim Pledge, Santa Ana Partnership and Fullerton Partnership provide significant support for Latinx students in local high schools and community colleges. The funding requested in this proposal will be used to create programming that supports yield, onboarding and retention of students enrolling from these partnerships.
Theater Festival for Hispanic Heritage Month and Performances
Department of Modern Languages and Literatures
$122,800
Requester: Grupo de Teatro en Espanol
This grant would be used to fund a Spanish-language theater festival during Hispanic Heritage month and to increase theater performances by Grupo de Teatro on the CSUF campus that will be open to the public, students and all members of the community.
How the Selection Was Made
"When Cal State Fullerton received this validating and historic $40 million gift, the president and his cabinet sought counsel from faculty, staff, students, alumni, board members and donors to determine how this legacy gift could make an immediate impact as well as provide continued funding for critical and necessary programs into the future," said Greg Saks, vice president for university advancement.
In response, the Scott-Jewett Fund for Student Success and Innovation was created to provide approximately $1 million in funding each year for the next three years. The result of that consultation was revealed at the 2021 Convocation by President Fram Virjee. Some of these initial funds were made available for student-centered and innovative programs that focused on the CSUF Guiding Principles for Social Justice.
This spring an inclusive committee of students, staff and faculty came together to develop criteria and facilitate the first $1 million in distributions. The goal is to transfer all the first-year funds to these recipients by the beginning of the fall 2022 semester.
The Committee
The extensive work of staffing this selection committee was done by Andrea Kelligrew of University Advancement and was co-chaired by Greg Saks and Josh Mitchell, the 2021-22 ASI president.
The committee consisted of:
Mary Chammas, Associated Students Inc.
Martha Enciso, Student Affairs
Isabella Galvan, Associated Students Inc.
Danielle Garcia, President's Office
Rommel Hidalgo, Information Technology
Stefanie Light, University Advancement
Irene Matz, Academic Senate
Steve Reyes, Human Resources, Diversity and Inclusion
Stephen Stambough, Academic Senate
Evajoy Tito, Administration and Finance
Estela Zarate, Academic Affairs