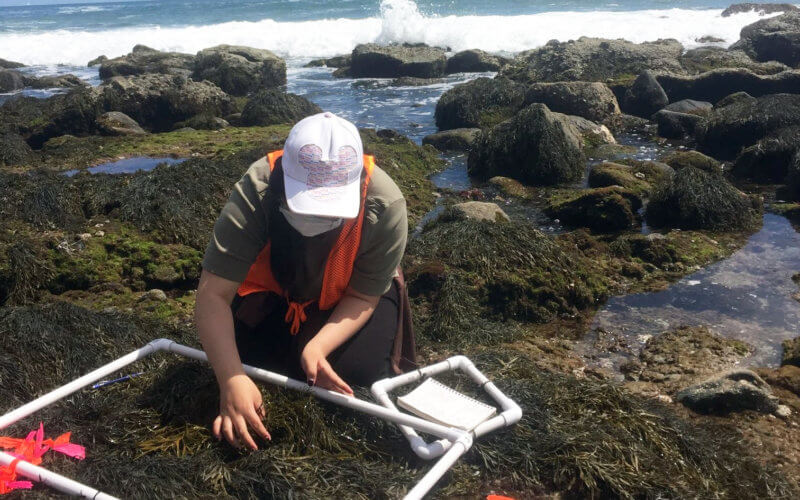 Graduating scholars in Cal State Fullerton's Southern California Ecosystems Research Program (SCERP) presented their projects, focusing ecology and environmental biology, at the May 4 Research Showcase.
The 2022 Class of SCERP scholars — each earned a bachelor's degree in biological science — and their research projects are: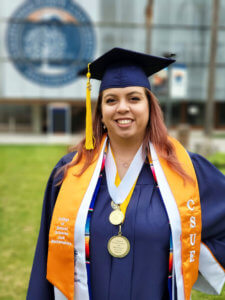 SCERP scholar: Alisa Hernandez
Project title: "Whydah You Follow Munias Around? Pin-tailed Whydah Population Growth in Southern California, Tracks That of Potential Brood Host, the Scaly-Breasted Munia"
Faculty mentor: William "Bill" Hoese, professor of biological science
Hernandez studied how two nonnative bird species are expanding their geographic ranges across Southern California. She investigated the pin-tailed whydah, a small finch from Africa that lays its eggs in the nests of other birds. This behavior is called brood parasitism. Typically, brood parasites negatively impact the host's reproductive success — and brood parasites beg more insistently and grow faster, and cause the host's nestlings to starve to death.
The pin-tailed whydah escaped from the pet trade and is spreading across Southern California. One possible host is another nonnative species from Asia, the scaly-breasted munia, which is also expanding across Southern California. Hernandez used online databases and ArcGIS to track movements and expansions. It looks like the whydahs are expanding in concert with the munias.
While this is not immediately problematic for local native species, the whydahs are now widespread across Santa Barbara, Ventura, San Bernardino, Riverside, Orange and San Diego counties. If they can switch hosts, which they do in Africa, they now have access to multiple species over a very wide area. For more about Hernandez, visit here.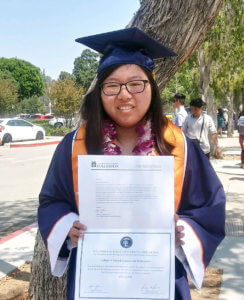 SCERP scholar: Joann Lam
Project title: "Assessing the Effects of Pandemic Lockdown-Related Behavior on Populations of Rocky Intertidal Snails"
Faculty mentor: Jennifer L. Burnaford, professor of biological science
Lam studied how the pandemic impacted snail populations along the rocky intertidal coast. There have been multiple news reports showing people collecting animals from coastal rocky intertidal habitats, such as mussels and snails. She wondered what the level of impact was and studied two types of marine snails. She compared previously measured numbers with numbers she measured over the past year at several protected and unprotected sites (protected sites do not allow collecting).
In addition, Lam will be an intern in West Virginia this summer and fall assessing fish community responses to climate change as part of the U.S. Geological Survey Cooperative Fellowship Program.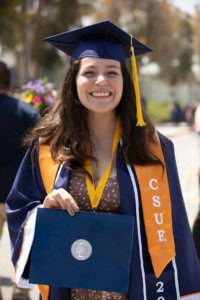 SCERP scholar: Angelina Guzman
Project title: "Does Size Matter? Surfperch Fishes' (Family: Embiotocidae) Urogenital Papilla"
Faculty mentor: Kristy L. Forsgren, associate professor of biological science
Guzman's research focused on differences in the size and shape of the urogenital papilla of surfperches. Surfperches are coastal marine fishes in the eastern Pacific Ocean, western Pacific Ocean and one freshwater species in California. Surfperches are viviparous — meaning they copulate and the female gives live birth to young.
During copulation, the male transfers sperm into the female reproductive tract via the urogenital papilla. The urogenital papilla appears to be diverse between species with respect to size and shape. Guzman examined six surfperch species: three species from the subfamily Amphistichinae, including redtail surfperch; walleye surfperch; and silver surfperch and five species from the subfamily Embiotocidae, including white surfperch, sharpnose seaperch, pile surfperch, rubberlip seaperch and pink surfperch.
Using macro photography and several computer programs, she determined that surfperches had spherical-shaped urogenital papilla (redtail, sharpnose, pile, rubberlip, pink surfperches), walleye and silver surfperch had crescent-shape urogenital papilla and white surfperch had triangular-shape urogenital papilla. Additionally, the subfamily Amphistichinae had large, flattened urogenital papillae, whereas the Embiotocidae had smaller urogenital papillae and protruded from the body. The size and shape of the urogenital papilla may be species-specific and aid in identification of conspecifics (individuals of the same species). Size and shape may also be related to the habitat in which the animal lives. A larger, more robust urogenital papilla may be necessary for fishes living in areas that experience more water turbulence, whereas species in calmer waters may have smaller, more flattened urogenital papillae.
SCERP scholar: Nicholas J. Torres
Project title: "Exploring the Potential Interactive Effects of Nitrogen Enrichment and Insect Herbivory on Growth and Soil Exudates of Foeniculum Vulgare"
Faculty mentor: Joel K. Abraham, professor of biological science
Torres was interested in learning more about the potential allelopathic effects of fennel, a nonnative plant, on California native plants. Allelopathy is the release of chemicals by one plant that slow or stop the growth of other neighboring plants. Fennel is thought to be allelopathic, and some previous work in the Abraham lab demonstrates that it has lasting negative effects on California native plants, even after fennel has been removed.
His project looked to see how two environmental characteristics, herbivory and soil nitrogen enrichment, might impact the strength of those negative impacts. Torres had a multi-phase project that placed fennel under nitrogen enrichment and/or herbivory, and collected data on fennel growth, soil chemical profiles and native plant growth. Although the project is still wrapping up, he has already found some differences in native plant performance based on fennel growth conditions. This work will provide more information on what factors might influence the successful invasion of fennel in California coastal grasslands. Torres plans to enter a credential program to pursue a career as a high school biology teacher.
For information about the program, visit the SCERP website.